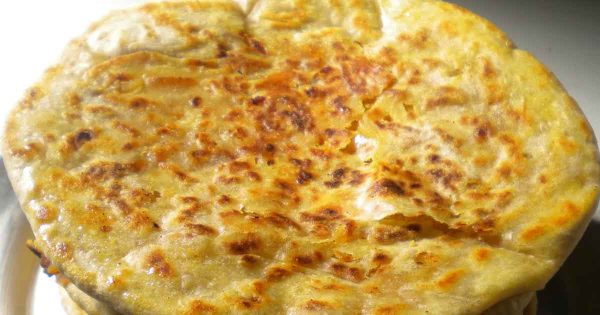 for the puran mixture - sweet filling
for the poli - outer covering
Wash the chana dal in water.

Now add the pressure cooker, add the chana dal and cook it for 6 to 7 whistles.

Drain out the excess water.

Now, in a pan add some ghee. Once the ghee is hot add dry ginger powder, nutmeg powder, cardamom powder and fennel powder. Saute.

Now, add the jaggary and chana dal. Stir well.

Now let the mixture cook on low flame till the mixture had no water and is dry.

Keep stirring the mixture.

Once the mixture is dry and thick, turn off the gas.

Once cooled, mash with a potato masher. Or blend in a mixer.
Seperately, in a bowl add whole wheat flour/atta, flour/maida and salt. Mix well.

Add water and ghee and mix. Knead the dough.

Knead till the dough be smooth and soft. Keep the dough aside for 15-20 minutes.
take a medium or large size ball from the dough. roll it 2-3 inches in circumference on a dusted rolling board.

place a portion of puran mixture in the center of the rolled dough.

bring the edges together towards the center. join all the edges and pinch them.

sprinkle some flour and start rolling the dough.

make a medium or large circle (poli) as depending upon the size of the dough and puran filling you took.

Heat a tawa, and spread some ghee. Place the rolled poli on the tawa.

Once one side gets browned, turn the poli over. And cook the other side.