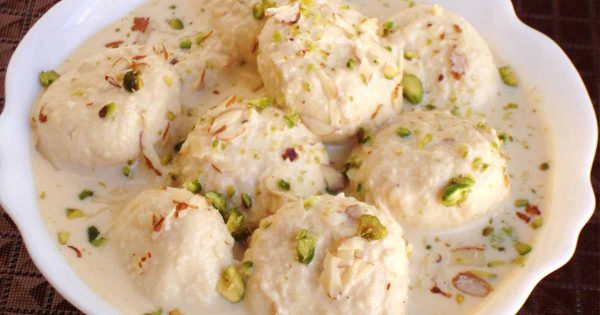 | | |
| --- | --- |
| | |
Peel the blanched almonds and pistachios and keep them aside.

In a thick bottomed pan, bring the milk to boil on a medium flame.

Before the milk begins boiling, remove two tablespoons of the milk from the pan and add the ten saffron strands to it in a separate bowl.

As the milk comes to a bowl, lower the flame and allow the milk to simmer.

Push the cream that will appear on top of the milk to the sides of the dish. Stir the milk occasionally.

After the milk is reduced to half, add the sugar to it and stir well.

Then stir in the cardamom powder.

Add the sliced almonds and pistachios, keeping a few aside for garnishing.

Stir in the milk and saffron that you had set aside earlier.

Add the rasgullas to the mixture one by one and allow the milk and rasgullas to simmer for four minutes.

Then, switch off the flame and stir in the rose water.

Allow the rasmalai to cool down. When it reaches room temperature, chill it in a fridge for ten minutes.

Serve the rasmalai garnished with pistachios, almonds and saffron strands.