Simple Vanilla Cake Recipe
This made from scratch Basic Vanilla Cake Recipe is a one that must be added to your repertoire. It's light, tender, and full of vanilla flavor. The great thing about this recipe is it can be made in two 9-inch pans, three 8-inch pans, or two 12-cup muffin pans. It's versatile and pairs wonderfully with a wide range of fillings and frostings. The batter can even be enhanced with other extract flavors, like almond!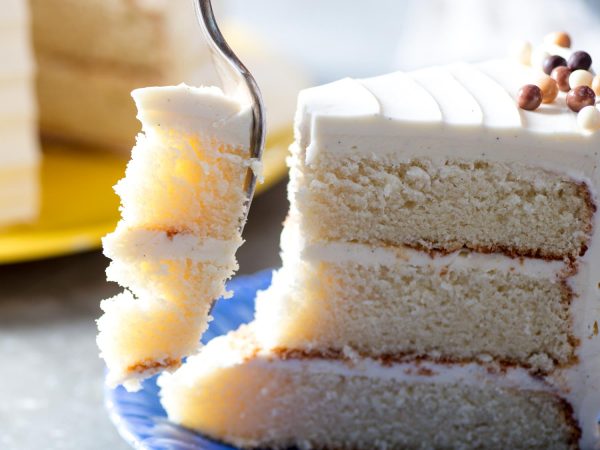 | | |
| --- | --- |
| | |
Preheat the oven to 350°F. Grease and lightly flour 2 9-inch round cake pans; set aside.

In a large bowl, beat the butter and sugar together until light and fluffy, about 5 minutes. Add the eggs, one at a time, mixing well after each addition. Beat in the extract.

Combine the flour, baking powder, and salt in a medium bowl. Stir with a whisk and add it to the butter mixture alternately with the milk, beating well after each addition.

Divide the batter evenly between the prepared pans. Bake for 22-25 minutes or until a toothpick inserted into the center comes out clean. Cool for 10 minutes. Remove from pans and cool completely on a wire rack.

Fill and frost the cake with your favorite frosting.
Wrap baked and cooled cake layers tightly in plastic wrap and store them in the refrigerator. Assemble and frost the cake within 2 days.

Once the cake has been assembled, cover it and keep it stored in the refrigerator for up to three days. Bring it to room temperature just before serving.

The frosted cake can be frozen for up to 2 months. Thaw it overnight in the refrigerator and let it come to room temperature just before serving.
For a lighter cake, use egg whites in place of whole eggs.
If you don't have cake flour, you can make it at home. For every 1 cup of flour remove 2 tablespoons of flour. Then add 2 tablespoons of cornstarch for every 1 cup of flour. Sift 4 times and it's ready-to-use as cake flour.