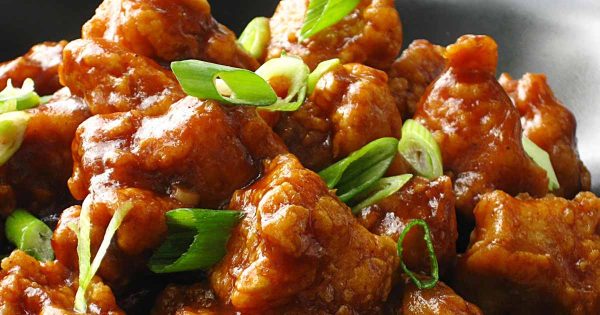 | | |
| --- | --- |
| | |
Place sauce ingredients in a quart jar with a lid and shake to mix.

Mix cornstarch slurry in a large bowl till the mixture is paste like.

Add the chicken pieces and stir to coat. Using a fork remove one chicken piece at a time and let the excess mixture drip off.

Add chicken to the hot (350 degree) oil and fry until crispy. Only cook 7 or 8 chicken pieces at a time.

Drain on paper towels. Fry all the chicken

In a separate wok or large skillet add a small amount of oil and heat to 400 degrees.

Add green onions and hot peppers and stir fry about 30 seconds.

Stir (or shake jar) sauce mixture, and then add to pan with onions and peppers, cook until thick.

If it gets too thick, add a little water or other liquid. The thickness of the sauce should be similar to what you get when ordering this at a restaurant.

Add chicken to sauce in wok and heat just until the chicken is hot enough.