The Story behind Tirupati's Famous Laddus
The laddu at Sri Venkateswara temple at Tirupati reigns supreme, only to be superceded by the Lord himself. Millions of devotees throng to this temple town of Andhra Pradesh hoping to grab a bite of the holy spirit. These besan confections – saturated with ghee, nuts, raisins, cardamom and edible camphor – received nation-wide recognition when it was awarded the Geographical Indication patent.
The laddu's statistics are staggering and quite simply spectacular. More than 2.78 lakh sweet balls are rolled out every day by an all-male, all-Brahmin kitchen staff of 350. And you won't believe the amount of ingredients they use. The kitchen uses around 10,000 kilos of ghee, 12,000 kilos of besan, 2,000 kilos of cashewnuts, 1,000 kilos of raisins, 300 kilos of cardamom, 600 kilos of sugar crystals and 25,000 kilos of sugar daily. Yes, every day.
Although, the method of producing these many numbers of laddus might have changed in the past few years, the recipe has been handed over by generations and remained the same for 300 years. The laddu has surpassed all other prasadhams that are distributed by the temple management trust like pulihora (tamarind rice) and chakkara pongal (sweet rice) which are served in small leaf bowls.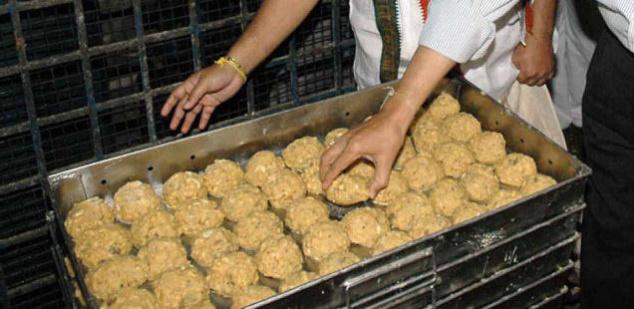 The Sri Venkateswara Temple is the world's most visited Hindu shrine, so it's natural that the sale of laddus is rationed. Only two are given per darshan token. Even the VIP devotees have to request for extra laddus with the help of recommendation letters.