Take The Starbucks Christmas Spirit Home With This Holiday Blend
Starbucks special Christmas cups were released a while ago, and Instagram is already filled with photos of the bright red cups with intricate designs. To many, the launch of Starbucks Christmas cups marks the start of the festive Christmas season, an enjoyable, family filled time for many. Now, the world's largest coffee chain is giving customers the opportunity to take some of Starbucks' trademark Christmas cheer home with them with the launch of the Starbucks Reserve Christmas blend.
The Starbucks Reserve Christmas Blend
Introduced last year, the Starbucks Reserve Christmas blend mixes together Latin American and Indonesian Coffees to create a rich, aromatic coffee. While the Latin American beans have orange flavours, the Indonesian beans have a spicy edge with notes of cedar and liquorice.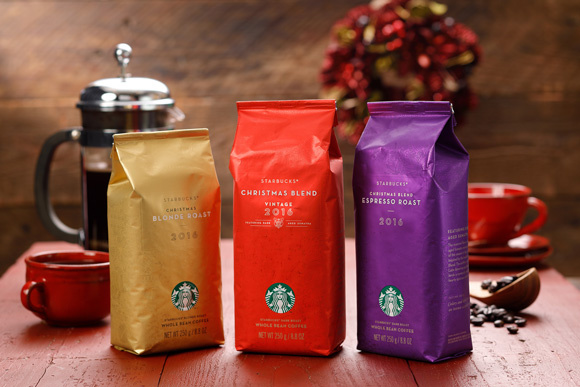 Blended together, they create a complex, intense coffee.
Commenting on the coffee to QSR Magazine, Leslie Wolford, who was a member of the team that created the blend said "The Hacienda Alsacia and Aged Sumatra coffees create an alchemy of flavors," Wolford says. "It has a balsam-like aroma with flavors of sweet mandarin and mulled spices. It's a cup that tastes like Christmas.
The Christmas blend joins Starbucks; Thanksgiving Blend in its holiday blend range. The Thanksgiving Blend, in the words of the Starbucks website "features herbal notes from Sumatran beans and distinctive soft spice from the coffee of Guatemala's Antigua region. Crafted to pair beautifully with dishes savory and sweet, it's a blend to warm the hearts of your nearest and dearest all season long."
Both blends are available at select Starbucks stores in the US as well as on the Starbucks website while stock lasts.