The Beer Is Flowing At The Great Oktoberfest at Courtyard by Marriott Hebbal
It's a beer lover's favorite time of year – Oktoberfest is back, and boy, we can't wait to get the taps running! B'lore 45 at Courtyard by Marriott Hebbal has curated an amazing, authentic German experience for you to experience this month, with a tribute to Deutschland's famous festival of beer and bear hugs, 'Oktoberfest'.


Food enthusiasts of Bengaluru will be presented with an array of authentic German delicacies including mouthwatering meat dishes chosen from the Bavarian region in Germany, along with thirst quenching delicious beers. Be a part of this gastronomic extravaganza as talented maestros recreate the spirit of Oktoberfest with a scrumptious spread.
Begin your Bavarian culinary sojourn with juicy appetizers such as Bratwurst, Weiswurst, Nurnberge Rostbratwurst and Bockwurst, which are various kinds of German Sausages served with potato wedges, garlic buns and green beans. For mains, relish German signatures such as Smoked trout with Bacon bits mash and sauerkraut, Spätzle with onion and cheese and Pork Schnitzel with creamy forest mushrooms and tossed vegetables. Since there is always some room for dessert, indulge in Black forest torte, Vanilla Bavarian cream and Classic cherry strudel giving a perfect ending to your meal.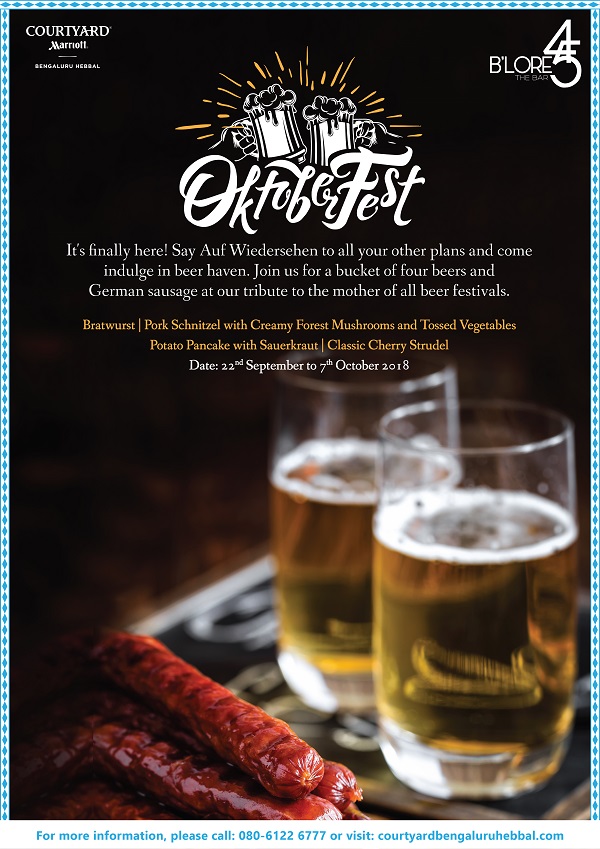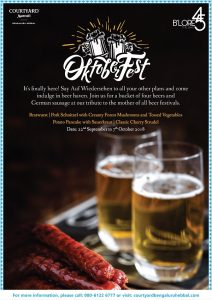 Be spoiled for choice at B'lore 45, Courtyard by Marriott Hebbal and experience decadence as their culinary experts roll out a multitude of Great Oktoberfest specials, which are handcrafted and curated to perfection.
Date: 22nd September to 7th October 2018
Time: 11 am to 11 pm
Venue: B'lore 45 at Courtyard by Marriott Hebbal
For Reservations: Call – 080 6122 6777