7 Spots In Bangalore for a Mouth-watering Biryani
"If there is such a thing as food of the Gods, it is undoubtedly the biryani. The magic of biryani lies in the way rice is transformed into something ambrosial." – Pratibha Karan
Do we really need an introduction to this aromatic delicacy that has captured the hearts (and stomachs) of the country? Across the length and breadth of India, Biryani is made and loved in different versions, variations and flavours. But the one thing that is common to every style of Biryani is that it's incredibly and undeniably delicious.
Bangalore, true to its metropolitan nature, houses almost every version of the famed biryani in varying levels of style and taste. Here we have handpicked for you, some of our favourites. Do let us know if we have missed out on your local favourite.
Meghana Foods
They serve Andhra Style biryani which basically means it's spicy as hell – of course, in a really good way. Meghana does serve normal Andhra meals and other dishes, but that hardly is what you want to order. Order their boneless chicken biryani and we guarantee, this won't be the last one you order.
Where: Jayanagar, Marathahalli, Residency Road, Koramangala
What: Boneless chicken biryani or Meghanas special biryani
Rahhams
Over the years, Rahhams has built a reputation that has Bangaloreans coming in from every nook and corner of the city to see what the fuss is about. Every pint of fuel you spend on getting to Rahhams becomes worth it as soon as you bite into that orgasmic morsel of Mutton Biryani. Yes, it's that good.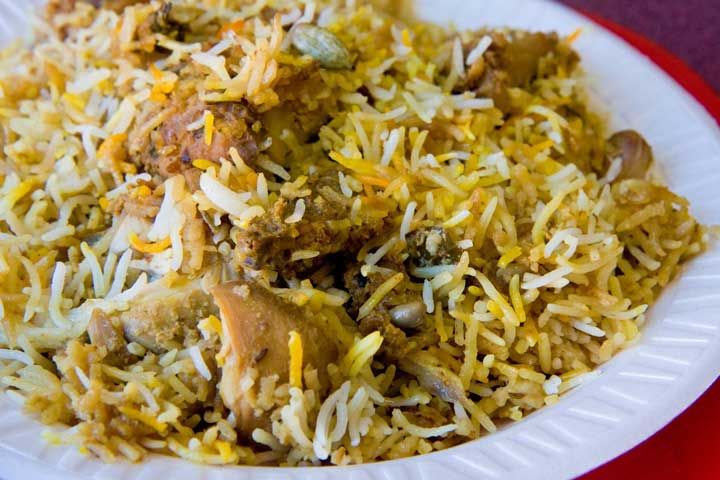 Where: Frazer Town, RT Nagar, Cummanahalli
What: Mutton Biryani
Hyderabad Biryani House
Tender, succulent pieces of marinated chicken mixed with aromatic basmati rice that rings Hyderabad in every bite. There is a reason that Hyderabad's famous biryanis has a reputation the world over and Hyderabad Biryani House is a testament to it.
Where: Marathahalli, Old Airport Road, Richmond Road
What: Chicken or Mutton Biryani (we can't decide)
Nagarjuna
The mighty Nagarjuna serves some of the best Andhra food in town and their Andhra meals are to die for. That said, their biryani is a close match too. On a day when you aren't feeling dal, rice, rasam and sambar, give their yummy biryani a shot.
Where: Koramangala, Indiranagar, Residency Road, Bannerghatta Road, Jayanagar
What: Mutton Biryani
Shivaji Military Hotel
Locals call it the Donne Biryani Hotel. 'Donne' means big-sized bowls or cups made from the areca nut palm leaf and the Marathi-style biryani is served in Donnes at Shivaji Military Hotel. You might be a little cramped for space, but that doesn't matter when you tuck into their delicious Biryani.
Where: Jayanagar
What: Mutton Biryani
Samarkand
Samarkand exemplifies a true Mughal experience with its dim lighting, traditionally dressed waiters and a backdrop of soothing ghazals. Their biryani doesn't fall short of illustrating that experience.
Where: Infantry Road
What: Dum Biryani
Alibaba Café and Restaurant
This is the only restaurant in town that we know of that serves the famous bhatkali style biryani. The biryani is not made with rice but with vermicelli and has a unique taste and flavour that is a must-try!
Where: Frazer Town
What: Shaiya Biryani