Eating Breakfast Has Landed BJP Leader B S Yeddyurappa In Hot Soup
Most people think of breakfast as a rather mundane act. You eat your breakfast (or if you're like me, don't eat your breakfast) as if by habit, never thinking that the mere act of eating breakfast could, in fact, lead to having a case filed against you. We'll that's exactly what happened when ex-Karnataka CM, B S Yeddyurappa visited a few Dalit homes in Chitradurga on Friday.
The Dalit youth who filed the case alleged that the BJP chief was practising untouchability, which was abolished in Article 17 of the Indian Constitution.
Venkatesh D has said in his complaint that during his visit to Chitradurga district on Friday, Yeddyurappa visited a Dalit family in the Kelakote area and had breakfast there in the presence of the media. Now, here's the problem, the complainant alleged that the food the former CM and the BJP leaders accompanying him consumed was not prepared by the Dalit family, but was brought from a hotel.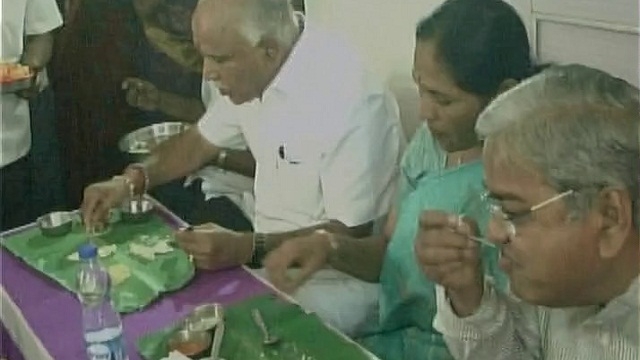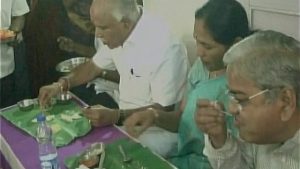 Apparently, the family had prepared pulav for the visit but it can be clearly seen that the former CM had idlies and vadas. In fact, The BJP's state media in-charge Dagge Shivaprakash, admitted that the food was bought from a hotel. "As Yeddyurappa liked idli and vada, it was brought from a hotel. He also ate pulav that was prepared at the Dalit's home," Shivaprakash told The New Indian Express.
The complainant said the state BJP chief's alleged act would send the wrong message to society. He added that it could influence people in his home district Mandya, where several honour killings have been reported over the years. Mandya police said they received the complaint on Saturday and would take necessary action after looking into the matter.
Yeddyurappa, when questioned said that the other political parties were being disrespectful to Dalits by bringing up the issue and that they should 'apologise' (I don't understand?). Ironically enough, the visit was made in order to show that the BJP is socially inclusive – funny how things just don't work out.