Get Your Heath On With Delicious Fresh Salads At Cafe Felix
There's no denying that Cafe Felix is definitely one of our continental food favourites! Gorgeous views, delicious food, and smashing cocktail – honestly what's not to love? Now, you can satisfy your Cafe Felix cravings in a calorie-conscious manner with their delicious fresh salads so you don't have to mess up your diet!
Grab some fresh healthy and crisp salads at Cafe Felix to start your day right. From the classics like the authentic Greek Salad to the Smoked Salmon Nicoise, to seasonal favourites, Cafe Felix has a salad for every mood.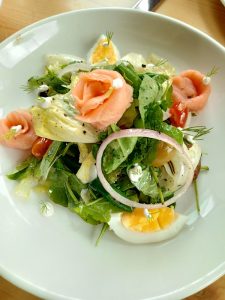 You do not want to miss out on the Teriyaki Chicken Salad, Two Melon and baby greens and their very healthy Zucchini and Carrot Noodle Salad. Some other salads that you have to try are the Prawn and Soba noodles salad, Grilled Chicken Caesar Salad, Quinoa Salad (superfood lovers rejoice), Cucumber and Tender Coconut salad and Poached Pear and Arugula.
So, if you're looking for a place to enjoy a delicious meal (yes, the salads constitute pretty much a whole meal) and do it without feeling guilty about cheating your diet then the salads at Cafe Felix are the perfect option for a healthy, light meal (just try not get distracted by the dessert menu)!
Location: Cafe Felix, Level 5, 1 MG Mall
Cost: Rs 375/-++ onward
For Reservations: Call – 080 22086644