The Latest Simpsons Episode Is As Creepy As Halloween Gets
'The Simpsons' is famous for its whacky characters and mad ways, and while we may think that the show is as crazy as crazy gets, it proves us wrong with every Halloween episode. This year too it has kept up with tradition, rolling out a downright gruesome episode, which also features celebrity chef Mario Batali.
This year's Halloween edition (Season 29, Episode 4) sees Homer Simpson going off the rails in a cannibalism frenzy where he cannot stop cooking his body parts. (Now there's a sentence I never thought I'd write) It all starts when Marge and the kids go out of town to visit their extended family and Homer is left to look after himself. Needless to say, he goes on a crazy binge streak, cooking and eating up everything in the house. And while cooking the last hot dog, Homer accidentally slices up his finger and then – wait for it – for some twisted reason decides to eat it as a sausage.
Inhuman Homer
Now, we expect anything but sanity from the Simpsons, but this. However, the worst is yet to come, as Homer actually likes how the finger tastes! "I eat more and exercise less than the most succulent pigs — of course I'm delicious," he says to himself. Blinded by a newfound love for human meat, Homer goes on to happily slice, chop, and grate his body parts to whip up new preparations. *pukes*
Of course Marge finds out and drags her husband to therapy where – a leg-less – Homer meets Mario Batali (why? Go figure.), who wants to use up what's left of daddy Simpson because Batali is depressed as he "ran out of exciting new ingredients". Guess he used up all of them at the Obamas' state dinner.
What follows is a new restaurant chain by Batali called 'Chez Homer' that has the head of the Simpson family on its menu. At the grand opening, Batali tells the rest of the Simpson family about Homer's last words: "He wanted me to pass on these final words: I've failed as a man, but I've succeeded as an ingredient."
A lot of madness ensues in the last few minutes of the series, including a bunch of fast food chains inspired by 'Chez Homer'.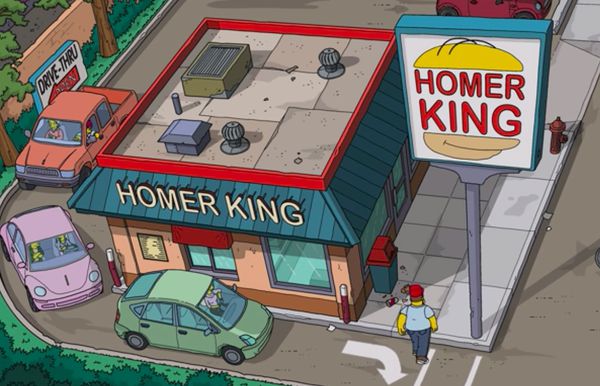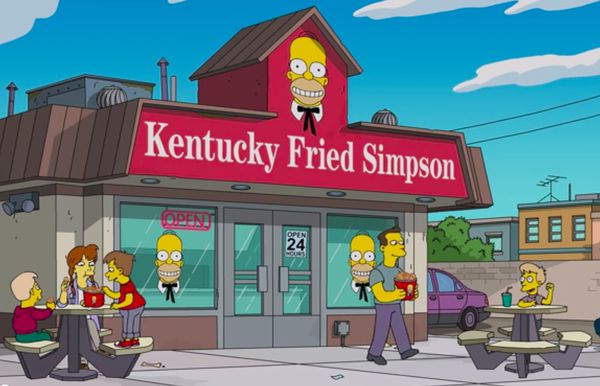 The episode signs off with Homer in heaven, asking Jesus: "Do you know what it's like to have everyone eat of your body?" To which he replies: "Yeah, like every Sunday, pal." Trust the Simpsons to find the humour in cannibalism!
Images: Eater
Feature Image: The Hollywood Reporter