Milton Introduces New & Super-Efficient 'Flexi Tiffin 3+1'
Everyone deserves to enjoy their delicious home-cooked meal nice and hot when consuming it out-of-home. To do so, they ought to have nothing less than a quality and functional tiffin that helps them enjoy a good home meal the way it's supposed to be consumed. Milton, the pioneer of houseware products in India's newly launched Flexi Tiffin 3+1 ensures consumers do just that! This revolutionary new product is the first microwavable steel leak proof tiffin in the soft line range from the intelligent homeware brand.
The new Flexi Tiffin 3+1 is a well-designed product with features that will fulfil the need of all consumers looking for quality, functionality and style in their tiffins. Milton brings you innovative new tiffin with steel inner container that is microwave friendly. One can now conveniently re-heat food in their steel container in the microwave directly. The steel inner in Flexi Tiffin 3+1 makes it first of its kind in the softline tiffin range. Additional, the container is leak proof too which ensures that the food does not spill out whilst traveling. This new microwavable tiffin is a must for all office goers adding convenience with style to their daily life.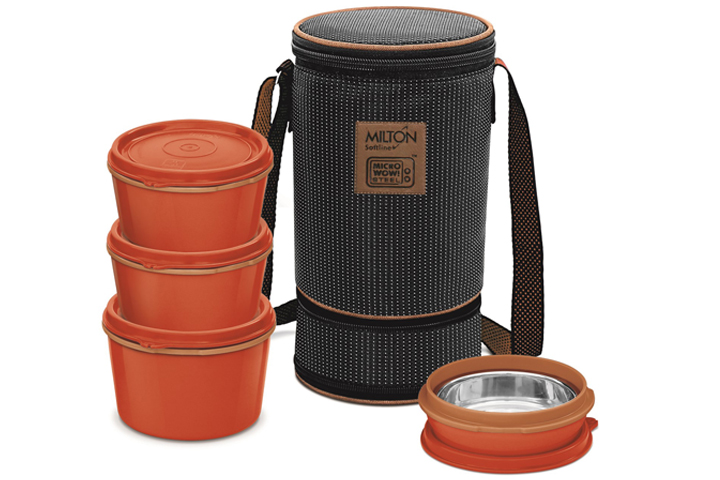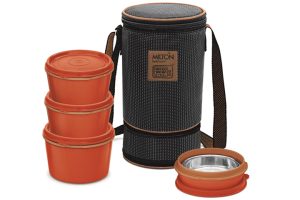 Milton's insulated Flexi Tiffin 3+1 is available in three vibrant colours of orange, blue and yellow. It is made from food grade virgin plastic making it hygienic and ensuring an odourless tiffin experience. Its expandable soft insulated jacket enhances the convenient usage of the tiffin and gives it a stylish look.
With all these incredible features in softline range of tiffins, the new Flexi Tiffin 3+1 is priced at just INR 878 and is available across India. It consists of one container each of 500 ml & 200 ml and two containers of 350 ml. The tiffin is perfectly designed to carry your four course meal starting from your salads to main course to desserts.
So go ahead, and pick Milton's Flexi Tiffin 3+1 to flaunt the designer tiffin and enjoy some wholesome meals at lunch time in office or schools.