Dr Seuss Green Eggs And Ham Recipe
Our childhoods would have been incomplete without the wise, witty and wacky words of Dr Seuss. One of our favourite Dr Seuss books as children, and indeed one of his most popular stories is 'Green Eggs and Ham', where Sam I Am tries to convince someone else to try Green Eggs and Ham. Perhaps our love for the book foreshadowed our relationship with food in the future?
Either way, we are not alone in our love for the story. Green Eggs and Ham was published in 1960 and was named the fourth bestselling English language children's book of all time in 2001 by Publisher's Weekly.
About Green Eggs and Ham
So what is it that made the book so popular? The simple language and fun rhymes, for one. But also, the constant mention of green eggs and ham – an exotic sounding dish, once you get over your initial shock that eggs and ham can come in green. Check out an animated rendition of Green Eggs and Ham below:
https://www.youtube.com/watch?v=2KRkR8HaR9c
As you can see, even that grumpy old man/furry being eventually decided that he liked green eggs and ham.
Want to try some for yourself? We've discovered and tested a recipe featuring green eggs and…well… normal coloured ham. The eggs, however are beautifully green thanks to hearty dose of greens; making them extremely healthy as well! Have these green eggs and ham for breakfast – while reading the book of course.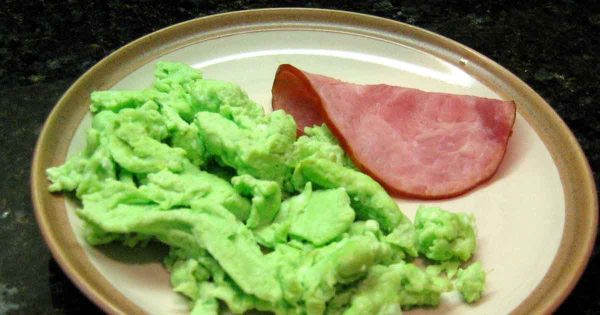 | | |
| --- | --- |
| | |
Combine the arguala, parsley, basil and cheese together.

Blend these ingredients in a food processor, adding a little olive oil until a smooth paste forms.

Season this paste with salt and pepper.

Whisk the eggs and mix in 1/4 cup of the paste.

Melt the butter in a pan and fry the egg mixture until it is scrambled (3-4 minutes).