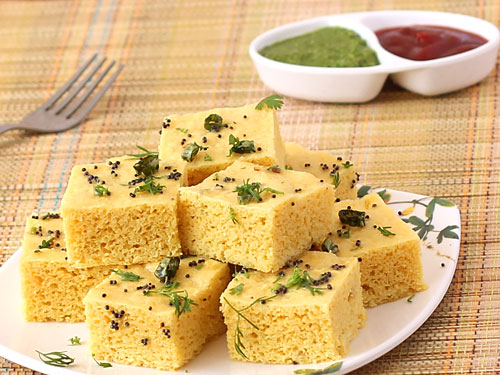 | | |
| --- | --- |
| | |
Grease a steamer pan with oil.

In a bowl, mix all the batter ingredients and make a lump-free batter.

Immediately pour the batter into the steamer pan. Steam for 10-12 minutes over medium flame.

Check if the dhokla is ready by inserting a knife or toothpick. If the toothpick/knife comes out wet, cook for 2-3 minutes more.

Cut the dhokla into desired shapes
Heat oil in a tpan and crackle the mustard seeds and asafetida.

Once they begin to crackle, add the sesame seeds, cumin seeds, curry leaves and green chilies. Sauté for a few seconds.

Add water and sugar and bring to boil. Let the tempering cook for another minute over high flame.

Pour the tempering over the dhokla to evenly cover each piece.

Garnish with chopped coriander leaves and grated coconut.
1. Fruit salt (Eno) is preferable in making the batter as the baking soda gives the soapy aroma if used in excess.
2. Both Eno and baking soda react with turmeric powder and gives a red tinge or red spots in dhokla. So add little turmeric powder or skip it completely.