Orecchiette and Broccoli Rabe Recipe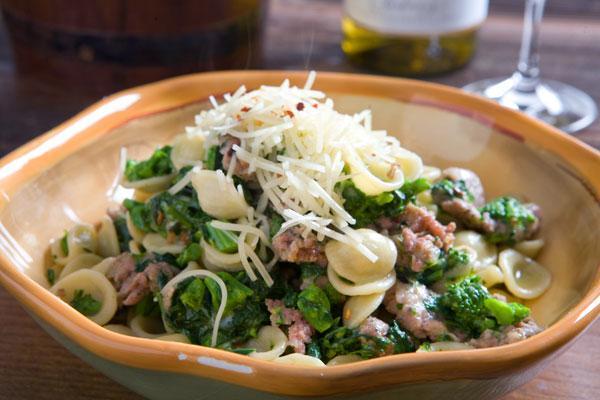 Bring a Large Pot of salted water to a boil. Add the broccoli rabe and cook until crisp-tender, about 1 minute. Strain the broccoli rabe, reserving all the cooking liquid. Set the broccoli rabe aside. Cook the orecchiette in the same pot of boiling salted water until tender but still firm to the bite, stirring occasionally, about 8 minutes. Drain, reserving 1 cup of the cooking liquid.

Meanwhile, in a large, heavy skillet, heat the oil over a medium flame. Add the sausage and cook, breaking up with a spoon, until the sausage is brown and juices form, about 8 minutes. Add the garlic and red pepper flakes, and sauté until fragrant, about 30 seconds. Add the broccoli rabe and toss to coat. Add the pasta and enough reserved cooking liquid, ¼ cup at a time, to moisten. Stir the Parmesan cheese, salt to taste, and pepper into the pasta mixture. Transfer to pasta bowls and serve.