SICHUAN CHICKEN THIGHS RECIPE
Chicken thigh is the best part of the bird for me because its rich meat is tastier and stands up to robust flavors. This dish shows just how good it can be, cooked in a wonderfully sticky marinade. Shaoxing is a Chinese rice wine. You can find it in most supermarkets nowadays, but you could use medium-dry sherry instead. Serve with rice or noodles.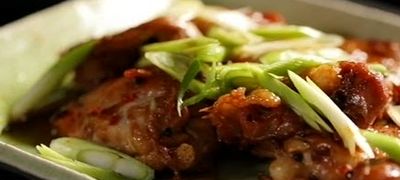 | | |
| --- | --- |
| | |
Cut each chicken thigh into three pieces, then mix together all the marinade ingredients with 2 tablespoons of water. Use to coat the chicken. Season and mix well, then leave in the fridge to marinate for up to 2 hours.

Heat a heavy-bottomed frying pan or a wok over high heat, add a little oil, and saute the garlic, ginger, and chile for 3 minutes until tender and aromatic. Add the Sichuan peppercorns and orange zest and stir over the heat for 30 seconds.

Add the chicken and the marinade. Sprinkle in the sugar and stir well. Cover the pan and cook the chicken over medium heat for 20–25 minutes until colored on all sides and the marinade has reduced to a sticky sauce.

To serve, add the scallions and a drizzle each of soy sauce and sesame oil.
The easiest way to peel ginger, getting neatly around all those knobbly bits, is to use a teaspoon rather than a knife.