Into The Tasting Room: Starbucks Launches Teavana In India
A few days ago, the Starbucks India flagship store in Fort was all decked up to celebrate the arrival of Starbucks® Teavana in India. Starbucks acquired Teavana, a speciality tea brand in 2012 and it quickly went on to become a popular part of Starbucks' menus in the US.
Now, Indian consumers can enjoy the taste of Teavana teas themselves at Starbucks 88 stores across India. The launch brought 18 varieties of distinct tea offerings to the Starbucks India menu including iced teas, brewed hot teas and tea lattes.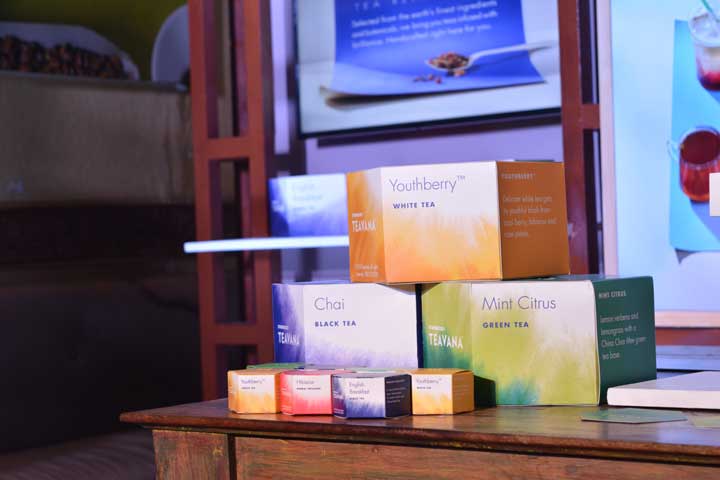 "We believe we can do for tea in India as we have done for coffee around the world- alleviate the experience," said Sumitro Ghosh, the CEO of Tata Starbucks at the launch.
Tasting The Tea
After Ghosh officially launched the Teavana range of teas, attendees at the launch were offered adorable tasting cups of three teas; the Iced Shaken Black Tea with Ruby Grapefruit and Honey, the Iced Shaken Hibiscus Tea with Pomegranate Pearls and the Matcha and Espresso Fusion.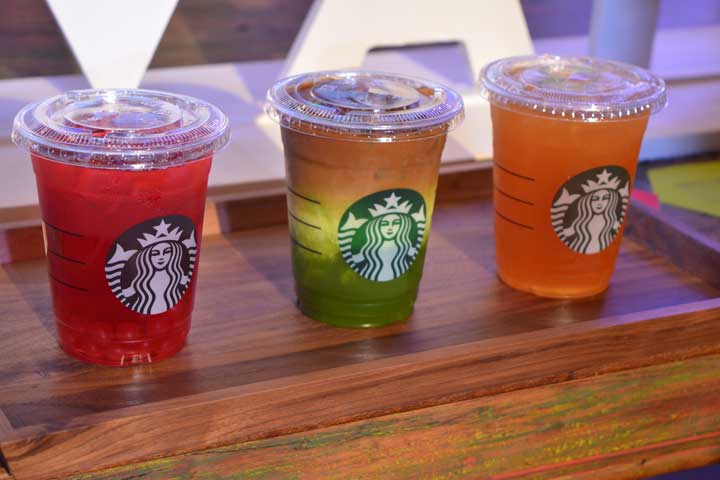 We particularly loved the Iced Shaken Hibiscus Tea with Pomegranate Pearls; it was subtly sweet and incredibly refreshing and was infused with silky velvety pomegranate pearls which burst delightfully in our mouths.
The Matcha and Espresso Fusion blends matcha tea with a dash of coffee; perfect when you can't decide whether your morning calls for a sip of tea or coffee.
Layers of beautifully crafted delicacies come together to bring you the rich and smooth Matcha & Espresso Fusion! #TeaReimagined pic.twitter.com/XdQbdx23Z9

— Starbucks India (@StarbucksIndia) January 19, 2017
The India Spice Majestic Blend
It's no secret that we Indians are devoted to our tea; we start our days with a cup of masala chai, have frequent tea breaks at office and – more recently – have been winding down with a cup of antioxidant packed green tea. As a tribute to the Indian love for tea, Starbucks Teavana collaborated with Tata Global Beverages Ltd to create a tea especially for India, the India Spice majestic Blend.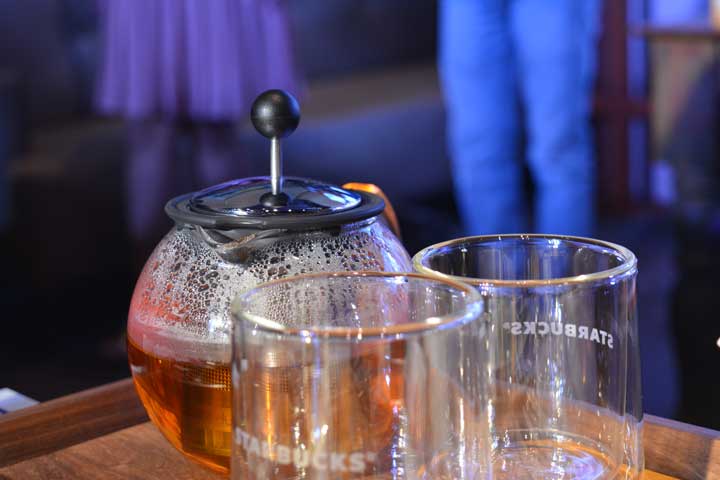 After the India Spice Majestic Blend (whose name itself speaks to the stature of the tea) was launched, Pelki Tshering, the Head Innovation for South Asia at Tata Global Beverages Limited took us through the process of its creation.
"For us (Indians), tea is chai. For some, it's their first morning cup, for others it's the first energy shot for the rest of the day. Tea is the national drink of India," she said.
She continued: "When we thought about reimagining tea, we knew it had to be chai with a superlative, elevated experience. That was the challenge."
Pelki went on to explain that the tea developers took in consideration the Indian palate – which is used to drinking tea with milk – as well as the traditional method of drinking tea – which requires it to be undiluted so the flavours can shine through. They also considered that more than 65% of Indian households tend to add some combination of spices to their tea.
The result of these considerations as well as hours of exploration on experimentation is the India Spice Majestic Blend, an invigorating blend of full leaf Assam black tea with a spice infusion of cinnamon, cardamom, cloves, pepper, star anise and ginger. As Pelki said, the blend is their way of "paying homage to the way Indians drink chai: our Indian tea reimagined."
Evoke the splendour of India in a sip with the Starbucks Teavana India Spice Majesty Blend. Visit us & say hello to our new indulgence 😊☕ pic.twitter.com/5cyz3w8IEM

— Starbucks India (@StarbucksIndia) January 17, 2017
Indeed, as we sipped the tea we understood exactly what she meant. The India Spice Majestic Blend is a rich yet subtle tea which tastes beautiful both undiluted and when combined with milk and sugar.
Considering the Indian obsession with tea, we're sure the Teavana range of teas at Starbucks will only heighten the chain's popularity across the country. Head to the Starbucks closest to you to undertake your very own tasting; be sure to tell us which ones you liked best!