Thenkuzhal Murukku Recipe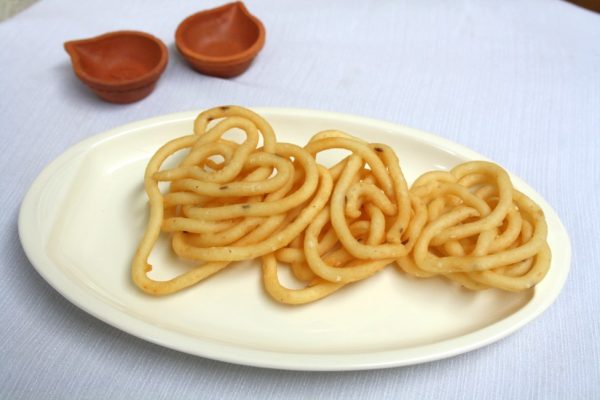 | | |
| --- | --- |
| | |
How to make murukku flour at home

Soak raw rice for 2 hours, wash it and dry it well in the sun or shade.

Fry Urad dal till you get a nice aroma or until slight golden brown.

Mix both, give it in the flour mill and grind it to a fine powder.

Sieve it twice and keep it ready.Now our murukku mavu/ flour is ready.

Mix murukku flour, cumin seeds, asafoetida, salt (mix salt in a little water and add) in a bowl. Heat OIL (1/4 cup) and add to it. Mix well.

Add hot water little by little and prepare a soft firm dough. Knead well. The dough should not be too hard nor too soft.

Make murukku with the murukku machine using the plate with 3 round holes.

Put a small portion of dough into the murukku maker and squeeze it out in a circular motion on a ladle or small plate.

Heat OIL and gently slide the squeezed out murukku into the oil.(To check if the oil is hot, just drop a small piece of murukku dough into the oil, if it raises to the surface immediately, it is an indication that the oil is hot).

Turn the heat to medium and fry the murukkus both sides until golden brown. Remove it with a slotted ladle and drain on a paper towel.

Repeat the process for the rest of the dough. After it cools, store it in an air tight container. It has a self life of 10-15 days.
Those who are trying it for the first time can half the ingredients mentioned above.
You can use either butter or oil for preparing the dough. I have used oil as I feel the murukku stays fresh for a longer period.
For murukku with sesame seed flavor, add sesame seeds and for Cumin Seed/Jeera flavor, add Jeera seeds. Do not add both together.