Watch Prince Harry & Meghan Markle's Royal Wedding In The Making
It's happening! The day of the much-awaited wedding of Prince Harry and Meghan Markle, who is now the Duchess of Sussex, is finally here. And as the world virtually attends the Royal Wedding, we're busy drooling all over the gorgeous and majestic wedding reception cake, which has been prepared by popular London-based baker Claire Ptak.
As reported earlier, instead of a traditional fruit cake, the Royal couple went for a more contemporary and Spring-inspired lemon elderflower cake. And while tasting the actual cake can only be a distant dream, we sure can watch the cake in the making in Ptak's kitchen!
The Royal Family's official Twitter handle did all us foodies a favour and shared a behind-the-scenes video of the baker putting together the pristine wedding cake. The tweet read, "Watch as baker Claire Ptak begins work on the #RoyalWedding Cake!" Loaded with a super fluffy and sweet elderflower buttercream frosting, a tart lemon curd to balance the flavour, and real flowers, the cake looks every bit as stunning as the couple. Take a look!
🎥 Watch as baker Claire Ptak begins work on the #RoyalWedding Cake! pic.twitter.com/OTdcF9hc0a

— The Royal Family (@RoyalFamily) May 18, 2018
While the cake was still in the making, a separate description tweeted by the official handle of Kensington Palace reads out all the ingredients that went into making the cake. So, if you're thinking of replicating the lemon elderflower cake in your kitchen, here are all the ingredients that you'll need (of course, in lesser quantity because the Royal Cake is being baked to feed hundreds):
200 Amalfi lemons

500 organic eggs from Suffolk

20kgs of butter

20kgs of flour

20kgs of sugar

10 bottles of Sandringham Elderflower Cordial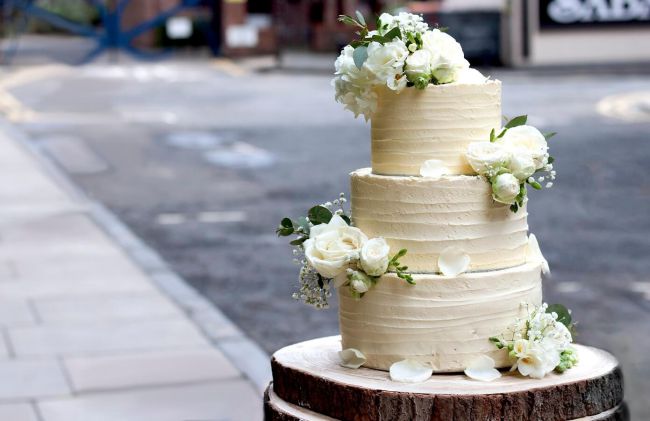 Image Source
Now, wipe that drool off your face and get baking!