Yay or Nay: Starbucks' Gluten-Free Breakfast Sandwich #POLL
Starbucks recently went national with its organic avocado spread, in addition a number of new releases like it's new range of bottled drinks, spring-themed cups, and more. But here's yet another thing that you should look out for in the coffee giant's menu – their gluten free breakfast sandwich. Starbucks announced this week that it is rolling out it's first ever gluten-free sandwich, a.k.a., the Gluten-Free Smoked Canadian Bacon Breakfast Sandwich.
Needless to say, gluten-free eaters are going to have a field day, especially with a nice layer of the avocado spread. So what does the sandwich sandwich? A portion of this gluten free breakfast meal comes with two hot slices of cherrywood-smoked Canadian bacon topped with a peppered egg patty and some melted reduced-fat white cheddar cheese. All this sits between a warm gluten-free roll.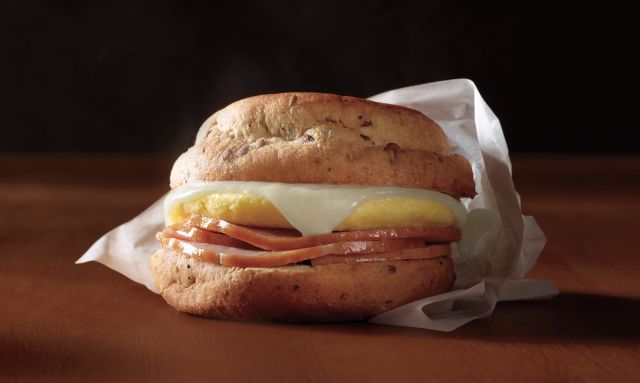 Image: Brand Eating
What's more? In addition to being free of gluten, the sandwich is prepared in a certified GF environment then sealed in an oven-safe bag, away from any and every contaminants. Also, people looking for gluten free food have way more options than just this gorgeous new sandwich. Customers can also pick up other new products added to the Starbucks menu this spring, like a package of Droga Money on Honey Dark Chocolate French Sea Salt, a Gluten-Free Marshmallow Dream Bar, or a box of the new Goodie Girl Mint Slims.
Meanwhile, vegans can also have themselves a sumptuous lunch break at Starbucks with the brand new Sprouted Grain Bagel, which is vegan certified. Additionally, you'll begin to see Lemon Chiffon Yogurt, Berry Trio Yogurt, Peanut Butter Cup Cookies, and Parrot Cake Pops.
So, coming back to the gluten free sandwich. What do you think? Is it a good idea? Vote below and let us know!
[polldaddy poll=9704151]
Feature Image: Franchise India