5 Restaurants In Bangalore With Boozy Christmas Deals
It's almost Christmas, and a super long weekend awaits! If you're not going back home to visit the fam (or, better yet, your fam is in Bangalore) here are some great boozy ways to spend your Christmas Eve and Christmas Day, you're welcome!
Phoenix Marketcity Bangalore is pulling out all the stops this Christmas Eve with a glorious Drunch, which includes (you guessed it) unlimited food and drinks for 4 rocking hours!
Date: 24th December 2017
Time: 12 pm – 4 pm
Place: BAR BAR, Phoenix Marketcity Bangalore
Price: Rs. 1399 onwards
For Reservations: Call – 99015 10412
At Big Brewsky, you're guaranteed to have loads of fun this Christmas Eve. Enjoy the gorgeous outdoor space along with live food stations and plenty of craft beer and cocktails to keep you in the Christmas spirit. Teetotalers have no fear because they've got delicious mocktails too! You best hurry and make reservations because Big Brewsky is always packed out!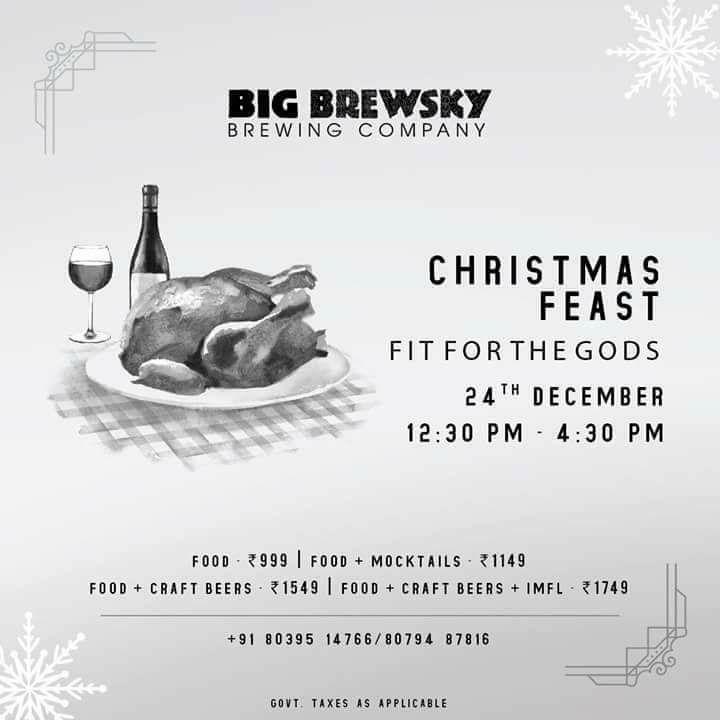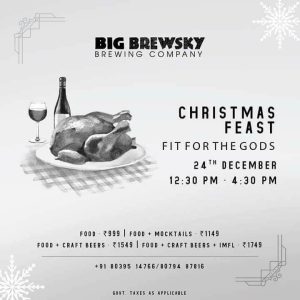 Date: 24th December 2017
Time: 12:30 pm – 4:30 pm
Place: Big Brewsky
Price: Rs. 999 onwards
For Reservations: Call – +91 80395 14766 or +91 80794 87816
If you want to mix things up this Christmas Eve and brunch isn't really your thing, then head down to Cafe Felix for a blitzing sundowner and enjoy 1 + 1 happy hours from 7 pm to 9 pm!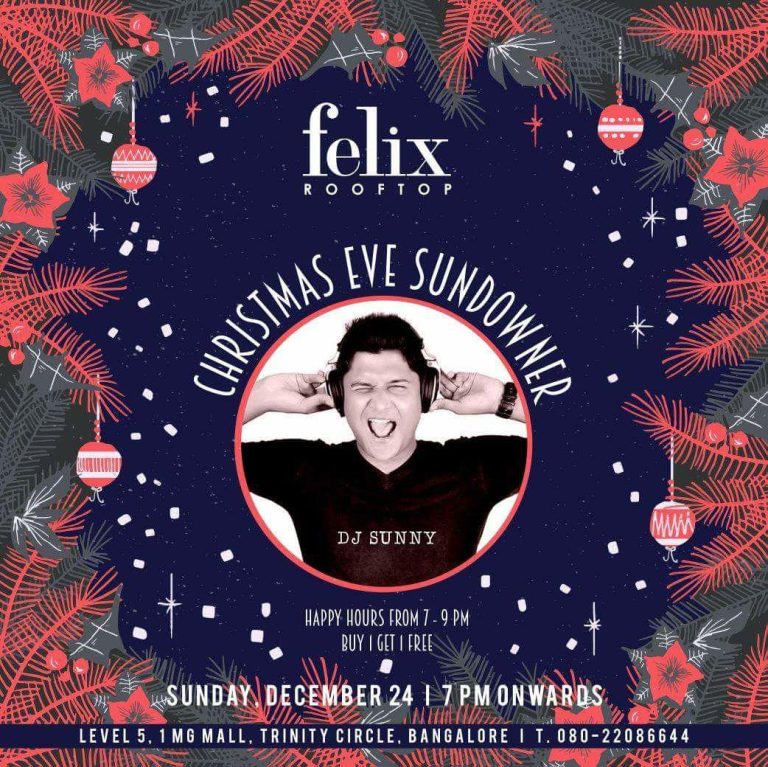 Date: 24th December 2017
Time: 7 pm onwards
Place: Cafe Felix, 1 MG Mall
If you've ever lived in Bangalore, chances are you've heard of, or have attended brunch at Shiro and this Christmas Eve they're doing it bigger and better with an All-white Christmas Brunch! Feast on delectable pan-Asian cuisine while knocking back delicious cocktails, jelly shooters, sparkling wine, and more!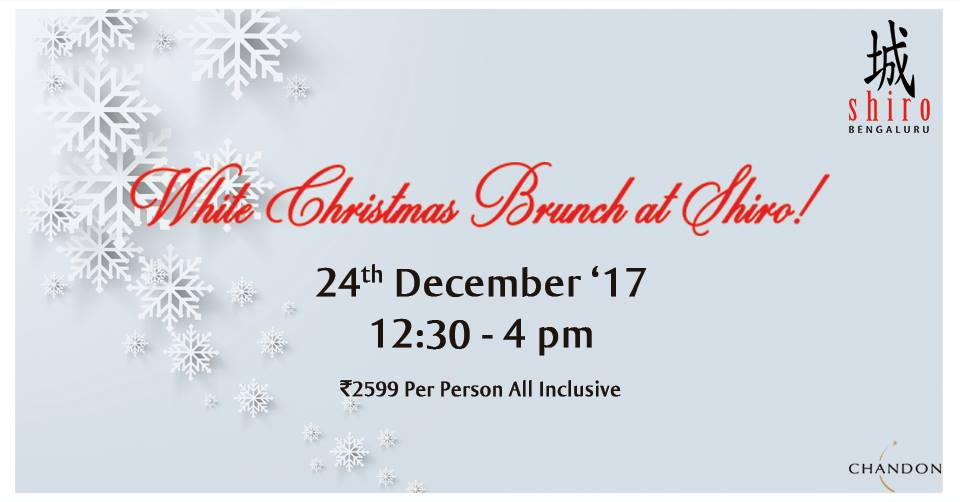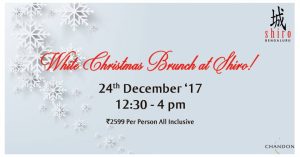 Date: 24th December 2017
Time: 12:30 pm to 4 pm
Place: Shiro, UB City
Price: Rs. 2599 All Inclusive
For Reservations: Call – 080 4173 8864
Fancy a six course, delicious Goan and continental feast complete with the Baga feel and a live band to boot? Then Lady Baga is the perfect place to spend your Christmas Day, and, ahem, you get to go day drinking on a Monday, how often does that happen?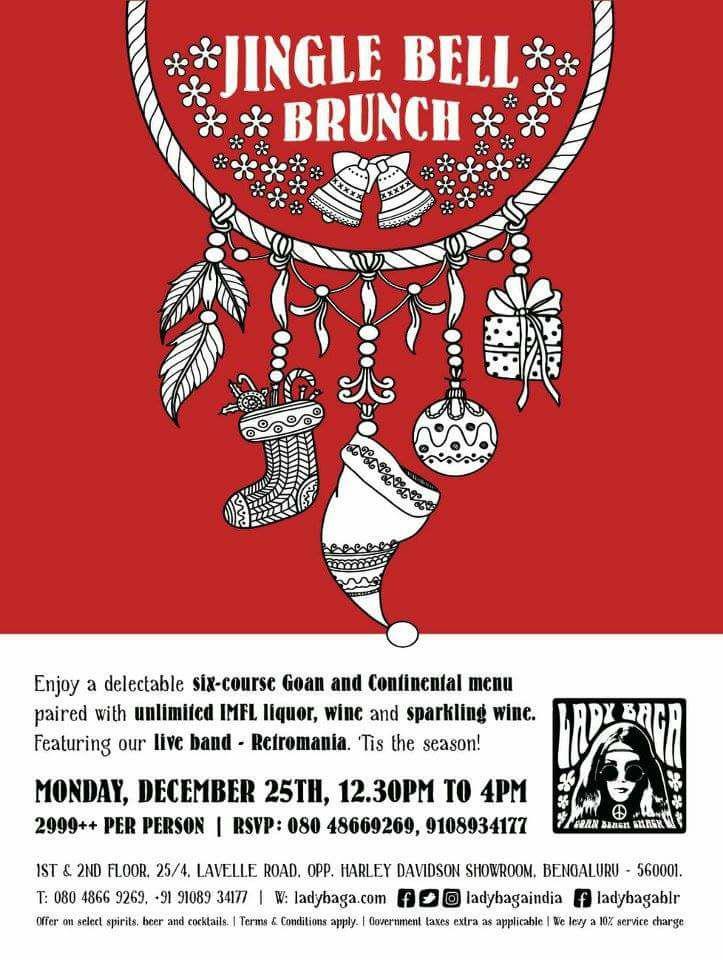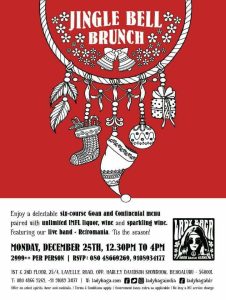 Date: 25th December 2017
Time: 12:30 pm to 4 pm
Price: Rs. 2999 onwards
Place: Lady Baga, Lavelle Road
For Reservations: Call – 080 48669269