Cool Down With These Watermelon Drinks This Summer
Made up of 80% water, watermelons are one of the most refreshing fruits for the summer. And that's not all that watermelons do for you, it's also good for your health. Sure, everything must be controlled and properly portioned, but there are so many things about watermelons that will make you make this fruit your priority for the summer.
Besides being mostly water, it is naturally low-fat and has great benefits like improving your immune system and replenishing your skin due to the heat and the sun. Watermelons are also packed with antioxidants and the presence of beta-carotene in the fruit helps improve eye sight. And the high vitamin C content is what helps to improve your immune system.
While adding sugar and alcohol might take away some of the health benefits of the fruit itself, you can control the amount you add and the amount you consume, but to beat the heat this summer, here are a few drinks you should make for yourself just to relax.
Watermelon cucumber slush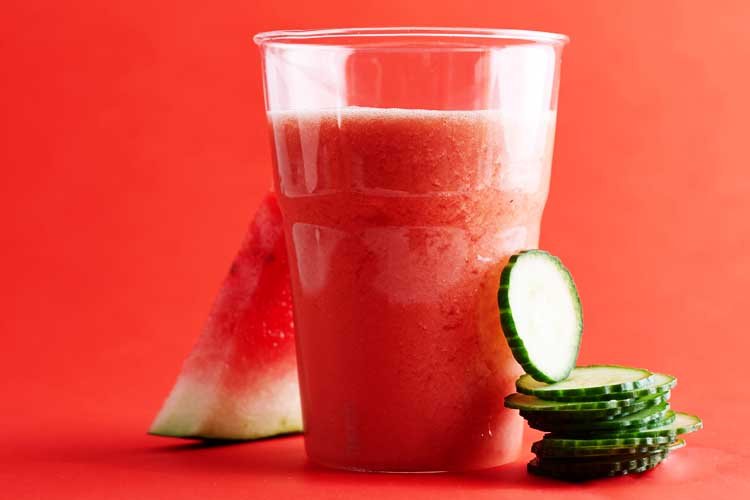 Slice and dice your watermelon and cucumber and then toss them into the blender along with raw sugar, lime juice and some mint leaves. Blend and strain to get rid of the solids, then add a few cups of ice to the mixture and blend again. Once you pour it out into a jar, you can stick it in the freezer for a little while so that it stays cold and just top off a glass with a few mint leaves and a great summer drink is ready.
Watermelon lemonade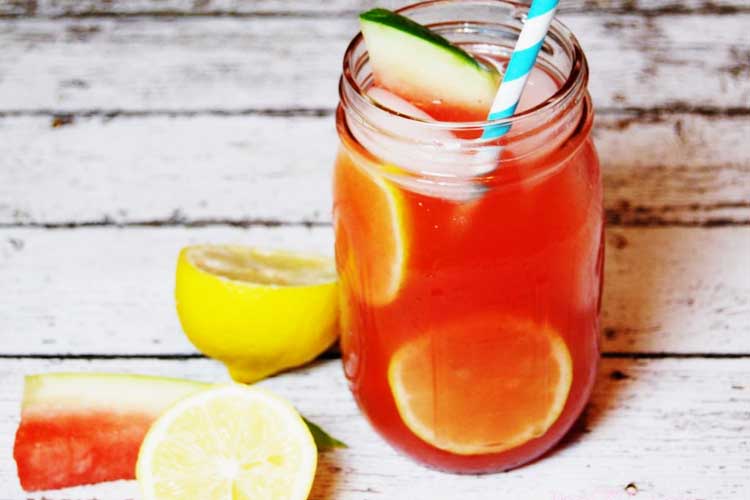 Blend the watermelon pieces and lemon juice, then pour it into a jar and mix with water and sugar. Stir until dissolved and when you're serving, just pour it over ice to keep the drink cool. And add some lemon wedges and mint sprigs for flavor and refreshment.
Watermelon margarita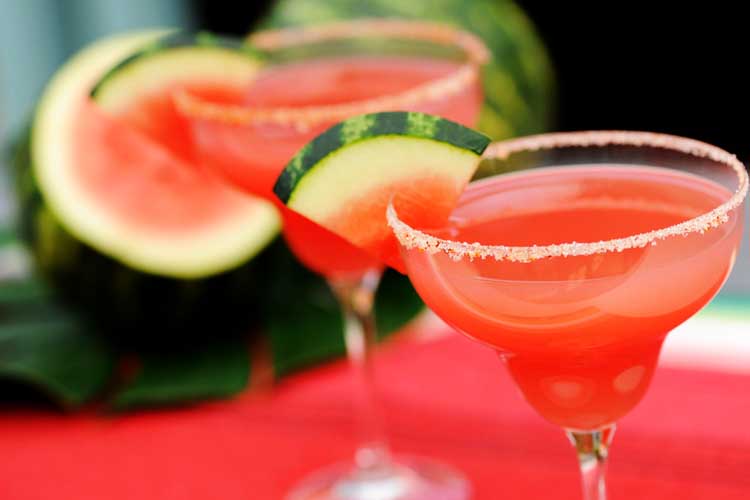 Unlike most other margaritas, you can cut back on the amount of sugar that you add because watermelons are naturally sweet. Mix watermelon, tequila, sugar, fresh lime juice and Triple Sec in a blender. Coat the rims of your glasses with salt or sugar, depending on your preference, add ice cubes and pour the mixture over it. And done.
Watermelon and mint cooler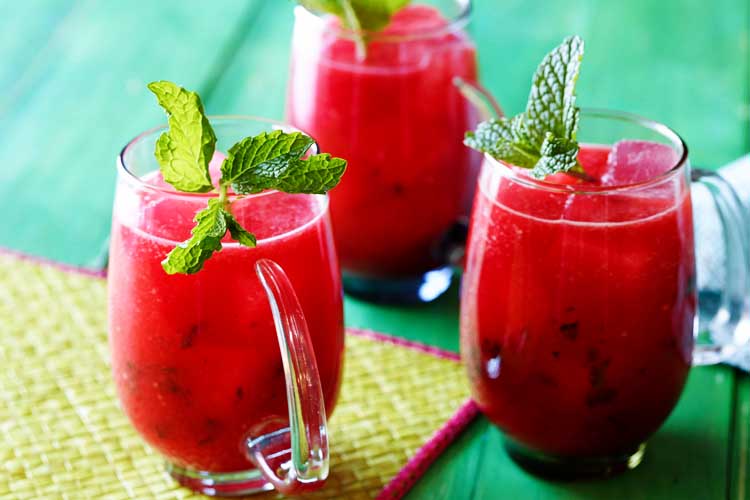 Very similar to the watermelon lemonade, you just need to blend the watermelon with lime juice, add mint to the mixture and serve over ice. To make it a cocktail, just add a little vodka or tequila and voila, easiest drink ever.
Watermelon Mojito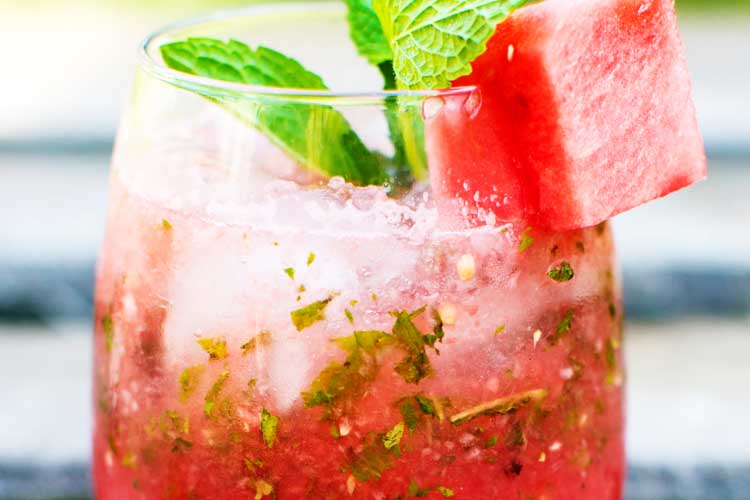 Crush a combination of mint, sugar and lime, then blend the watermelon and strain it till you only have liquids. Combine the watermelon juice and rum with the mint, sugar and lime and keep it cold till you're ready to serve. Pour it into glasses over ice cubes and top off with mint sprigs.
Watermelon sangria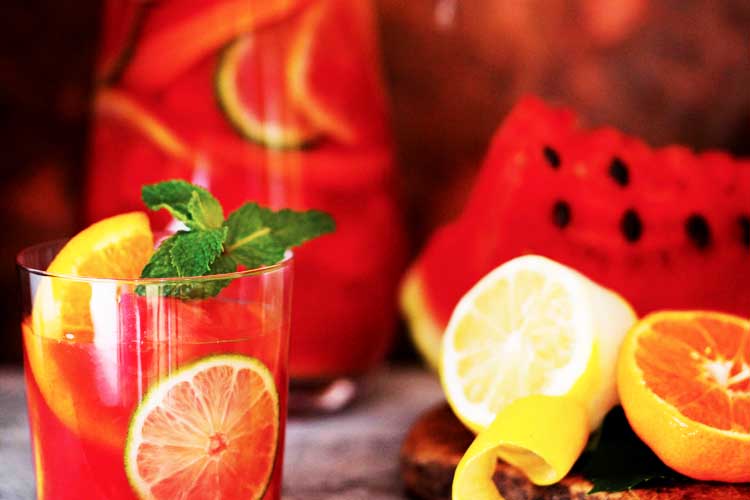 You can use red or white wine for the sangria, so once you've blended the watermelon cubes and strained it, add wine, vodka, Cointreau and a little citrus syrup. Then refrigerate for a few hours and stir again once it's cold, pour the sangria out into glasses and add watermelon cubes or slices for garnishing. You can also add orange or lemon slices (instead of the syrup) into the mixture before you put it in the fridge, that way it soaks up the citrus flavor as well.
Watermelon slushie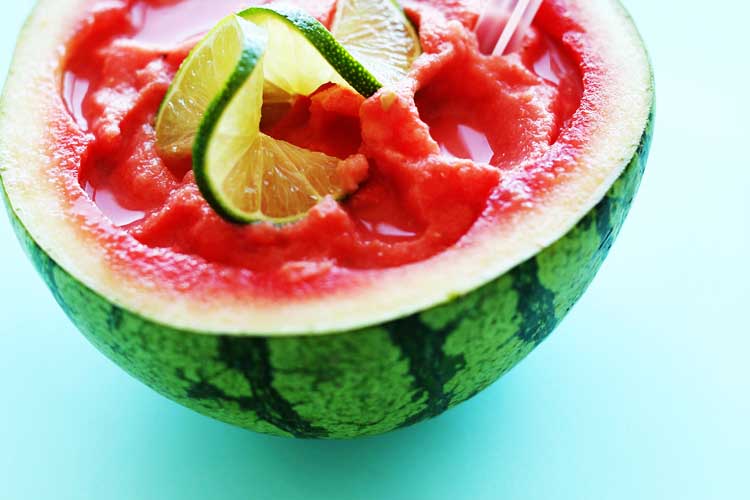 Note: You do not have to drink it out of the shell, but look how pretty it is! Blend the watermelon with ice and sugar till the pieces are diluted, add some lime juice for the tanginess and then refrigerate. You can add vodka if necessary and either serve instantly or serve later. But keep it cold!
Bonus: Watermelon + kiwi popsicles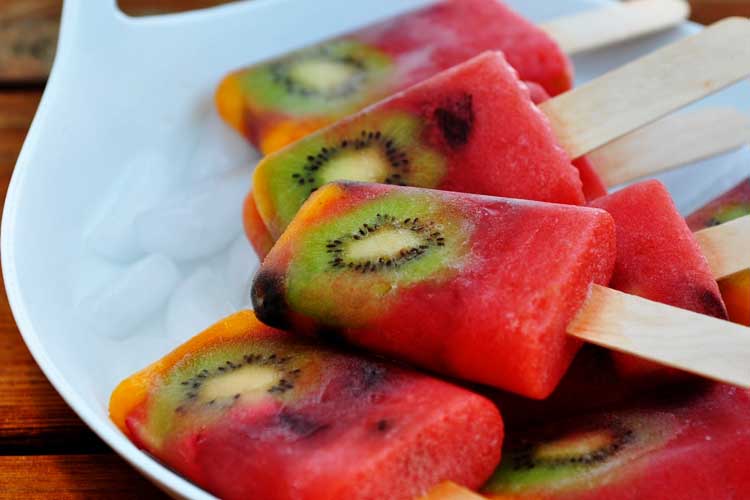 Blend watermelon, kiwi and lime juice together (add some agave if you wish), then pour it into the popsicle mold and freeze for a few hours. You can also slice the kiwi and just add it to mold once you've poured the mixture out so that the fruit stays intact. When ready, pull out of the mold and enjoy!