Cure Your Post-Party Hangover Blues With Morning Fresh
New Year's Eve is just around the corner and alcohol will be flowing through the corridors of every pub and club in the city. The night is made for indulging in things that you might not on a regular basis and to let out a little bit of your wild side. After all, we are welcoming in the New Year and what better way to welcome it than trying to one up each other in the wild game of "who can drink the most", a game made specially for New Year's eve parties.
Although certain people drink within their limits, there are quite a few of us who are more than willing to reach our threshold of alcohol intake and chug on down past it. What's one more drink when you are out enjoying the night with your friends, right? We reach home after the party and pass out, not realising the horrors which awaits us the next day morning. Yes, the dreaded hangover, splitting headaches hammering away with a little bit of nauseousness thrown in for good measure. We swear to everything that people consider holy that this would be the last time we touch that bottle of alcohol, which we know won't happen.
Why make these dramatic false promises to ourselves when we can erase the word "hangover" from our vocabulary? It sounds too good to be true but it definitely isn't with Morning Fresh, the greatest invention known to man since bakers started slicing up those loafs of bread. Morning Fresh is the ultimate hangover cure which will do away with your proclivity to get those terrible hangovers after a wild night of drinking. We had an exclusive chat with the makers of this divine product to get to know more about it.
Morning Fresh is an amazing restorative hangover cure. Having had it on three separate occasions I found that even with mixing drinks, not having adequate water and insufficient sleep, having morning fresh before bed was the only reason one was able to function properly the next day.

– Shreya Chandra, Bengaluru
What is Morning Fresh?
Morning Fresh is a hangover cure drink which you chug down right before hitting the sack after a night (or day) of heavy drinking. What it does is help you feel and look alive the next morning without a hint of that dreaded H word. Morning Fresh comes in three different flavours, salted caramel, cola and strawberry, for all you flavour fanatics, so you can pick and choose the one that suits your taste buds the best.
Mitali Tandon, Head Marketing and Co-Founder of Morning Fresh, tells us more about the company, background of this product and what the future holds for Morning Fresh.
Background
"The company that manufactures Morning Fresh is called Sericare; A Division of Healthline Pvt Ltd. We have been pioneers in the field of sericulture and using silk as a bio-material for over six years. We have a strong R&D base and focus on creating innovative uses of silk protein, one of which we were able to identify with Morning Fresh. Silk has been known to be one of the most eco-friendly materials and has been tested as non-allergenic, non-toxic and completely bio-compatible"
Product Reach
"We are currently a team of 40+ people. We have our own website, on which sales are currently doing extremely well. We find our customers prefer enjoy entering our universe to understand everything we do before placing their orders. Education about the product and it's functionality are really a key factor for Morning Fresh. But we are looking, on ground, to stock the product in retail outlets and local bars and restaurants. Currently we are available at Dewars on Lavelle Road and Red Fork in Indiranagar and will shortly be visible in many more such outlets in the city."
"We would like to establish our footprint in Bangalore since this is home for us. Following which we will be expanding to other metro's in India like Delhi, Mumbai, Pune and more. But our online store accepts and delivers orders all over India and currently we are receiving a great response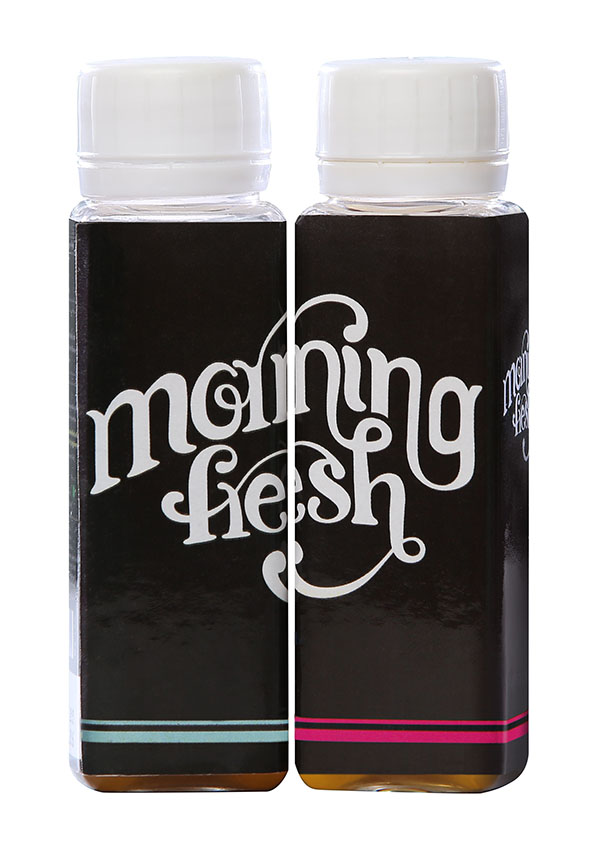 Resistance From The Market
"I know Morning Fresh has huge potential. It is difficult, though, because the resistance is quite high since its a newer product. Everyone is well-traveled and they know products like this exists outside the country. In India, there is still some doubt in terms of trusting products like this. We got in touch with a local startup to enquire about the possibility of stocking our product and they asked us to come back after a year because, right now, the concept is too bold for our market. Two or three people we've met in the retail sector even mentioned that no one gets hangovers anymore because of the classier style of drinking. But our research showed the exact opposite."
Response From The Public
"When we talk to customers directly, they are very keen to try the product. We have sampled over 1500 bottles now in various scenario's and have received a great response and are very happy with the product, everyone who has tried it has usually come back to us again."
Competition From Similar Products
"There is a little bit of competition. I think there is more competition when it comes to home remedies versus actual products. However the biggest advantage with Morning Fresh is , since you take it before going to bed, you are waking up fresh, free of toxins and ready to take on the day. Rather than having to wake up feeling lethargic and heavy-headed. That really is what differentiates this product from other remedies."
This was the first time I was trying something like this. It was amazing. It didn't even feel like I had drinks the night before (I had had a lot to drink, mind you), There no lingering after taste of alcohol or the uncomfortable drowsy/nauseous feeling. Plus point is that the drink tastes yummy!

– Prerana Sitaraman, Bangalore
What Exactly Is In Morning Fresh?
Bharat Tandon, Managing Director of Sericare, explains the science behind Morning Fresh.
"It's a sweet liquid. It contains a fraction of the silk protein, flavourings, vitamin C and proteins. It has nothing to do with silk worms or anything of that kind. Silk is a very evolved protein and has lived close to human beings for around 4000 years and therefore it is completely bio-compatible. It is very rare to find a lady getting allergic reactions from silk sarees, which can happen with other synthetics. Silk is extremely bio-compatible and we are using that property in Morning Fresh."
"The way it works is when you have a drink, alcohol gets into your blood stream. That's what makes you feel drunk and reduces your response rate. The liver is the organ which tries to eliminate the alcohol from the blood stream and it does it through an enzyme called ADH, Alcohol Dehydrogenase. The more your drink, the less ADH is produced by the liver. At one drink, ADH gets activated and at five drinks, the amount of ADH that your liver can produce gets reduced. So, what Morning Fresh does is, it activates the ADH and simulates ADH production in your body. So, drinking Morning Fresh helps you boost ADH production and eliminates alcohol rapidly from your system. The more completely you eliminate alcohol from your system, the cleaner your head is in the morning."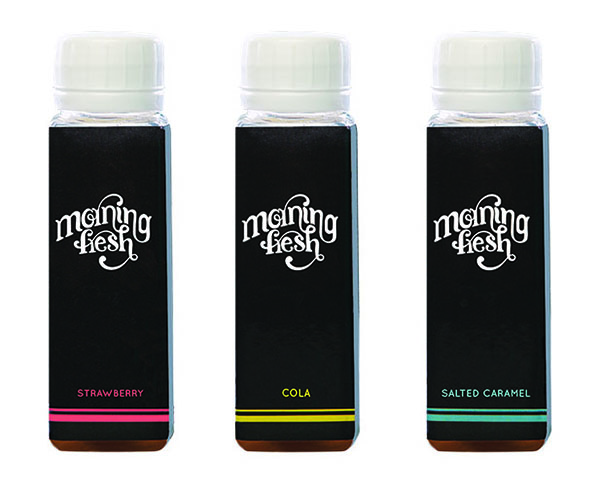 Are you convinced yet? We would be considering the amount of research and study that went into developing this product. We received a few samples of the product and the results were mind altering. We woke up fresh and ready to get on with work after a night of heavy drinking. That is usually not the case when drinking on weekdays.
So, why not give it a try one of these days and let us know if it is your ultimate miracle cure for hangovers. You can buy single serve bottles of Morning Fresh directly from their website for Rs. 100 or the weekend pack of all three flavours for Rs. 300.