Being Human Clothing Flagship Store Will Install A London Bubble Co. Pop-Up To Celebrate Salman's Birthday
Being Human Clothing, a clothing line with a heart, has partnered with waffle brand London Bubble Co. to celebrate Mr. Salman Khan's birthday on 27th December. Being Human Clothing will install a London Bubble Co. pop-up in the flagship store on Linking Road. Customers walking in the store can shop at flat 50% discount on all apparels and walk out with pocket waffles at just Rs.2 from the pop-up waffle cart by London Bubble Co.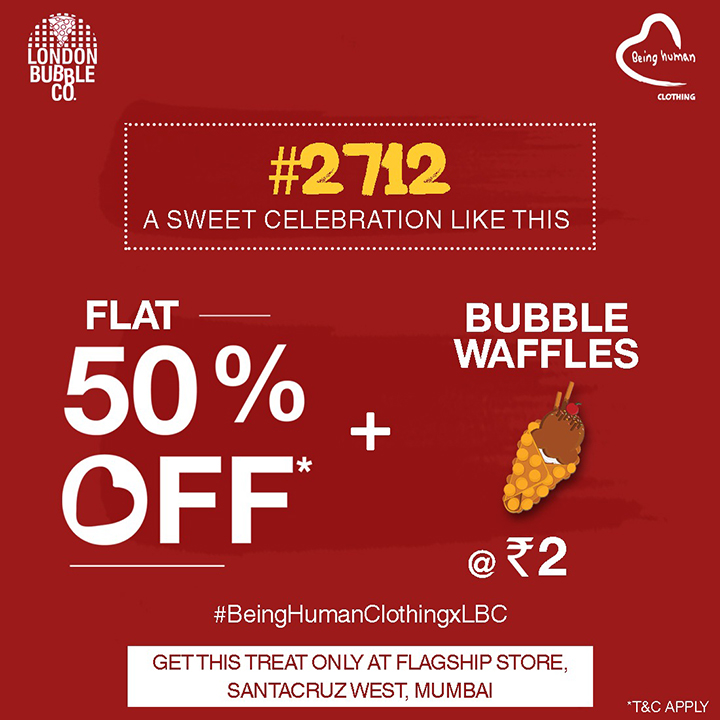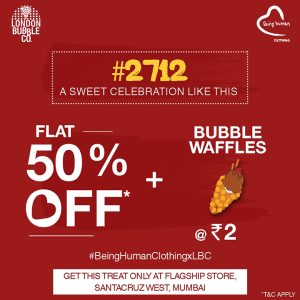 Date: 27th December, 2017
Venue: Shop No.1, Anand Villa (65), Linking Road, Near Arya Samaj, Santacruz, Mumbai, Maharashtra 400054
Time: 11:00 AM to 9:30 PM
ABOUT BEING HUMAN CLOTHING
Being Human, a clothing line with a heart, launched by Salman Khan, India's A-list cine-star in 2012, globally licensed by The Mandhana Retail Ventures Ltd, has its footprints in over 15 countries with over 600 point-of-sale. Royalties from merchandise sale give impetus to the initiatives of Being Human-The Salman Khan Foundation in India, dedicated to the twin causes of education and healthcare for the underprivileged. This unique business model finds an instant international connect, acceptance and appreciation. The ability to 'look good and do' good at the same time empowers consumers globally and wins their hearts. The brand's combined ethos of celebrity, charity and fashion has been a catalyst in taking its reach to 600 point-of-sale across the globe in a span of 5 years.
For more information please visit: www.beinghumanclothing.com
About London Bubble Company: A self-funded enterprise, Gobble Me Good was set up by Saurabh Rathore with the core proposition of bringing international culinary experiences to India. Set up by Saurabh Rathore, London Bubble Company is GMG's first foray, and its bubble waffles is making waves in Mumbai. The company plans to bring three more international concepts to India by 2019.