Lift Your Spirits With LIIT Festival At Hard Rock Cafe In Bengaluru
Hard Rock Cafe in Bengaluru welcomes the holiday season with a special menu catering to the lovers of the glorious creation that is LIITs (Long Island Iced Tea). With their 'High Spirits' menu, the bartenders at HRC have concocted 10 different types of LIITs with each having a flavour of its own. The traditional LIITs gets a kick up its pants with Jalapeno, Lavender and Aam Paana joining hands to spruce up the regular ol' drink. For the true lovers of LIITs, these creations will get you singing and dancing and the tales of which will only be known the next day morning.
HRC, Bengaluru invited us to sample their LIIT menu and we had to hold in our joy to look more professional. Unfortunately, we could not try all the drinks on the menu because, well, we are talking about LIITs and we would rather tell you guys all about it instead of passed out cold somewhere on the streets of Bengaluru.
So, here are the absolute must haves on the 'High Spirits' menu at HRC along with our recommendations of food to enhance your drink.
Love Is In The Air Iced Tea
When you see the glass of LIIT-A, it has a mesmerising and uncontrollable deep crimson cloud, which spirals into the translucent white smoky liquid. This LIIT will get you floating in love with its dark flavor. Apart from the orthodox five-point mixing of LIIT, this bad girl contains Red Wine.
As you dwell into a sip of this gorgeous cocktail, the dominant strength of the red wine, mysteriously, merges with the strong flavors of the other spirits. There is a subtle aftertaste of Lychee, which beautifully balances the darkness of the spirits with a sweet and sour savor at the back of your tongue.
Pair this one up with a plate of the Bengaluru special Southern Spiced Chicken Fritters.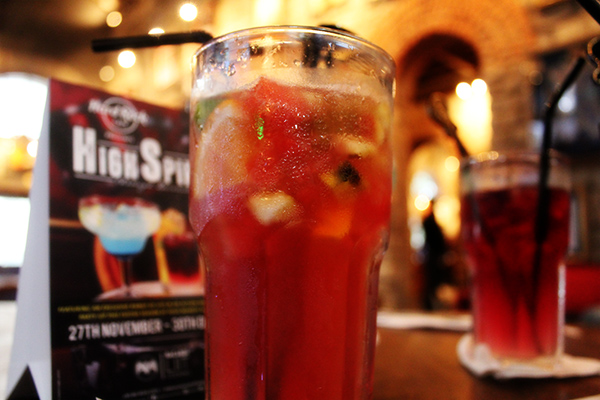 Calypso Iced Tea
High Spirits is all about breaking the conventional cocktails menu; hence, Hardrock Café brings you this impeccable, tropical looking version of the Long Island Iced Tea called the Calypso. This summery and body cooling Calypso has the hearty body of Vodka and Gin, but the smoothness of Old Monk and Malibu gives the cocktail a smothering texture.
The hard spirits in this glass are balanced to perfection with the acidity from freshly chopped apple, pineapple and watermelon, rendering the Calypso a bonus sultry flavor. The presence of cranberry juice also gives an exciting edge to this cocktail.
Enjoy the Calypso Iced Tea with smoked to perfection T-Bone Steak, served with spiced-up baby potatoes and corn on the cob. Add to this a side of mashed potatoes and you will never go wrong.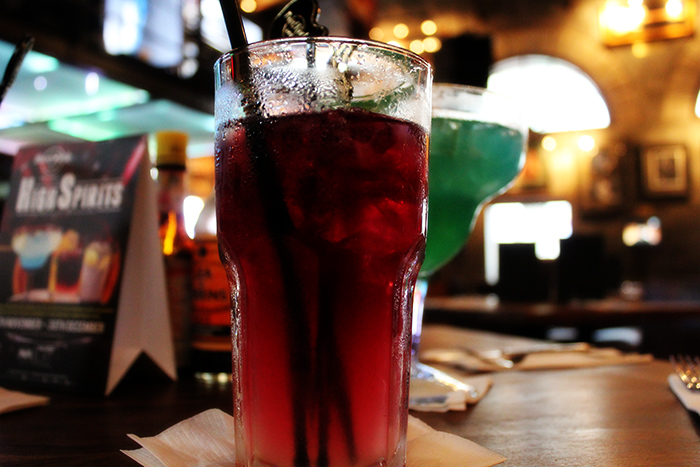 Texas Iced Tea
If you think that it is any other LIIT, then I am afraid you are wrong. This southern style LIIT is actually a notch better than your average LIIT. The powerfully spirited LIIT gets flawlessly stable grain with the sophisticated yet smoky flavour of Whisky.
Perfect companion to the Legendary 10 Oz Burger and make sure you order an extra side of those crispy and heavenly Original Hard Rock Onion Rings.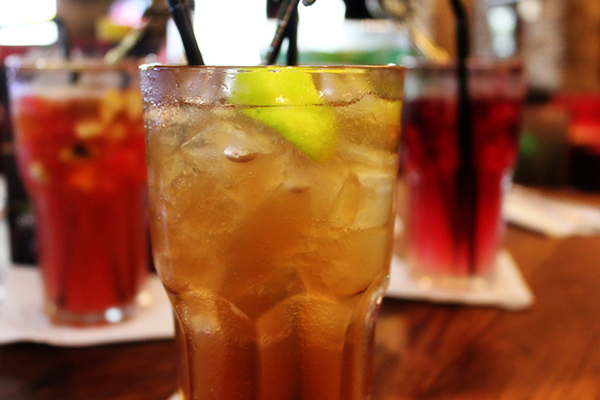 The Big Bull Iced Tea
Red Bull gives your wings but the Big Bull will give you jet packs. This mammoth cocktail is a result of the amalgamation of six spirits. Yes! Six! It is not only strong but it is filthily refreshing.
The Blue Curacao and Red Bull uplifts the flavours of the six spirits involved in the holy matrimony of this beastly drink. The Red Bull tones down the coarse flavour of those six spirits but it does not bring the muscle down, it only allows the cocktail to go in smoothly.
To give this experience an upgrade, make sure you order the amazing Hickory Smoked Bar-B-Que Ribs to go with this Bull.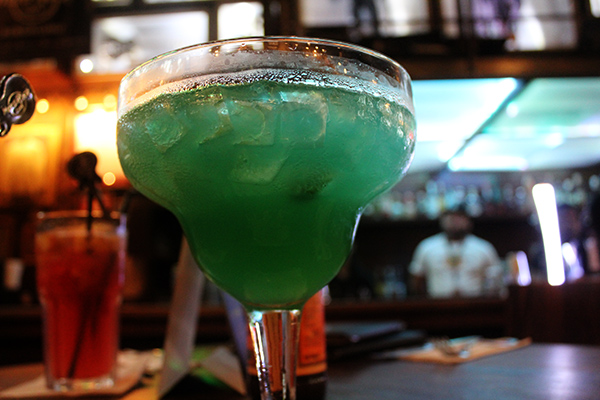 Double Trouble Iced Tea
We thank God that this comes with the motivation to share. This six-spirited cocktail is full of life-forces and a hard temperament. The strength of the six alcohols simply gets a better tone with the traditional Coke.
The flavour of this one is dark and delicious because of the addition of a zesty hint of Orange. The secret to enjoying this monstrous cocktail is to have it in shots and order the Jumbo Combo Non-Veg. The smartly laid combination of the Chicken Wings, Tupelo Chicken Tenders, Onion Rings, Potato Skin with Bacon Bits and Santa Fe Spring Rolls is the perfect partner to enjoying these musky shots of Double Trouble.
The LIIT Menu
1. Double Trouble Iced Tea
Tangy orange, sweet and sour mix topped with six wild spirits and a splash of coke. Not for the faint of heart.
2. The Big Bull Iced Tea
Grow wings with this beats of a drink; Blue Curacao, Red Bull and six kinds of spirits to take you really higher
3. Lavender Iced Tea
Light and fresh like a summer breeze. Lavender adds a sophisticated touch to this flirty LIIT
4. Aam Paana Iced Tea
An all-time favourite, raw mango creates a medley of flavors in this five spirited LIIT.
5. Kaal Khatta Iced Tea
Relieve your childhood with this kala khatta infused ice tea made with five spirits and topped off with coke. Keep away from children
6. Boston Iced Tea
Four bold spirits amped up with coffee liqueur and a splash of coke. Sure to ship you straight to Boston.
7. Jalapeno Iced Tea
Some like it hot, while some like it very hot! As if five spirits weren't enough, we've thrown in some zesty jalapenos, brine, sweet and sour mix topped with lemon lime soda.
8. Calypso Iced Tea
Fruity and loopy! Five signature spirits combined with fresh apple, watermelon, pineapple, and lime topped off with electric cranberry sauce.
9. Love Is In The Air
Dark and delicious here with five spirits, red wine and a hint of lychee make this lovely concoction irresistible.
10. Texas Iced Tea
Do Southerners really do it better? Judge for yourself with this whisky based LIIT.