McDonald's Next: McD Gives A Peek Into The Future Of Fast Food
This week, Hong Kong has been the first market to experience what McD from the future looks like. McDonald's Next opened shop this weekend and left customers in complete shop. In a good way, of course.
Bigger & Better Menu
The fast food giants has been feeding us its emblematic burger and fries meal for over half a century but this new format brings along with a hoard of healthy additions to the menu.
The restaurant now feature a full-fledged salad bar that includes nineteen different salad ingredients: two choices of salad base greens, two kinds of cheese, three flavours of sauces and the choice of couscous or quinoa.
McDonald's Next even serves coffee and sells beans, so that the customers can take home the restaurant's signature blend.
Apart from the healthy add-ons, the Hong Kong market got a special surprise for their love of quality desserts – a mixed berry waffle.
Despite the multitude of changes in the menu, the restaurant will still have on offer its traditional McD menu consisting of macs and other grubs.
Setting & Service
The décor and ambience is uber neo complete with a shiny metallic theatre kitchen, chic metal and wooden furniture, touch screens and even table service.
The staff have been trained for a whopping 720 hours to practice for impeccable table service, McDonald's said, and the service squad has also been provided with new uniforms.
Adding to the wow factor of the restaurant are digital walls that will feature changing food items, phone changing stations and a self-ordering kiosk.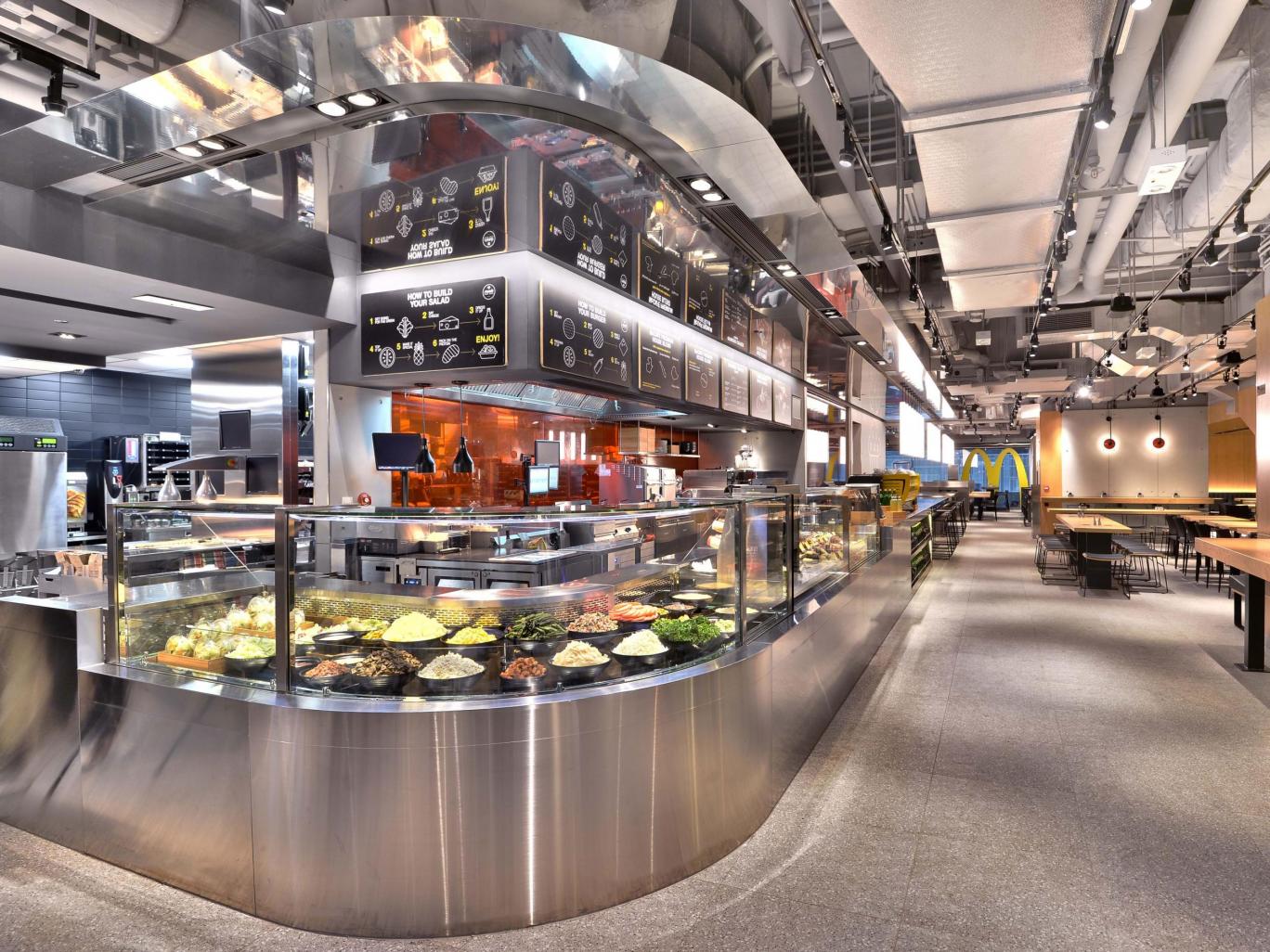 Easterbrook Magic
In 2015, when McD sales saw an all time slump, Steve Easterbrook – the now CEO of McDonald's – took over the wheel and fished the fast food giant out of what had been called a "deep depression" for the brand.
Since then Easterbrook has fought super hard to resurge the chain to its previous position and quite visibly he has taken an exciting and promising path, which started with cutting the use of antibiotics in the chicken supple, introducing all-day breakfast in the US and now McDonald's Next in Hong Kong.
According to the company, this is "a milestone of McDonald's evolution to a modern and progressive burger company" – where the main food item (burger) is at the bottom of the menu.