10 Best Dinner Sets in India 2019
Dinner Sets are usually very important part of your kitchen and is required everyday during lunch or dinner for helping yourself. They are usually very good for gifting purposes especially to newly wed couples who have to setup their kitchen. It is very useful when there's some guests you usually prefer these over your steel dishes and bowls which you use regularly. We have curated 10 best Dinner Sets from many Dinner Sets!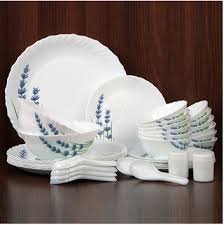 Color: white/blue/green , dinner plate size- 10.5″
High polish, dishwasher safe, microwave safe, stain resistant
Break resistant, bone ash free, extra strong, extra strong, thin & light weight
Capacity: serving bowl-790 ml , veg bowl-170 ml
Package Contents: Dinner plate-6pcs, quarter plate-6pcs, veg bowls-6pcs, serving plate-1pcs, serving bowls-2pcs, salt & pepper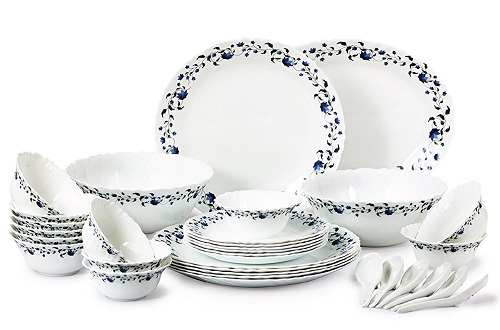 Made in India with most advanced German technology as per European standards

Bacteria free-non porous and hygienic for your family

100 percent vegetarian with bone ash free and made of green material

Thermal resistant, no cracks on heating food in microwave from refrigerator and stackable

Break, chip and scratch resistant which is made for everyday use

Vibrant designs that make dazzling white wares look beautiful

Fully tempered up to 3X stronger, recyclable, easy to clean

Food grade and 100 percent hygienic

Smooth surface, light weight and super white

Package Contents: 6-Pieces Full Plate, 6-Pieces Quarter Plate, 6-Pieces Veg Bowl (190ml), 2-Pieces Medium Serving Bowl (1.37 Litres), 1-Piece Oval Platter, 6-Pieces Soup Bowl (290ml) and 6-Pieces Soup Spoons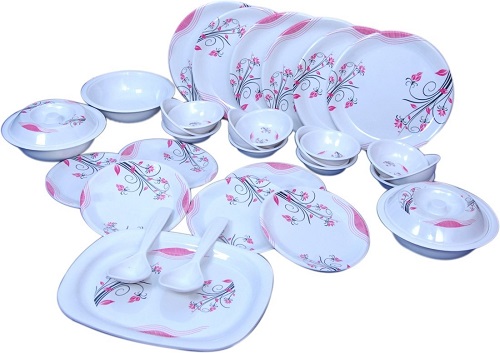 Dinner Set is made of the superior quality of Melamine with attractive and beautiful Floralprint of Pink color on White.

Package Contents: 6 Round Half Plates, 6 Round Full Plates, 12 Bowls, 1 Serving Tray(Rice Plate), 2 Donga Base, 2 Donga Lid, 1 Open Donga, 2 Serving Spoons

Dimensions of each item in this package are:- Full Plates-25cm diameter, Half Plates-19cm diameter, Bowl diameter- 12cm, Bowl height-4cm, Bowl Capacity-300gm, Length of serving tray-31cm, breadth of Serving Tray-25cm, Spoon-23cm long.

The texture and design of this Dinner set is same as shown in the Image. It has a very unique and Cool Combination pink flowers emerging from black stem on White Plates. This gives a very elegant look to your dining table and will leave a very good Impression on your guests.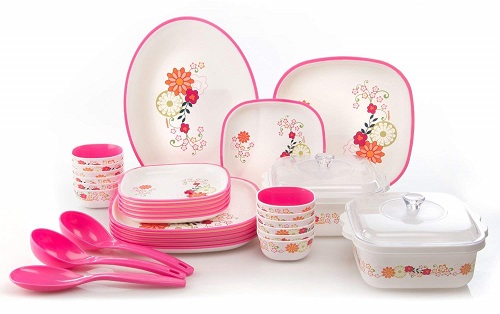 Dishwasher safe for easy cleaning

Microwave safe

Comes with 2 lids for serving

Beautiful floral print

BPA Free

Material: Plastic, Shape: Square

Package Contents: 6-Pieces Full Plate, 6-Pieces Quarter Plate, 12-Pieces Small Bowls, 2-Pieces Serving Bowls, 1-Piece Rice Plate, 2-Pieces Serving Spoons and 1-Piece Rice Serving Spoon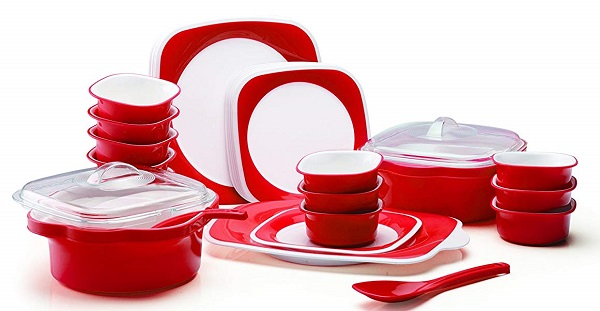 Material: Made of Virgin Reinforced Polypropylene, a 100% Safe & Food Grade Plastic Material.

Durability : Safe for use in Microwave, Refrigerator, Freezer, and Dishwasher (top rack) Can be used straight from the fridge to the microwave for reheating and serving.

Convenient to clean and maintain. Lightweight & Stackable, Easy to Clean & Store.

Package Contents: Full Plate 6 Pcs, Quarter Plate 6 Pcs, Veg Bowl 12 Pcs, Rice Plate 1 Pc, Serving Bowl 2 Pcs, Serving Bowl Lid 2 Pcs, Serving Spoon 2 Pcs, Serving Laddle 1 Pc.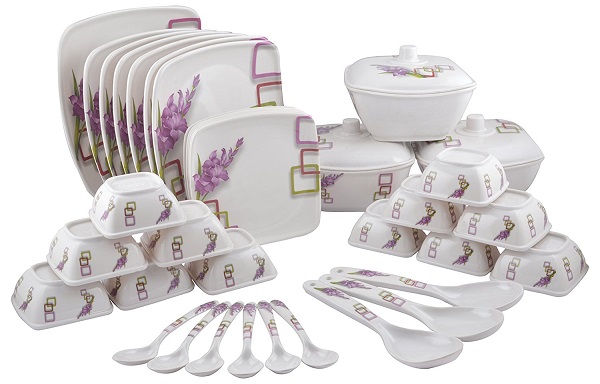 Material: Melamine

Color: White and Purple

Volume: 1 Liter (Casseroles), 0.25 Liters (Bowl)

Dimension (L x W x H): 18 cm x 4 cm x 2.2 cm (Spoon), 26 cm x 7 cm x 3 cm (Serving Spoon)

Package Contents: 6 Full Plates, 6 Half Plates, 12 Bowls, 1 Serving Tray (Rice Plate), 6 Spoons, 3 Serving Spoons and 3 donga with their 3 donga lids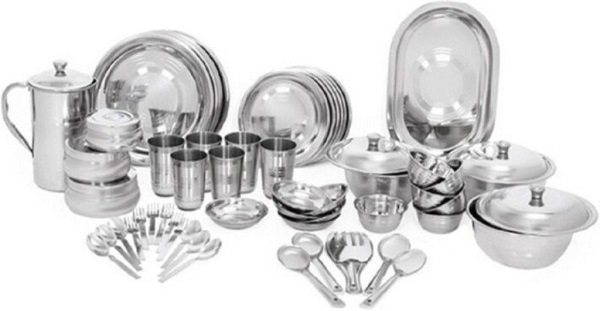 Stain Resistant

Freezer Safe

Dishwasher Safe

Dinner set in fascinating and appetising colours, With square and round ( designer ) plates

Microwave-safe and unbreakable, Can be used for cooking in microwave

Made from virgin plastic only, 100 % Food grade material

201 available in 4 stylish modren graphics to indulge your guests.

Color: Parrot Green, Material: Polypropylene

Package Contents: 6 Piece Full Plate + 6 Piece Half Plate + 6 Piece Katori Junior + 1 Piece Cook 'N' Serve Big + 1 Piece Lid + 1 Piece Serving Spoon Total = 21 Piece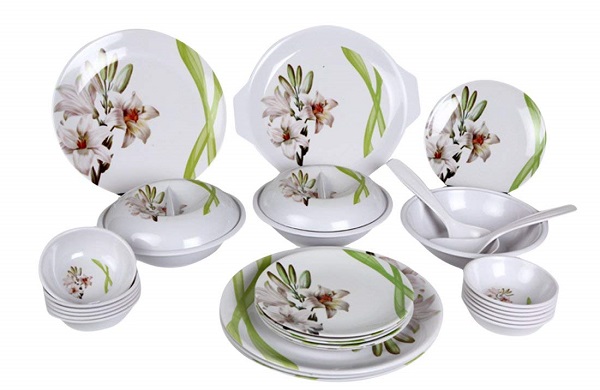 Package Contents: 6 full plate6 half plate,3 donga, 3 donga lid, 1 rice pla,12 veg bowl, 2 serving spoon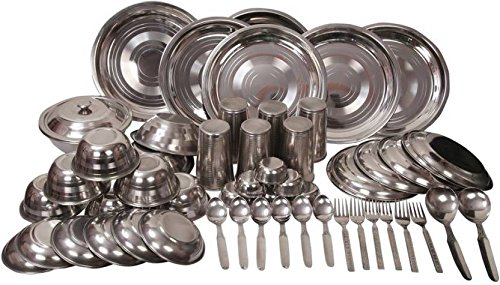 Made From High Quality Stainless Steel . 201 Grade Quality product

Resistant To Corrosion

Lifestyle product though affordable

Package Contents: 53 Pcs Dinner Set

Dishwasher safe for easy cleaning