12 Places To Get Delicious, Food Filled Gift Hampers This Diwali In Mumbai
Diwali is just around the corner and we've rounded up a list of food filled gifts in Mumbai which your friends and family will be over the moon to receive.
Holachef Diwali Hampers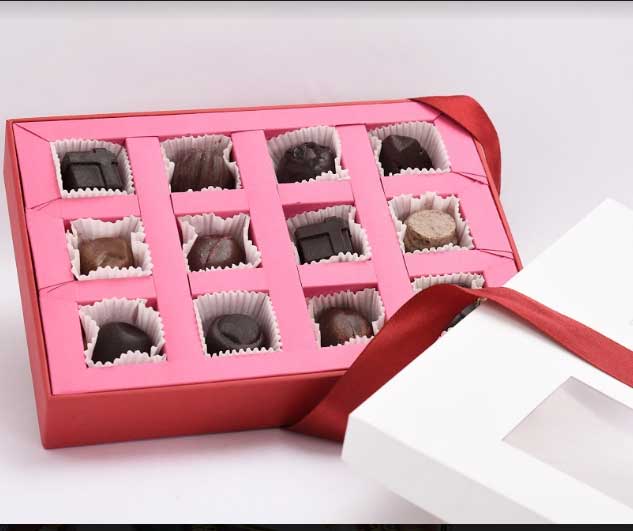 Holachef, which curates and delivers a range of dishes as well as home grown packaged goods is sending out a range of Diwali hampers this season. There's the chocolate box with 12 pieces of chocolate, the Festive Sweet Box-Joy and the Festive Sweet Box-Cheer which is a box of sweet treasures made with the finest ingredients.
There are also variations of Assorted Hampers with the finest selection of candies, chocolates, munchies, assorted beverages, diyas and rangoli. You can also get special Snackible and Paper Boat hampers from Holachef. Head to Holachef to order.
Hypercity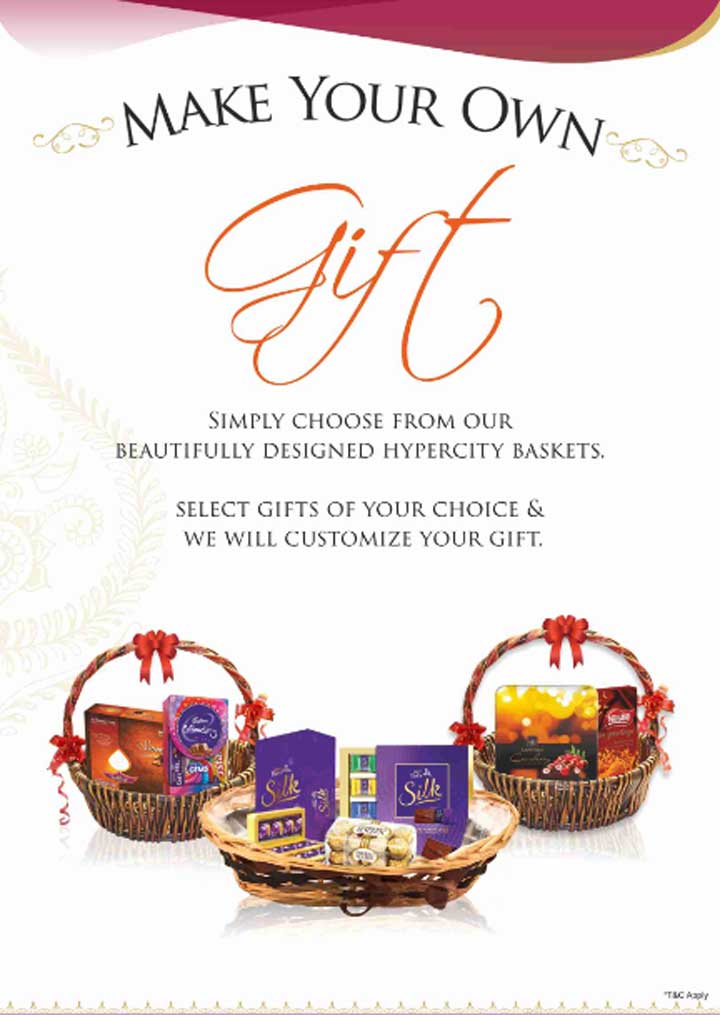 Hypercity is offering its customers the chance to create and customise their own hampers with sweets, dry fruits, spices, teas, cookies & biscuits, organic treats and chocolates.
Ka Sha Teas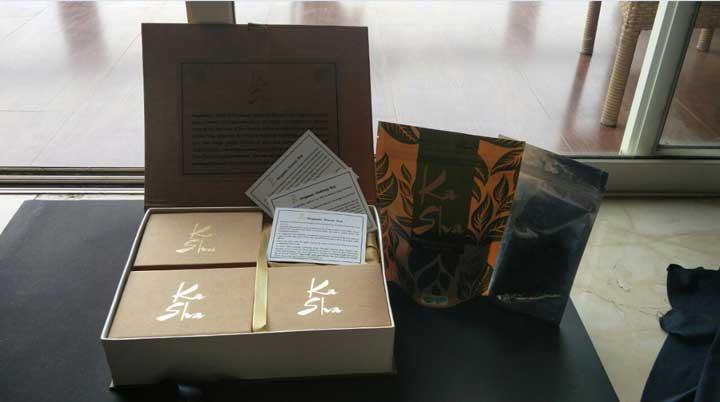 Ka Sha Teas, an organic tea brand has put together a special detox hamper for Diwali to allow you to recover after the festivities. It includes green tea, black tea, oolong tea, an infusers, 2 diyas and a customised greeting card.
Buy it at the Ka Sha website https://kashateas.com/.
Exclusive Offers from Scootsy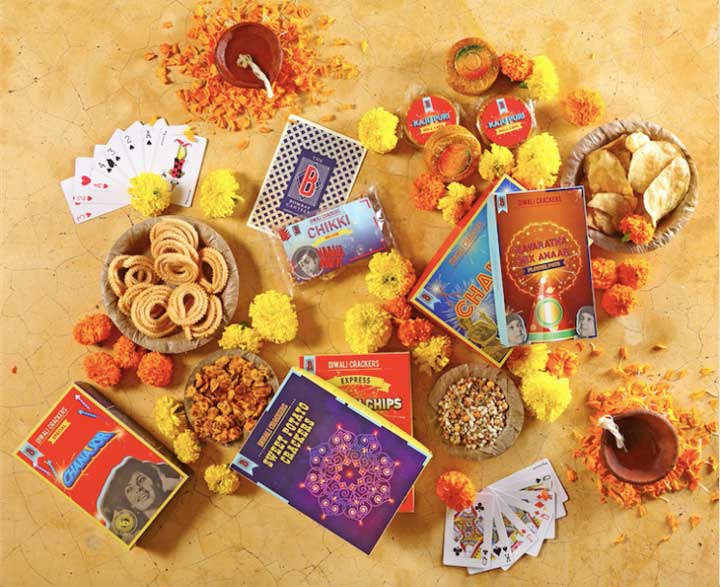 Scootsy, which delivers a range of products to your door, can deliver a vast collection of hampers this Diwali. There're the Dhamakedar Hampers at The Bombay Canteen which has traditional Indian snacks like Peanut Chikki. The box comes with a set of hand painted diyas.
You can also send over a collection of Royce luxury chocolates through Scootsy; for Diwali there's the Royce Festive Selection Box, the Royce Festive Collection Box and the Royal Festive Assortment Box which include Amande, pure chocolate, nutty bar, caramel and chocolate wafers and tiramisu cream.
There's also a variety of hampers to choose from Nordic Kandie which include premium chocolates, jars of blubbery jams and acacia honey. It is also delivering treats from Le 15 Patisserie (cupcakes, macarons) and Mad Over Donuts which is sending out Indian mithai inspired donuts.
Mad Over Donuts
Mad over Donuts is delivering Indian mithai inspired donuts in their Diwali Gift Box which includes Motichoor ladoo, Kaju Katlis , Halwa , Soanpapdi, Jalebi and Gulab Jamun donuts.
Grant's Family Reserve Gift Pack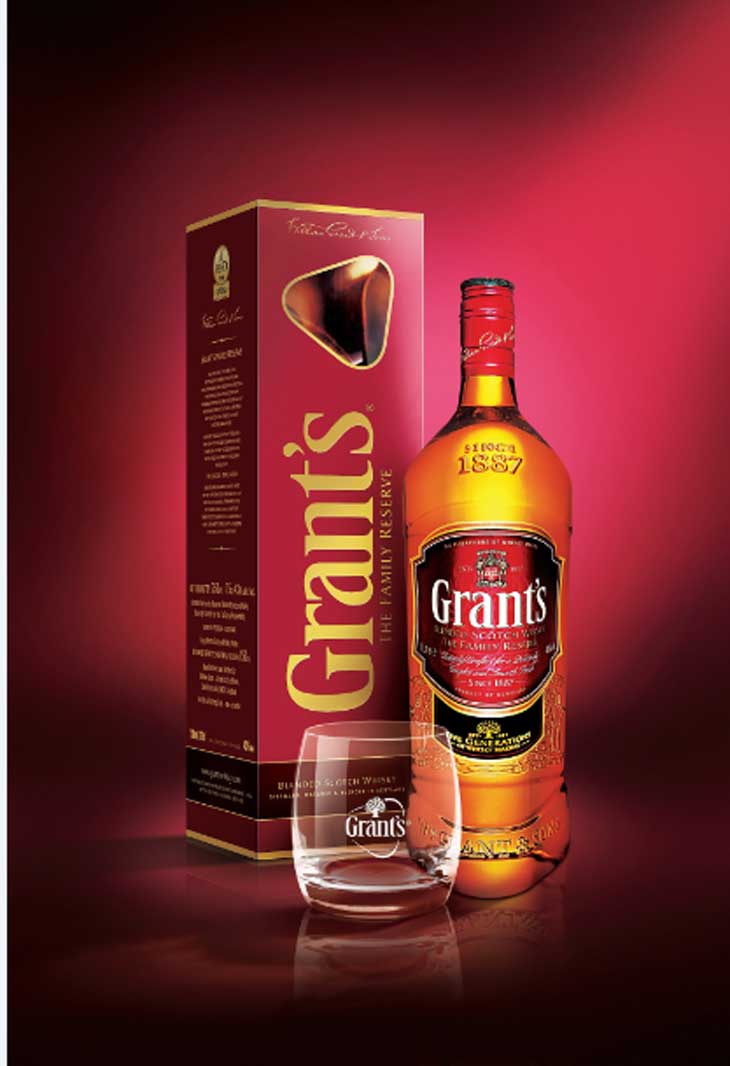 Gift your friends and family a pack of Grant's Blended Scotch Whisky; the pack features premium matte finish and a specially etched whisky glass.
Head here for more information www.facebook.com/IndiaGrants
Cocoatease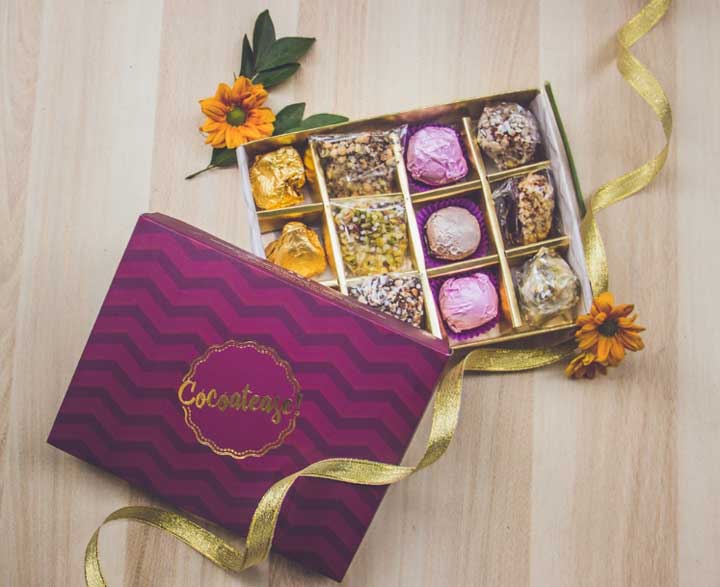 Cocoatease – read more about it here – is sending out boxes of artisanal chocolates and sweets this Diwali; while a box for 12 is Rs.4000 onwards, a box of 24 is Rs.8000 onwards and a box of 36 is Rs.1500 onwards.
Cafe Coffee Day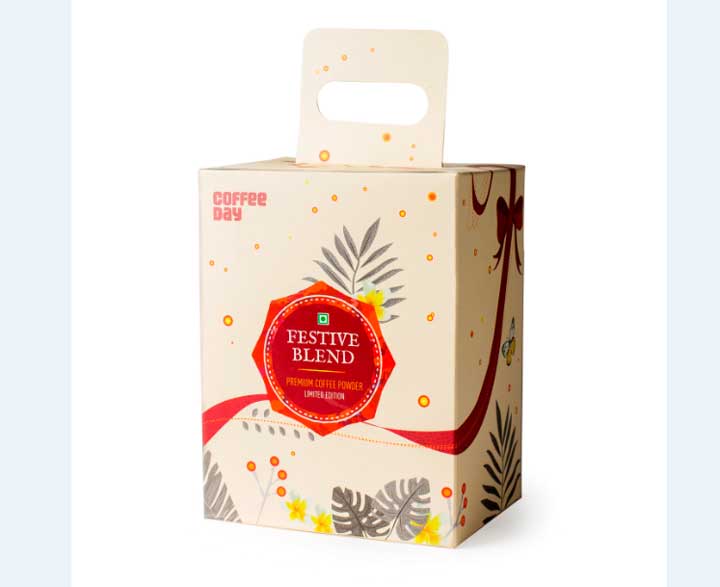 If you're a coffee lover head to CCD and pick up a festive gift hamper which could include festive cocoa nibs, coffee powder, festive blend coffee capsules and an on-the-go 400 ml Ceramic sipper.
Borges Hamper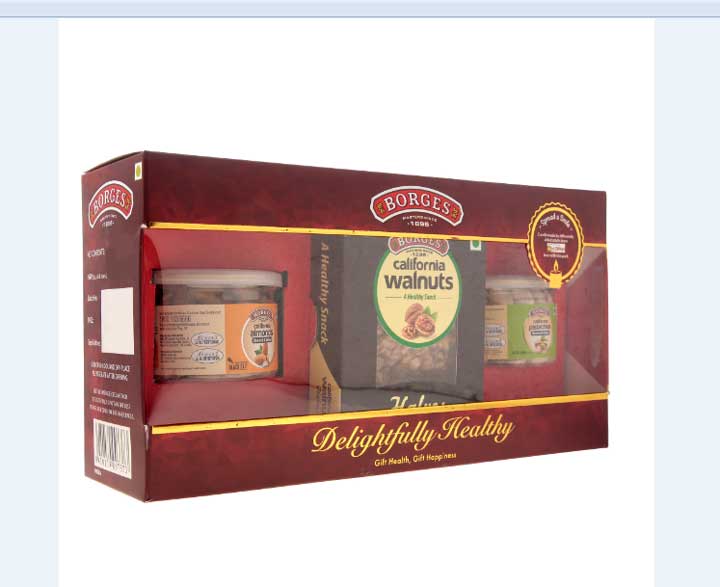 Borges is giving you the chance to gift healthy this Diwali with beautifully packed hampers loaded with California almonds, pistachios and walnuts. Additionally, each hamper has a specially created candle. Commenting on the offer, Rajneesh Bhasin, MD, Borges India said , "The Festival of lights is celebrated with great fervour in India and gifting is a grand tradition in our country. Borges India has made the gifting experience a delight this year. The packages are enclosed with the goodness of our California range of Nuts. The roasted and salted nuts not only taste good but will allow the consumers a guilt free indulgence. Borges is also proud to announce its collaboration with Muskaan a voluntary, not for profit, NGO, of parents and professionals. Every package contains a free candle that has been crafted by the differently abled adults of Muskaan. We hope that this step will bring joy in the lives of people of Muskaan and also make every customer feel extra special on this occasion. Even with our bottles of Olive oil we want to propagate the idea of gifting health that way people will cherish gifting and receiving."
Choko La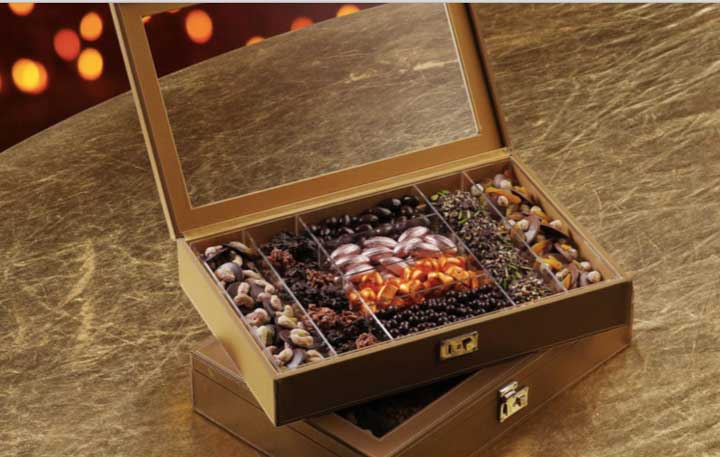 Choko La is sending out thoughtfully create hampers priced between Rs.360- Rs.10,000 and include gourmet chocolates, fudge and cookies.
JW Hampers from the JW Marriott Juhu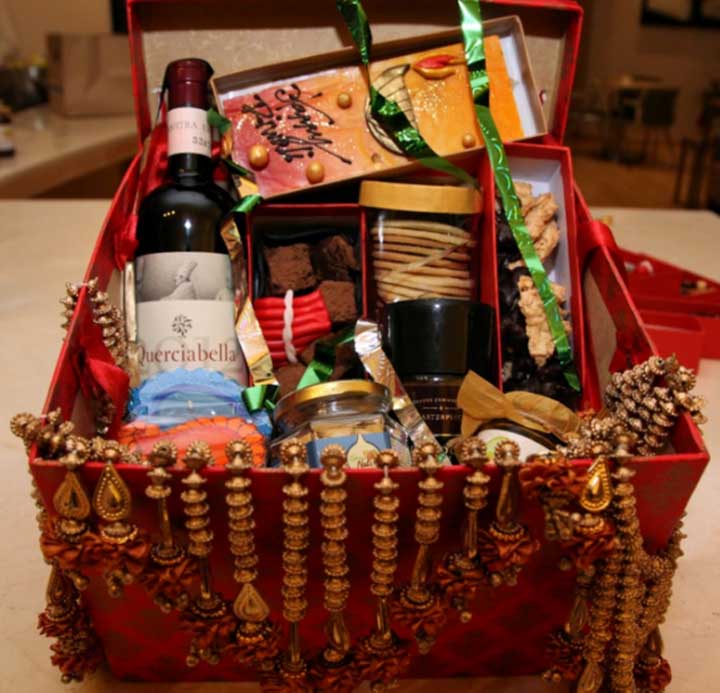 The JW Mariott Juhu has crafted three hampers this Diwali; the JW Silver Hamper (Rs.51000 ++) which has diyas, toran, tea cakes and homemade cookies, the JW Gold Rush Hamper (Rs.6500 ++) which has diyas, toran, chocolate box, macrons and fudge and the JW Platinum Special Hamper (Rs.7500 ++) which contains diyas, toran, chocolate box, macrons, rice crispy diyas and fudge bars.
The Sassy Spoon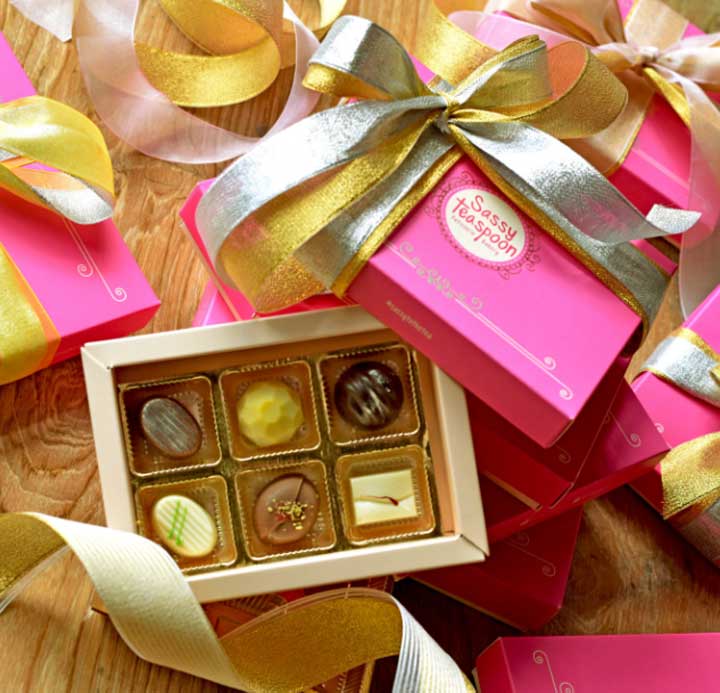 Pick up chocolate boxes from The Sassy Spoon which include kafir lime, kaju katri, ginger black pepper, passion fruit and thandai chocolates.