5 V-Day Special Fast Food Stints, Which Was Your Favourite? #POLL
Love it or hate it, there is no escaping the Valentine's Day paraphernalia. it doesn't matter whether you are single, ditched, forever alone or even if it's complicated, you will come across pink hearts, cheesy couple, giant teddy bears, heart-shaped chocolate boxes, crimson flowers, and a whole lot of other lovey-dovey hoopla during this time of the year. Even major chains give into the pressure of love in order to please them couples. Here are 5 of 2017's most popular V-Day propagandas, which one do you think is the best?
Oreo started its Valentine planning a little ahead of the rest. The cookie company launched its Valentine Day themed Oreo cookies that pack the signature V-day combo of strawberry and chocolate, a.k.a., Oreo's Chocolate Strawberry limited-edition cookies in late December, and they've been all the cookie rage since. According to Refinery29, the classic cookie sandwiches together a chocolate cream that's been filled with a strawberry-flavored center. So it is basically the Oreo version of a strawberry dipped in chocolate. Did you try one?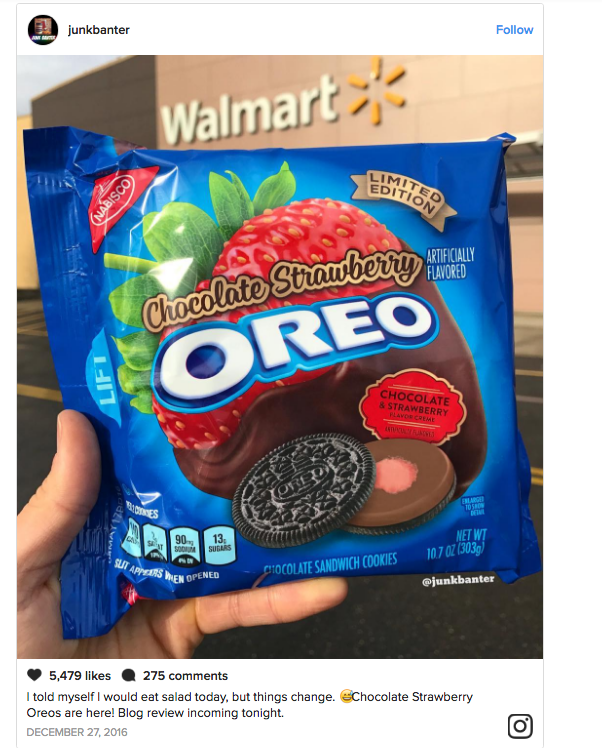 Pizza Hut's Ultimate V-Day Pizza
The pizza giant also took a dip in the Valentine pool and rolled out their heart-shaped pizzas. Again. The limited edition mush-laden pie sizes up to a medium pizza and can be loaded with toppings of your choice. This heart'za will set you back by $9.99 and if you're feeling extra romantic, you can opt for Pizza Hut's Valentine's Bundle, which includes the lovey-dovey pizza and your choice of dessert for just $13.99.
KFC's Valentine's Day Bucket
KFC Canda revealed a heat-shaped bucket for people who want food to be their valentine. *Sobs in empathy* There was a catch though. In order to take home the special bucket, people had to submit their love story on KFC Canada's Facebook page and the top 10 couples with the most romance in their tales would win the bucket. KFC reps told Mashable that winners "will be selected based on how compelling their love story is. But we can say confidently that any KFC ChickenGram wedding proposals will most likely receive one."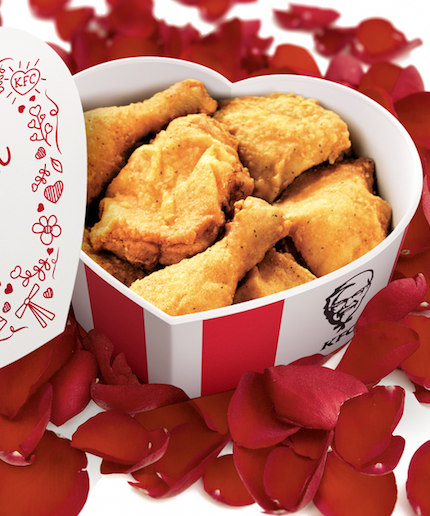 Burger King's Valentine's Day Cup
If other major fast food and FMCG are all aboard the V-Day bandwagon, can burger mogul Burger King be far behind? To commemorate the cheesiest day of the year by launching their revolutionary Valentine's Day Cup designed specially for couples. The lid on this special cup features two straw holes, and I'm pretty sure you understand the rest.
Cadbury Dairy Milk Silk
Pretty darn clichéd of a chocolate giant to come up with a special something for Valentine's. But hey, if it sells, then why the heck not? Cadbury Dairy Milk Silk decided to save your money on wrapping paper and even a gift tag by stepping up their chocolate packaging to look more Valentine-y (read, more pink hearts) and designing an inbuilt gift tag (heart-shaped, of course) on their candy bars last year to a pop out chocolate heart in the middle of the Silk bar. Though we'd be lying if we said that it didn't impress us a little.

So, which one was your favourite? Vote below!
[polldaddy poll=9663357]