5 Vegetarian Soups for all the Veggie-lovers out there
What's the thing you want to have on a chilly, rainy day? When you are feeling super lazy to cook an elaborate meal for yourself or when you are down with the flu? The most comforting thing to have would be a bowl of warm soup. The beauty of this dish is that it is so comforting and gives you the assurance of home and that everything is alright in the world. If you are a veggie lover, there are a gazillion soups you could try making at home. They are super easy to make and take almost no time. Make it on a rainy day and enjoy this bowl of happiness while watching it rain. Nothing can be more perfect than this. Here is a list of vegetarian soups that you could try right now.
1. Creamy Cauliflower Soup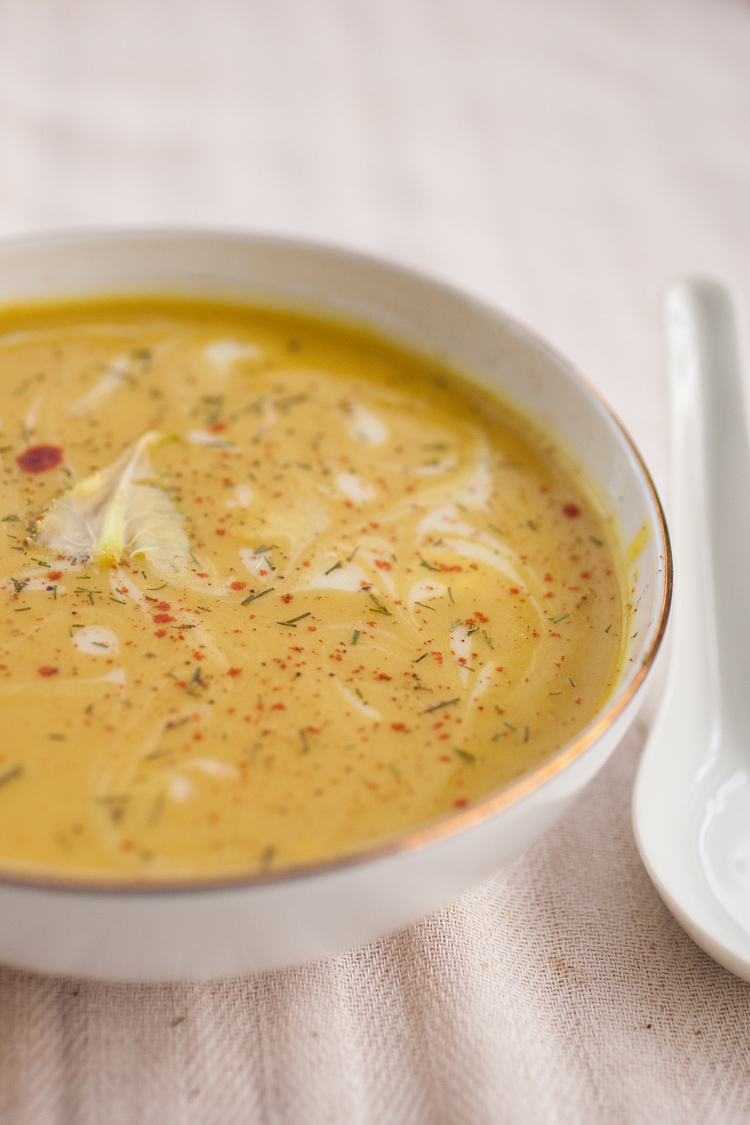 Luxurious and silky, this coconut-creamed cauliflower soup is infused with aromatic spices like cardamom, cumin, coriander, and turmeric. So good, it's the only cauliflower soup you'll ever want to make. In a large soup pot, heat the oil over medium-low. Chop one onion and add it to the oil. Add aromatic ingredients like cardamom, cumin, coriander and turmeric. Saute and stir occasionally until the onions become translucent. Then, add chopped garlic and saute another few minutes. Add the sustenance ingredients and bring to a boil over high heat. Reduce to a simmer and allow to cook for about 15 minutes, until the cauliflower is tender. Remove from heat and transfer carefully to a blender. Blend on high for a few minutes, until silky and smooth. Transfer back to the soup pot and stir in the coconut milk and vinegar. Bring back to heat over low, ensuring it doesn't boil. Serve hot and topped with fresh dill and ground black pepper, if you like.
2. Italian Orzo Tomato Spinach Soup

Classic Italian flavours hit you right in the feels! This soup is so good; you cannot stop at one bowl! Heat oil in a deep dish over medium-high heat. Add onions and sauté them for 4-5 minutes until they are soft. Add carrots, celery, and roasted garlic and continue to sauté for an additional 3 minutes. Add the stock of your choice, along with tomatoes, pesto, orzo, thyme, Italian seasoning, and oregano, stir to combine. Reduce the heat to medium and let the orzo pasta cook, stir occasionally. Just before serving, add baby spinach and continue to cook for 1 minute or until the spinach gets nice and bright green and wilts down. Season according to taste. Serve warm.
3. Roasted Jalapeno Soup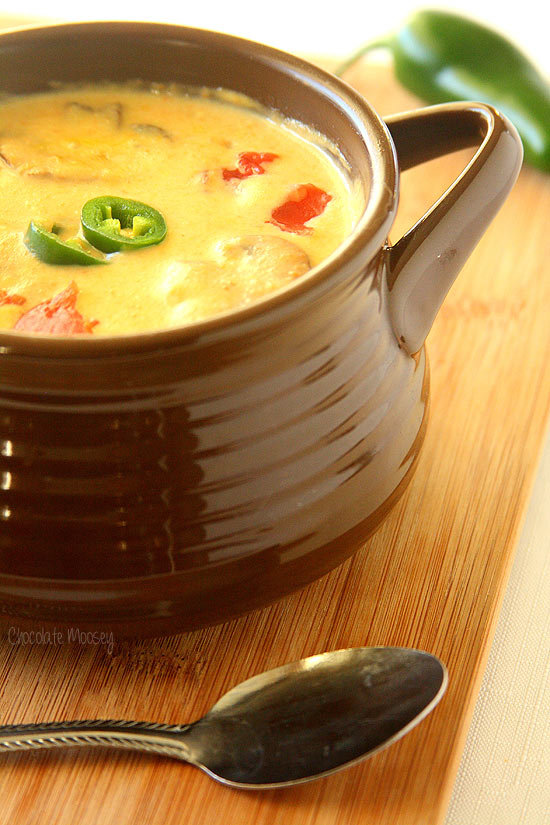 This soup is best when you want to eat something substantial but not too heavy on the tummy. This creamy soup is warm, spicy and comforting. Preheat oven to 400F. Line a baking sheet with foil. Cut off the stem of each jalapeno then cut in half lengthwise and remove the seeds and membrane. Place them face down on the sheet. Roast for 15 minutes. When cool enough to handle, chop. In a large pot, heat olive oil. When hot, add the carrots and onion and cook until softened, about 3-5 minutes. Add garlic and the chopped jalapeno and cook for 30 seconds. Add a little butter. Once melted, whisk in some flour and salt until everything is coated. Slowly whisk in the broth of your choice and bring to a boil. Cook until the soup has thickened, about 5-7 minutes. Stir in some heavy cream then bring back to a boil. Once thickened, add about half of the soup to a blender then puree until smooth. Add the rest of the soup then puree until smooth. Pour back into the sauce pan. Stir in diced tomatoes and mushrooms. Simmer until hot then serve immediately.
4. Creamy Roasted Tomato Soup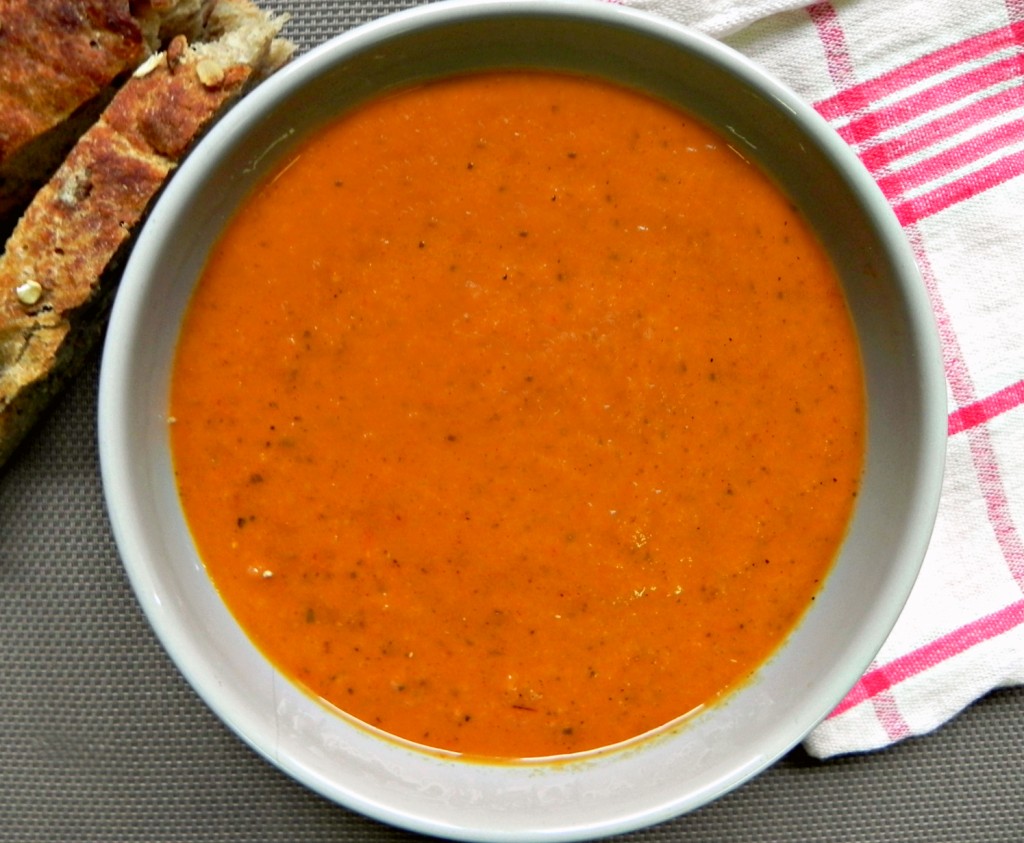 This Healthy Roasted Tomato Soup is creamy, hearty, and boasting with nutritious flavour and is best served alongside a warm piece of crusty bread for dipping. Preheat the oven to 400f or 200c. Cut tomatoes and onions in half lengthwise. To prepare the garlic for roasting, peel the outer skin from the entire head of garlic. Cut the top of the garlic head off in order to expose the top of the garlic. Place the tomatoes, onions and garlic side-by-side on a parchment-lined baking sheet and drizzle with olive oil, salt and pepper. Roast in the oven for 60 minutes. Check after thirty minutes to ensure that garlic and onions are not getting too dark. When perfectly roasted, the tomatoes, onions and garlic should begin to shrivel and begin to darken. Let the vegetables cool down for 5 minutes after taking them out of the oven. In a large pot using an immersion blender or large blender, blend the tomatoes (don't forget to add the juices from the pan. They add maximum flavour!), onions, 8 peeled garlic cloves, paprika, basil, oregano, water, coconut milk until perfectly creamy smooth. Simmer in large pot for 5 minutes with bay leaf to allow the flavors to come together. Serve warm and don't forget the bread!
5. Cream of Mushroom Soup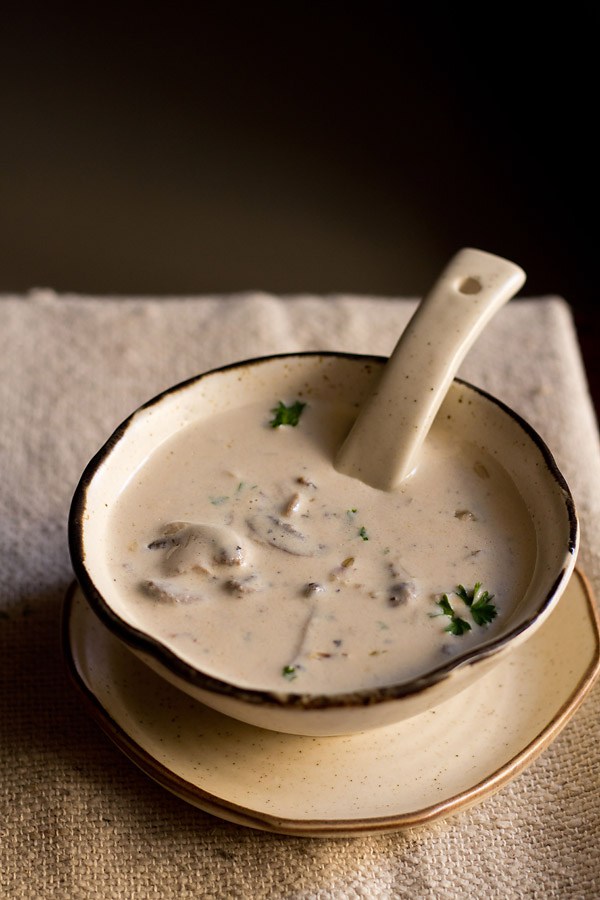 This soup is comforting for the winters or can be eaten just before a plate of hot peas pilaf or vegetable salad. To make this, melt some butter in a saucepan. Add bay leaf and sauté. To this, add chopped onions and garlic. Add sliced mushrooms (make sure they are thoroughly cleaned). Sauté till they reach a light brown colour. Add flour to this and sauté for a bit. Add milk and freshly cracked pepper. Let the soup come together and at this point it will start to simmer. Add some cream and let it boil for 3-4 minutes. Sprinkle some nutmeg powder and stir. Serve in bowls and garnish it with chopped parsley.