6 Of My Favourite Pasta Recipes
The Italians are geniuses. They know what they are doing and they always do it right. Thanks to them, today we have this beautiful creation called pasta. A warm plate of pasta paired with the right wine can uplift you to levels infinite. Pasta dishes cook quickly and come with with endless flavour possibilities. There are a dozen different pasta types and they can be respectively used in the dishes you make. Healthy, delicious and super easy to make, pasta is my go-to dish! You can be super creative with the recipes and sometimes make do with four ingredients maximum! Pasta is one dish where you can play with textures, bring in new flavours and combine even the most non-imaginable ingredients to make the dish yours. Here are some winning recipes that will make you swoon!
1. Shrimp Avocado Pasta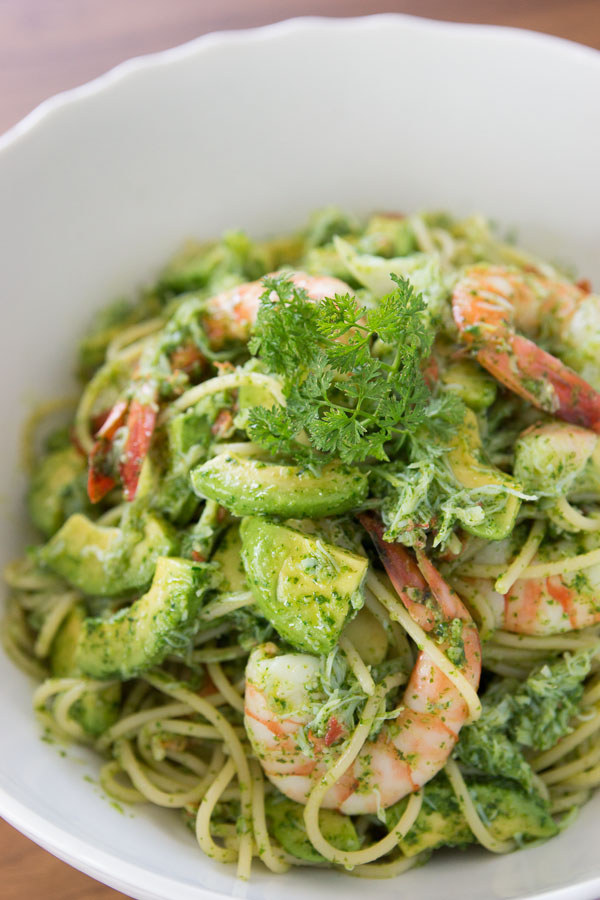 Shrimp is the star of the dish. This is a shrimp lover's heaven in a plate! Savoury shrimp, delicious crab, combined with creamy avocado, makes this dish rich. The bright flavours perfectly complement the shrimp and this can be eaten for lunch or dinner. To make this dish, boil your favourite pasta (spaghetti works best) in salted water. Blend cilantro, garlic, parsley and olive oil together and keep the paste aside. Cut avocado into bite size pieces and combine the cooked shrimp, crab meat, cilantro paste and spaghetti in a large bowl and serve it with lemon wedges.
2. Chicken Mozzarella pasta with Sun-dried Tomatoes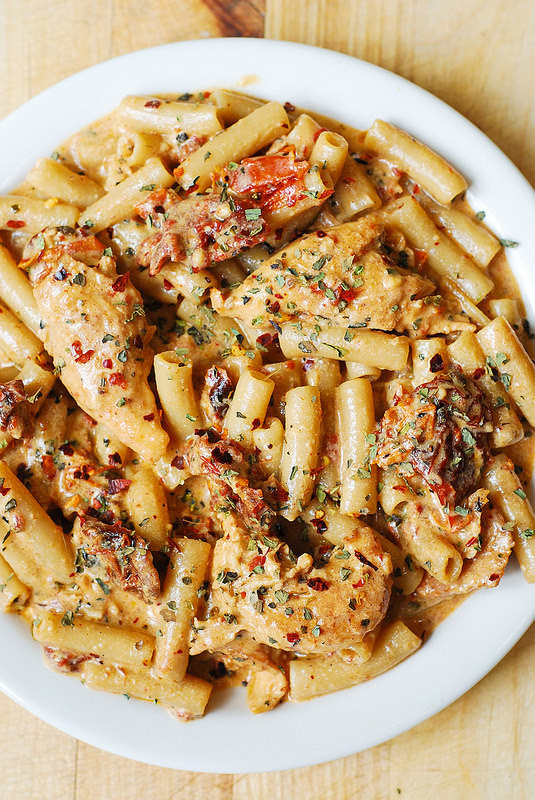 It's gooey, with bits of juicy chicken and the charred sun-dried tomatoes add their oomph to the dish. Do you need to know anymore? Cook pasta according to instructions. In a large pot, add a little oil and cook the diced tomatoes, make cream sauce adding loads of mozzarella. Add cooked chicken pieces to the pot and finally add the drained pasta and cooked until done. Serve with grated cheese on top.
3. Tomato and Ricotta Whole Wheat Pasta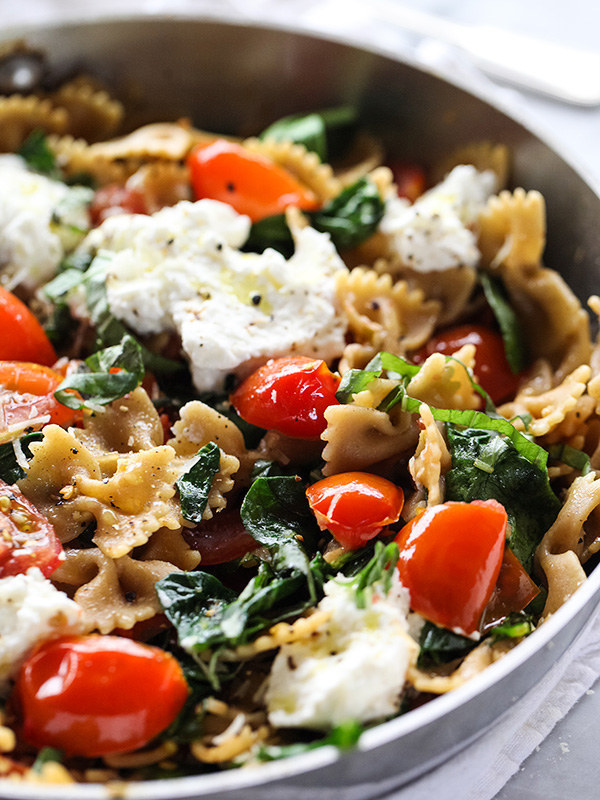 This is perfect for a movie or a date-night. Get cozy with a bowl of this awesome combination of rich ricotta, juicy tomatoes and healthy whole wheat pasta. Cook pasta of your choice and leave it to drain. In a large pot, heat olive oil and butter and add cherry tomatoes, and stir until softened. Now add spinach and cook on low flame adding a dash of your favourite stock to the mixture. Season the sauce and toss in the drained pasta. Cook until the sauce thickens and serve it with crumbled ricotta on top! Mamma Mia!
4. Soba Noodle Stir fry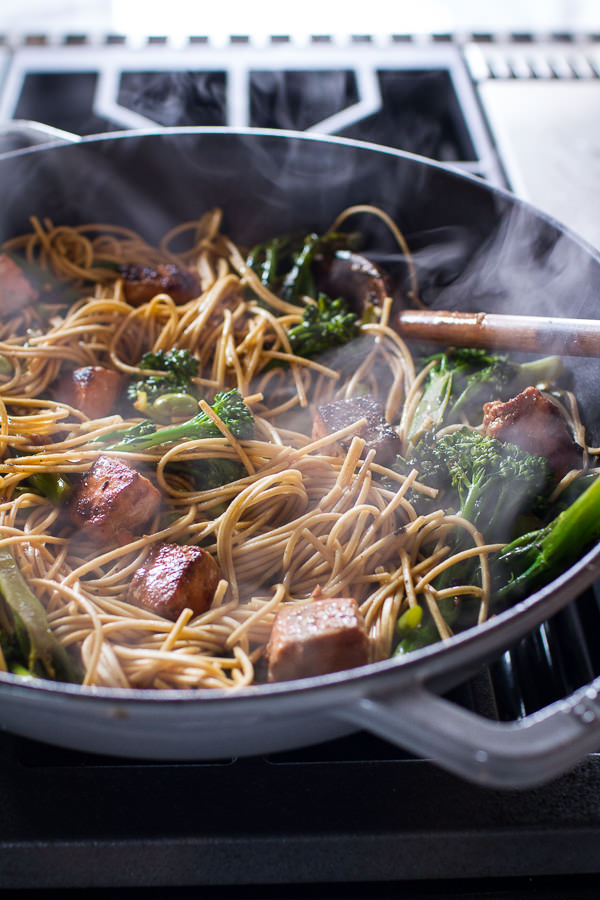 Bold flavours hit you with every bite! In a medium bowl, combine 1/4 cup of sake, 1/4 cup of soy sauce, the ginger, and garlic and sesame oil. Now add the salmon and gently toss. Allow the salmon to sit in the marinade for 10-30 minutes. Meanwhile cook the soba noodle according to package directions, draining and then rinsing with cold water to stop the cooking. Heat a tablespoon of sesame oil in a wok or high sided skillet over high heat. Drain half the salmon from the marinade and cook, turning for 2-3 minutes until just cooked and lightly caramelized. Be careful when turning the salmon as it is delicate. Remove and repeat with the remaining salmon. Add another tablespoon of oil to the wok. Add the green onions and stir fry for 2 minutes. Add 1/4 cup sake, broccoli, and the reserve marinade. Cook for 3-5 minutes until liquid has reduced slightly. Toss the soba noodles, along with the salmon and all of the juices from the salmon, into the wok. Toss well, cook another 3-4 minutes or until warmed throughout and the sauce has thickened. Serve with sesame seeds and cashews.
5. 20-minute Sticky Sweet Pasta

How would you like this super simple yet tasty pasta dish ready on your table in just 20 minutes? Cook your pasta according to the direction on the package. In a small bowl, whisk together vegetable oil, sesame oil, honey, and soy sauce. Set aside. Once pasta is cooked, drain and set aside. In a large skillet add the vegetable oil, jalapeño, and garlic and cook over medium heat until jalapeño is soft and translucent. Add the sauce and noodles to the skillet and stir to evenly distribute jalapenos and evenly coat noodles with sauce. Simmer over low heat for 5-10 minutes until sauce has thickened and pasta is sticky. Top with green onions, basil, peanuts, and grilled chicken. Serve immediately!
6. Caprese Pasta Salad

Caprese is a perfect combination of flavours, textures, and freshness. Ripe tomatoes, mozzarella cheese, and basil make this a perfect summer dish! Cook and drain your pasta according to package directions. Drain with cold water and set aside. In a food processor, combine basil, garlic, parmesan, olive oil, and salt and pepper. Pulse until everything is coarsely chopped and blended together. In a medium sized mixing bowl, combine pasta, basil pesto, grape tomatoes, and mozzarella balls. Toss together until it is coated in the basil pesto.