Oktoberfest Done Right: Cook Up An Oktober-feast At Home
Held anually in Munich, Germany, and celebrated locally in many parts of the world, the Oktoberfest is not just about beer. Infact, at this German brewfest, drinking doesn't start until the mayor of Munich says so! Food for thought, huh?
Speaking of food, this festival is also a celebration of German cuisine. So even if you can't be at Munich this year, why not try some Oktoberfest inspired cuisine? With the Oktoberfest round the corner, here are a few dishes you might like to try your hand at to have a real Oktober-feast!
BUTTERY SOFT PRETZELS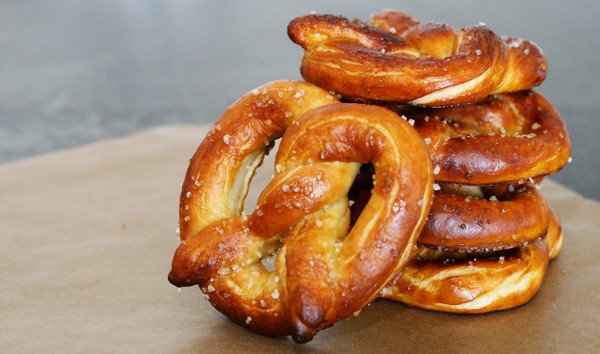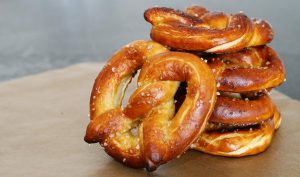 For this twisted delicacy, you'll need to dissolve yeast and sugar in warm water which needs to stand till creamy. Meanwhile, mix together flour, sugar and a pinch of salt. Add some oil and the yeast mixture to this. Add some water to this if the mixture is dry and knead till the dough is smooth. Then, coat a bowl with oil, place the dough in it, cover with plastic wrap and let it sit until doubled in size. In the meantime, dissolve baking soda in hot water and set aside. Once the dough has risen, turn it onto a lightly floured surface and divide into desired number of pieces. Roll each piece into a rope and twist into a pretzel, or any other, shape (unleash your creativity!). Dip each pretzel into the baking soda-hot water solution and place pretzels on a lined baking sheet. Sprinkle with salt, or ground sugar and cinammon and stick it into a pre-heated oven of 230 degrees C until browned, about 8 minutes. Enjoy your warm pretzels with a glass of cold beer!
GUINESS MUSTARD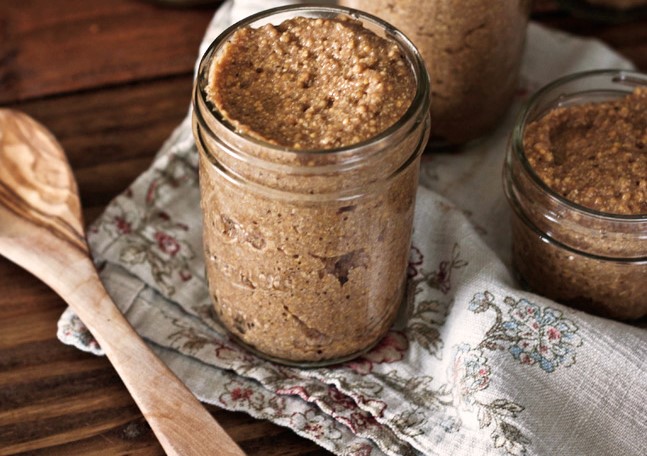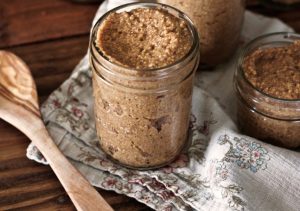 A great dip to go with those pretzels or carrot and celery sticks. Whisk coarse-grained mustard, regular mustard, guiness stout(or any other stout), minced garlic and some golden brown sugar in a bowl to blend. Refrigerate for at least 2 hours and up to two days ahead. Voila! Your mustard dip is ready. Really, it's that simple!
BRATWURST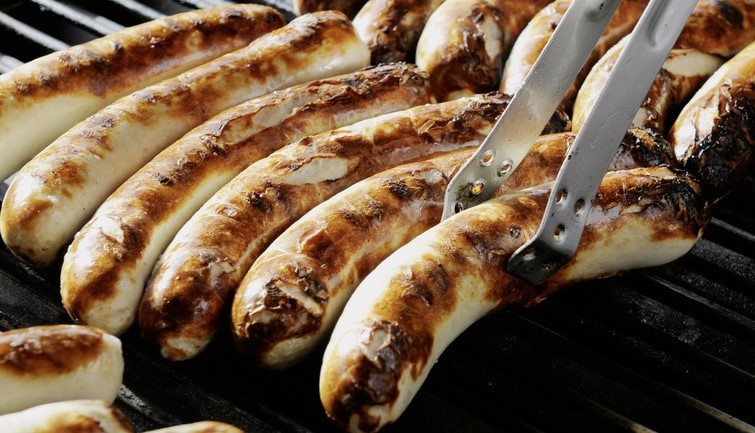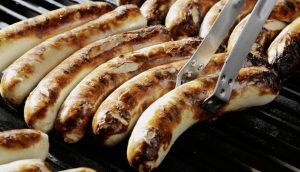 Sorry, vegetarians, this recipie is stictly a meat lover's recipe. But don't worry, read further and you'll find delicious vegetarian recipies too!
A German authentic, Bratwurst refers to roasted (braten) or finely chopped (brat) saussage (wurst). So how do you make this delicacy? Trim pork and beef, cut the meat into 1 inch cubes and finely mince. In another container combine ground black pepper, granulated onion, ground celery (or dried watermelon) seeds, ground nutmeg, majoram, mace and ground ginger with a cup of cold milk and beaten eggs. Pour this mixture into the minced meat and mix thoroughly. Get messy and use your hands to ensure even distribution. Add some milk powder to this mixture and mix a little more. Then, cover the bowl and refrigerate for up to 8 hours. Sleep over it! Bright and early next morning, grind the meat once more through a meat grinder (or mince if you don't have access to a meat grinder) and stuff the saussage into collagen cases or natural hogs. For a home kitchen, I've found wrapping the meat with cling film, however thick you want your saussages to be, and tying off sections with string, for length, works well too! Allow the saussage links to air dry for an hour and then refrigerate for immediate use or freeze for later usage. If frozen, it should last for up to three months!
To cook the bratwurst oktoberfest style, simmer it in beer for 10 minutes then brown it on a grill or fry it til browned and serve hot with buns and caramalised onions! Yum.
FRIED POTATOES WITH POACHED EGGS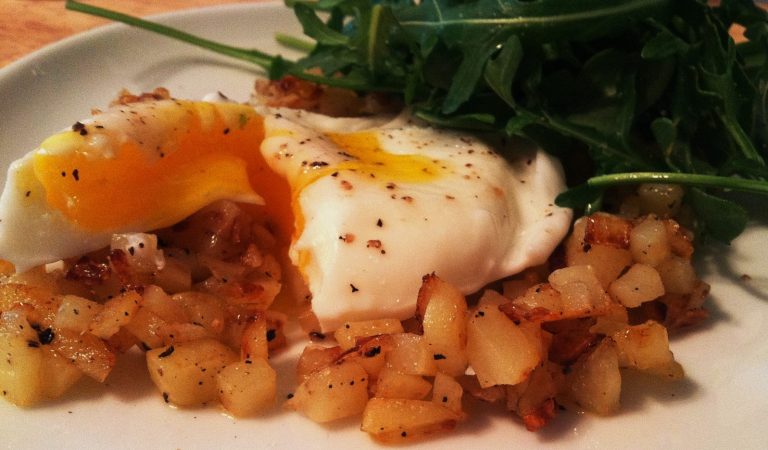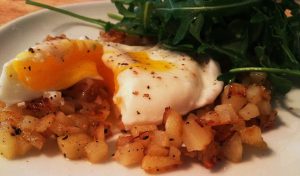 Potatos are a staple in German cuisine. And potatoes with poached eggs result in a mouthwatering bit to wash down with some cold beer. Par boil the potatos, transfer to a baking sheet and refrigerate for an hour. Meanwhile, make a vinaigrette for the potatoes by combining oil, vinergar (3 parts oil to one part vinegar), salt and pepper. Now, whisk together vinaigrette and some mustard in a small bowl and pour in a little more oil or butter to emulsify. Season with little salt and pepper. Next, cut the potatoes into cubes. In a skillet, pour some water and the remainining vinaigrette and bring to a slow simmer. Meanwhile, heat some oil or butter in a pan and cook onions till softened and then add the potatoes. Saute till the potatoes are cooked through. Turn the heat up to medium flame and cook till the potatoes are brown and crispy. Transfer the potatoes to the oven. To poach the eggs, crack each egg into a cup and carefully slide each into simmering water. Cook until firm, turning them ocassionally. Then, transfer them to a plate and sprinkle with salt and pepper.
Toss the potatoes with the mustard-vinaigrette and serve topped with the poached eggs!
AUTUMN APPLE STRUDEL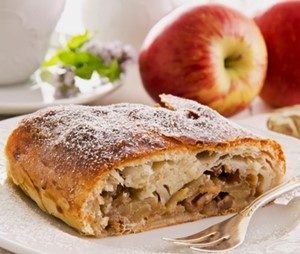 Sweet endings are the best endings. To have the perfect close to your Oktober-feast, try this making this German dessert. Boil apple juice in a saucepan until reduced. Remove from heat and add chocolate. Let it stand for a minute then whish until melted and smooth. Stir in some vanilla and brandy and your sauce is ready! Now, for the filling, combine juice, wine, star anise, and cinnamon in large saucepan and scrape in seeds from vanilla bean. Bring to simmer. Remove from heat and let it stand. Next, add cherries and prunes. Cover and simmer until fruit is plump. Discard the star anise, cinnamon, and vanilla bean. Mix in apples and sugar; simmer until apples are tender but hold shape and liquid is reduced. Mix cornstarch and some apple juice. Add to filling and stir until filling thickens and boils. For the Strudel, blend hazel nuts, graham cracker crumbs and sugar until the nuts are finely ground.
Now layer the pastry sheets (store bought or home made pie dough sheets. Brush a light coat of butter on the first and top with second sheet, brushed with butter. Sprinkle the nut mixture nut mixture. Continue this till you have 5 or 6 layers. Spoon the filling atop the pastry stack. Fold short edges over filling. Beginning at the edges closest to the filling, roll up strudel jelly-roll style. Place the strudel on a baking sheet and stick in the oven at 190 degrees for about 45 degrees! Relish this sweet delicacy with some cold vanilla ice cream!