A New & Improved Starbucks Is Coming To Step Up Delhi's Coffee Game
New Delhi's plush Green Park is home to some of the finest stores and eateries. This week, the vibrant shoppers' paradise gets a new Starbucks with specially curated experiences that bring customers closer to coffee.
First Of Its Kind
The Starbucks store at Green Park is the first of its kind in New Delhi that brings to customers a new heightened coffee experience with new and innovative brewing styles. At the heart of the bar, lies the White Eagle (manual espresso machine), which makes quality and consistency of the espresso shot its mission. The Chemex® is another example of a manual pour-over method, it is an elegant one-piece hourglass shaped vessel, made of high quality, heat-resistant glass. What distinguishes the Chemex most is its special filters, which remove more of the coffee oils for exceptionally clean coffee.
The Green Park store is also the first store in Delhi to offer the Starbucks® Nitro Cold Brew, a small-batch cold brew coffee which is slow-steeped, infused with nitrogen for a naturally sweet flavor and velvety smooth mouthfeel.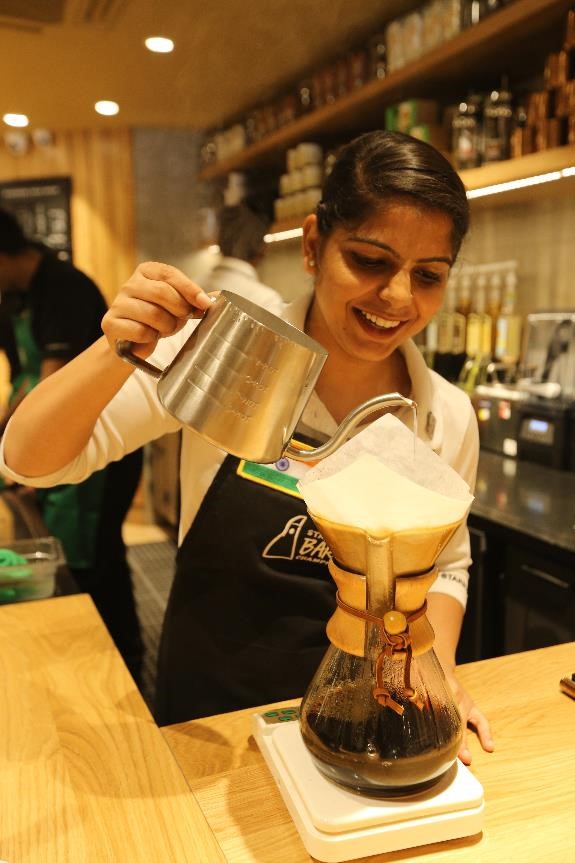 The Coffee Journey
Starbucks' new South Delhi outlet celebrates every aspect of the coffee journey. The design concept for this store is based on coffee trees, with artwork that references coffee fields. The color palette of the store is also inspired by coffee, with shades ranging from the light crema coffee color of birch plywood to a dark espresso. With a Starbucks coffee-forward espresso bar and lounge seating, the store exudes warmth and comfort.
Meanwhile, the food at the store has been specially curated to complement the elevated coffee experience and includes Cottage Cheese Wrap, Almond Croissant, Vanilla Cruffin, Turkey Ham & Cheddar Cheese Potato Bake and Cream Cheese & Blueberry Muffin, among others. Moreover, customers can seek out Coffee Masters at the store for their unique coffee expertise, whether it's for finding a new favorite beverage or pairing suggestion, or for learning how to brew coffee at home. The Coffee Master program acknowledges the knowledge and skill of the barista with the special designation of the black apron after the barista passes written and taste tests.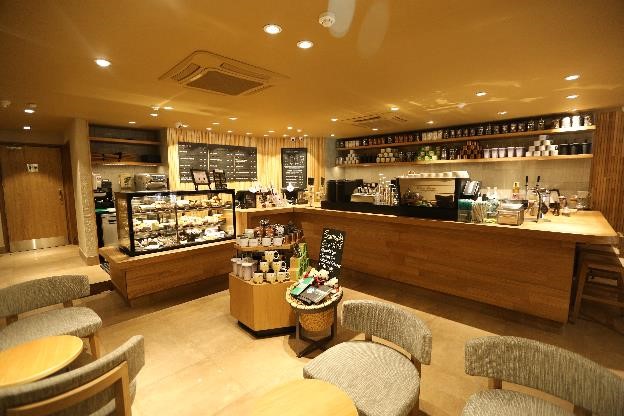 Starbucks opened its first store in Delhi in 2012. As Tata Starbucks continues to grow in India, so does its commitment to be a positive force in contributing to the future success of the country. With this new store – the 35th in Delhi – Starbucks continues to create opportunities for local jobs and provide job skills and training to youth in the capital, as in all the other cities in India where it is present.