Become A Biriyani Champion For A Good Cause At The Biriyani Challenge, Chennai
The Chennai Cooking Challenge  has been organising events to promote the healthy spirit of competition and a love of food since May. This time round, they are calling upon all Biriyani Connoisseurs.
With the aim of creating a communal experience filled with fun, food and sharing, the event presented by Sengu Paal Enterprises welcome amateurs and professionals for a Biriyani Making Competition. Biriyani restaurants and NGOS's have partnered for the event.
Winners in the Professional Category will receive  Rs.25,000 and the Winners  for the Non Professional Category will receive Rs.10,000.
There is even a Non- Competitive category where people who simply love to cook or want to give it a try with friends and family can register and try their hand at making a Biriyani.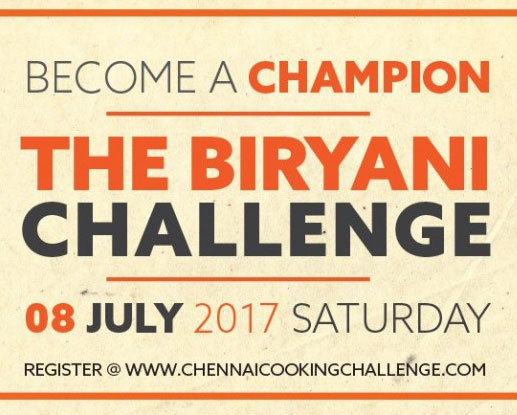 Cooking for a Cause:
Food prepared will be served to 100 underprivileged people from NGOs & Homes.  Apart from all the team spirit and competition, not a single grain of rice will go to waste as it will be used to give a special treat for those who are in great need of some joy. It just could not get better than this. An experience that promotes not only the love of food, but serves as a reminder that we must always think about more than ourselves.
Challenge details
1. Professional (2 Per team)
2. Non-Professional (4 Per team)
• All equipment, ingredients, materials would be provided by the organizers.
• Winners will be selected by the jury which includes a celebrity chef.
The Challenge will take place on the 8th of July at IHM, Taramani, Chennai from 9 am-1 pm
Click here to register for the event.