Beer, More Beer & Bites At Kaitlyn's Beer Garden In Bandra
Don't be going to Kaitlyn's Beer Garden, Mumbai's newest beer bar, expecting an outdoor space filled with foliage or even àl fresco dining. Instead, this Bandra bar gets its ambience inspiration from a more gothic kind of garden, akin to what one may find in the Bavarian woods, the original regional home of beer. 'Kaitlyn' – as the bar is fondly called – is therefore decorated with muted greys and faux tree trunks in the place of pillars.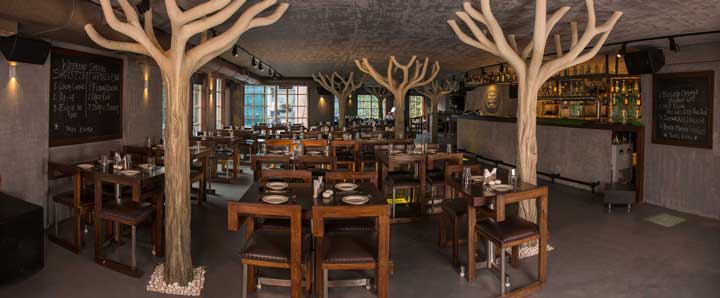 In the few months since it has opened, Kaitlyn appears to have become wildly popular among Mumbai locals – at a recent drinking session we had there, we watched as the bar rapidly filled up post 9 with couples on dates, revellers celebrating birthdays, groups of friends and colleagues in shirts and ties.
Beer Allure
While we're sure the unique décor is partially what attracts customers, we think it has more to do with Kaitlyn's alluring beer menu. At present, the menu includes a range of craft brews from Brewbot, although we're told that it will soon begin serving in house made brews.
On the menu are the Kolsch, the Belgian Wit, the Midwestern Pale Ale, the Stout and the Saison all attractively priced at Rs. 225. Kaitlyn's also serves a collection of beer cocktails including Beertini and a beer margarita.
The bar menu also has a range of other premium alcohols including Glenlivet, Jameson, Bombay Sapphire and Chandon.
However, it's very clear that Kaitlyn is all about the beer.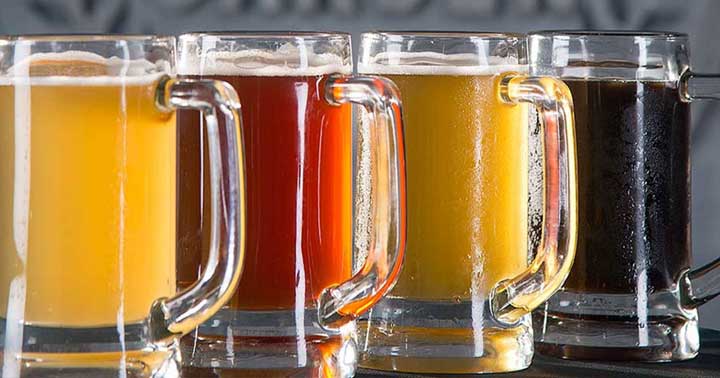 So, after convenient tasting all the craft beers on offer, we called for a mug of stout – the Black Mamba and a mug of Kolsch, otherwise known as SkyWalker. While the stout was strong and had intense flavours of chocolate and coffee, the Sku Walker was a lighter option with hints of fruitiness and fizz. We also tried one of Kaitlyn's beer cocktails; the Masala beer which combined a light beer with a variety of spices – we got the taste of both cloves and cardamoms.
All Beer And No Bites Makes Jack…
Well, makes Jack quite happy. But, since we didn't want to get too tispy after a few drinks, we began calling for fare from Kaitlyn's menu which offers both Indian and Continental fare.
We began with a serving of Animal Fries; crisp delights which were topped with oodles of cheese and pieces of chicken.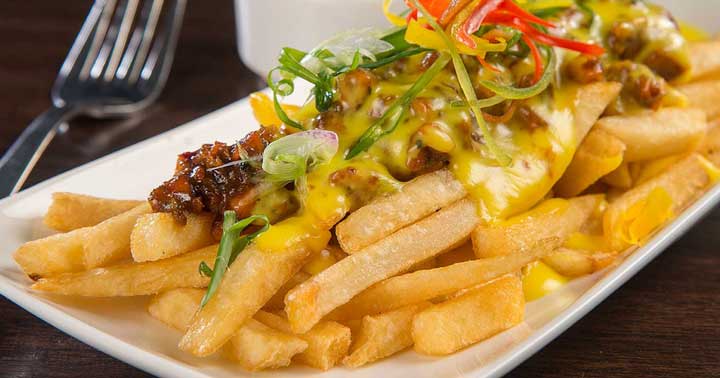 Impressed by how well the subtly flavoured chicken worked with the fries, we decided to try another chicken dish and called for the Chicken Wings in Peri Peri sauce. The peri peri sauce was fiery and sticky, giving the already juicy wings an added zing.
To The Mains
We then made jour way over to the main course section of the menu, where we decided to go Continental and try the Herb Crusted Chicken With Pesto Risotto and the Stuffed Chicken Roulade.
Anyone who has ever watched Masterchef would know that making a rissotto can be the bane of any chef's existence. The one accompanying the Herb Crusted chicken, however was perfectly executed, with a well-balanced texture and a refreshing taste of pesto. The chicken was similarly impressive; while the chicken was tender and juicy, the crispy crust once again created a balance of textures.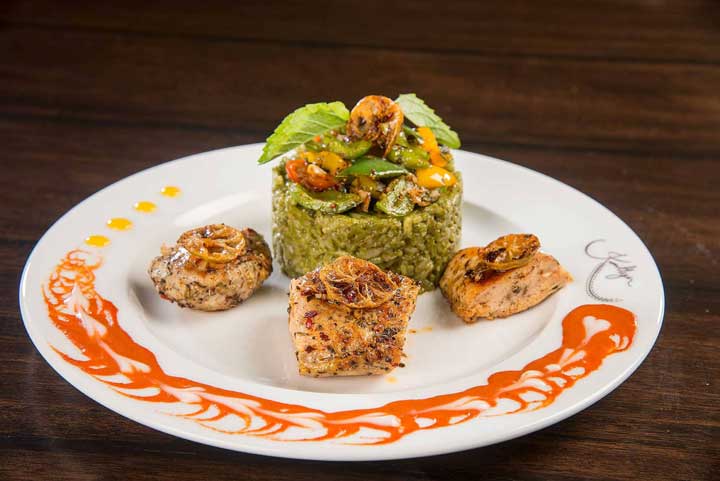 The stuffed chicken roulade was similarly tender with a smooth accompanying sauce.
By the time we polished off the roulade, the bar's dance floor had come alive with a bunch of happily buzzed customers grooving to the DJ's tunes. More and more customers streamed in as we enjoyed our last few sips of beer, further confirming that Kaitlyn's is Bandra's new bar hot spot.
Don't take our word for it, though. Head there to see for yourself!