This Is The Best Pasta Sauce Ever According To The Kardashians
When it comes to whipping up homemade holiday menus and healthy comfort meals, not a lot of celebs match up to the Kardashian sisters. Especially the eldest Kardashian – Kourtney – who has been kind enough to share with the world, via her app and People, her clan's favourite winter foods and also a recipe for the "best pasta sauce" according to her.
"I love to make pasta dishes during the winter and this simple pomodoro recipe is a favorite of mine and the kids," she wrote on her website.
Unlike sister Kylie, who prefers a wholesome breakfast, Kourtney is all for gluten and dairy free diets and so serves up her pasta sauce over some gluten free noodles. However, you can dole out yours over any kind of pasta, wrap, or food that you fancy! Here's the complete recipe to help you keep up with this Kardashian in the kitchen as well.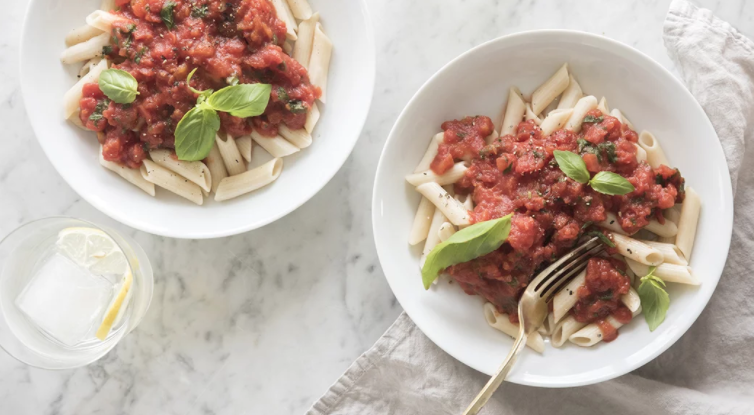 Image Source
Ingredients:
2 Tbsp. extra virgin olive oil
4 cloves organic garlic, minced
1 small yellow onion (or half of larger onion), diced
1 tsp. brown sugar
1 (28 oz.) can crushed San Marzano tomatoes
1 cup water
Salt
Black pepper
½ cup chopped fresh organic basil
Gluten-free penne (Kourtney uses Bionaturae)
Instructions:
Heat olive oil in a skillet over medium high heat until hot.
Add onions and minced garlic and stir frequently until the onions are clear (a few minutes).
Add crushed tomatoes and half of the water, stir occasionally for 3-5 minutes.
Add the brown sugar along with salt and pepper to taste.
Reduce heat to low and let sauce simmer for 3-5 minutes.
Add more water if sauce becomes too thick while simmering, it should retain a silky texture.
Remove from heat and stir in chopped basil (leaving a little extra for garnish).
Serve over gluten-free penne pasta and sprinkle remaining basil on top.
Serves: 2-4 people