Britney Spears' Tour Is Incomplete Without This Fast Food
Whoever said that celebrities with rock hard abs and flawless physiques eat only boring healthy food (and some weird ones), obviously lives in a fool's land. Or hasn't met pop star Britney Spears. The popular musician is gearing up for her 51-day 'Piece of Me Tour' and in a recent interview revealed some interesting facts about how she keeps her health game strong during tours.
Eat, Sleep, Perform, Repeat
Speaking about her eating schedule before and after concerts, Spears disclosed that it's not all lean and green foods that make for her meals, a certain fast food item finds its way to her plate as well. "Sometimes I'm just like, 'I want a hamburger!' but when I'm in work mode, I want [to eat] very clean. I want clean chicken and veggies that's it," she revealed.
"My stomach is so sensitive, if I have a steak, I will be sick for three days", Spears added. "The burger is fine, but I have the small burgers from McDonald's. The happy meal!" she said.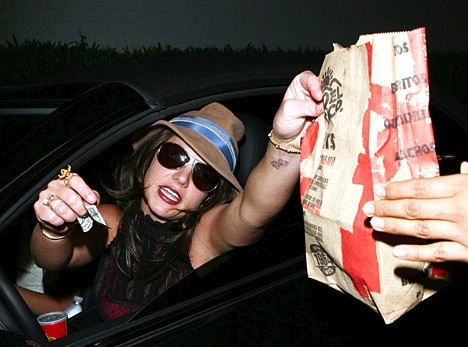 Image Source
And while the Piece Of Me artist is working hard in the gym before her tour, what happens during the tour? Turns out with such a hectic schedule chalked out for her, Spears gets all the workout that she needs from her concerts. "This round of shows that we are doing on tour, they are back to back, so each show is like… I don't have time apart, besides flying," the Womanizer singer explained, adding, "My show is a workout in itself. It really keeps you strong."
The second leg of Britney Spears' Piece of Me Tour kicks off on July 12, 2018 at Maryland's MGM National Harbor. She will be doing 30 concerts across cities in North America and Europe over a period of 51 days.