Delhi Hosts National Summit On Fortification Of Food To Battle Micronutrient Malnutrition
India's ongoing battle with poverty tugs along the grave issue of hunger and malnourishment as well. To address the same, the Food Safety Standards Authority Of India (FSSAI) organized the National Summit on Fortification of Food in the capital.
A Timely Intervention
The World Health Organization defines 'Food Fortification' as the "process whereby nutrients are added to food (in relatively small quantities) to maintain or improve the quality of the diet of a group, a community or a population."
FSSAI has chalked out a set of guidelines for the fortification of food that includes rice, wheat flour, milk, salt, and edible oil. Christened 'Food Safety and Standards (Fortification of Foods) Regulations, 2016', these regulations set the standards for food fortification and encourage the production, manufacture, distribution, sale and consumption of fortified foods.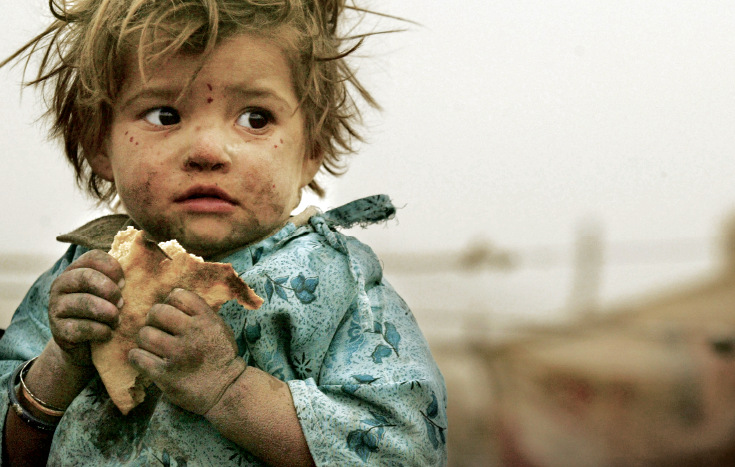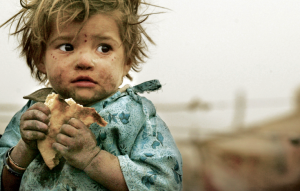 Imgae: The Gospel Coalition
These regulations, which have been termed a timely intervention, not only step up the FSSAI active role in the promotion for food fortification, but also makes fortification mandatory. "This would help in overcoming the problem of malnutrition in the country. There have been efforts in the past, but this is a comprehensive plan to fight the challenge of malnutrition in the country. We have drafted the regulations, which will be notified soon", said Pawan Kumar Agarwal, CEO FSSAI.
Why Food Fortification?
Speaking about the pros of food fortification, Anupriya Patel said that food fortification has in the past proved to be an effective measure to meet the dietary needs of a large number of people across various sections of the society. This includes the poor and underprivileged as well as the vulnerable people, such as pregnant women and young children.
"Fortification requires neither changes in existing food patterns, habits nor individual compliance. It is socio-culturally acceptable and does not alter the characteristics of the food. It can be introduced quickly and can produce nutritional benefits for populations in a short period of time. It is safe and cost effective, especially if advantage is taken of the existing technology and delivery platforms," Patel added.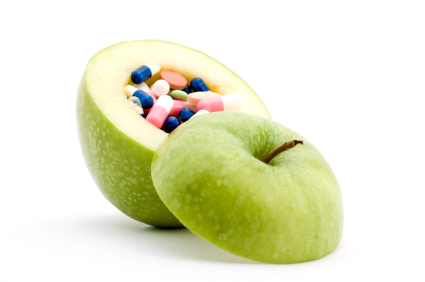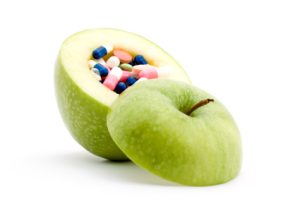 While revealing the standards on fortification of foods and the food fortification logo, Patel added that food fortification also reinforces and supports existing nutrition improvement programmes and is part of a broader, integrated approach to prevent micronutrient deficiencies, thereby complementing other approaches to improve health and nutrition.
Enlisting a few more reasons as to why fortification is a must, Dr. Soumya Swaminathan added that while dietary fulfillment is key to ones well-being, lack of the same at in the form of macro- and micro-nutrient deficiency would lead to risk factors that may cause various diseases like TB, anemia, etc.
The Summit
FSSAI co-hosted the two-day summit in alliance with Central authorities and development partners. "The summit brought together experts from the nutrition and development communities, as well as representatives from state governments, academics, technical supporters and donors to beneficiaries past and present to discuss and debate – presenting in-depth analysis and impact assessments, important and case study examples of food fortification programmes as well as learnings and challenges to build on, so effective food fortification efforts can carry on delivering in the future", reports FnB News.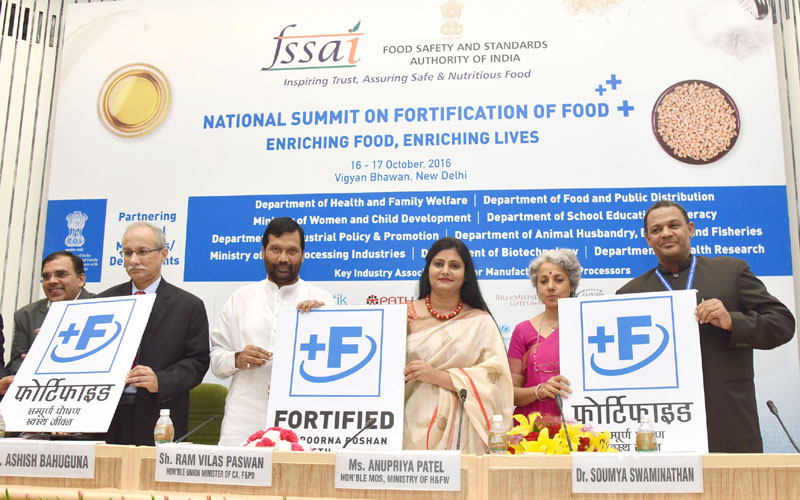 Image: Ground Report
 The event was attended by eminent names like Anupriya Patel, Minister of State for Health and Family Welfare; Ram Vilas Paswan, Union Minister of Consumer Affairs, Food and Public Distribution; Dr. Soumya Swaminathan, Director General, Indian Council for Medical Research (ICMR); and Ashish Bahuguna, Chairman FSSAI, among others.
Also present at the event were members of the food sector, including representatives from the science community, industry – corporates as well as small and medium food businesses. Further, consumer and citizen organisations, international organisations and development partners, experts and government officials from Central ministries and states and other key stakeholders graced the event.
Source: FnB News
Feature Image: International Business Times