#DelhiRoundUp: 7 Upcoming Events In Delhi That You Cannot Miss
We cannot stress enough on just how generous the Capital is being with its temperature. With the mercury snoozing somewhere between 18 and 22 in the daytime, it is the perfect reason and season to step out and enjoy the Capital in all its food-filled glory. And to help you do just that, events are popping up all over NCR! So, just before the weather starts running a fever (again) for the major part of the year, here are seven food festival that you need to be at!
Bharat Parv
Date: Fri, 26th January – Wed, 31st January
Time: 5pm – 10pm (26th January); 12pm – 10pm (27th – 31st January)
Venue: The Red Fort, Netaji Subhash Marg, Lal Qila, Chandni Chowk, New Delhi-06
Entry: Free
With the Ministry of Tourism at its helm, Bharat Parv will create a patriotic vibe while promoting the rich cultural diversity of the country. The week-long festival will feature a display of Republic Day parade tableaux, performances by the armed forces bands (static as well as dynamic), a multi-cuisine food court, craft mela, cultural performances from different regions of the country and Photo Exhibition by the Directorate of Advertising and Visual Publicity (DAVP).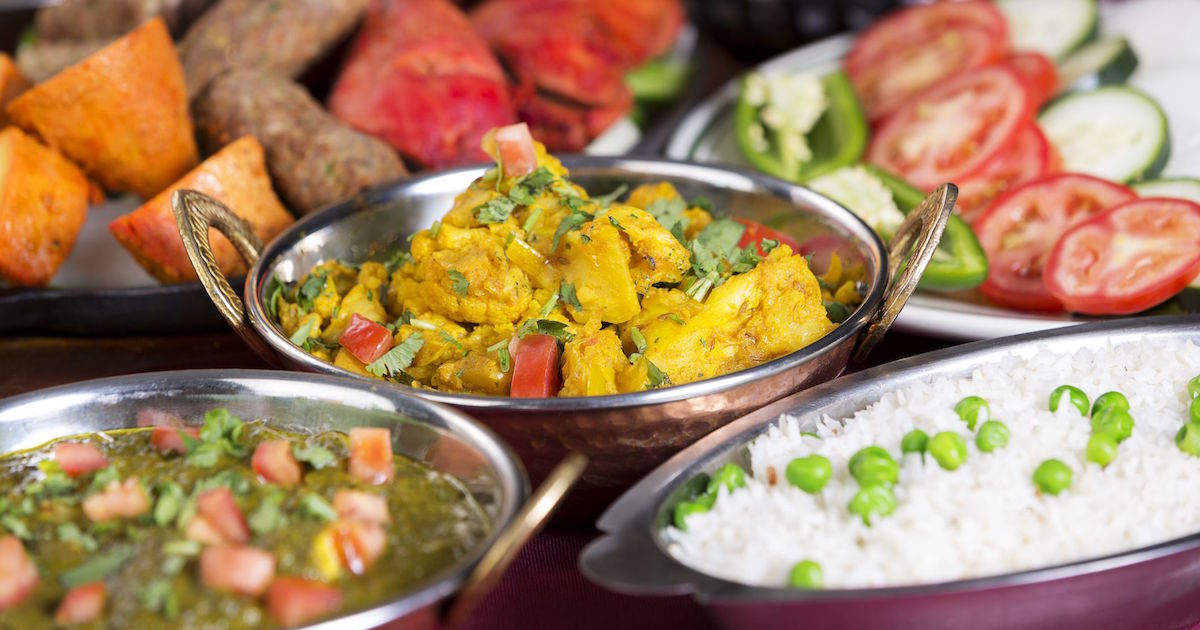 Image Source
Delhi Food Carnival
Date: Sat, 27th January – Sun, 28th January
Time: 12.30 pm – 10.30 pm
Venue: Ansal Plaza, Khel Gaon Marg, New Delhi-49
Entry: Free
"Old Meets New" at this one of a kind food and entertainment event. The two-day festival brings together a roster of authentic global cuisines to be paired with epic live performances by artists including Nizami Bandhu and Harrdy Sandhu.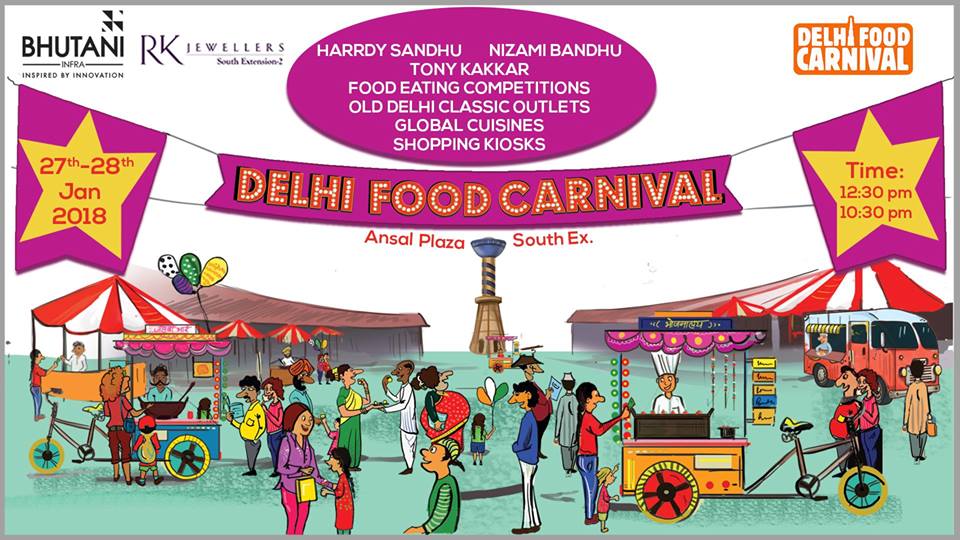 Image Source
The Chaat Festival
Date: Fri, 26th January – Sun, 28th January
Time: 12 pm – 10 pm
Venue: Pop Up Zone, Ground Floor, DLF Mall Of India, Noida
Entry: Free
Celebrate India's gastronomical diversity with a loud burp this Republic Day, courtesy GoBuzzinga. Gorge on over 100 varieties of authentic Indian chaats including the likes of Daulat Ki Chaat, Dahi Bhalle, Fruit Kulle, Bedmi Aloo, Moth Kachori, Shahi Tukda, Naan Khatai, Papdi Chaat and much more.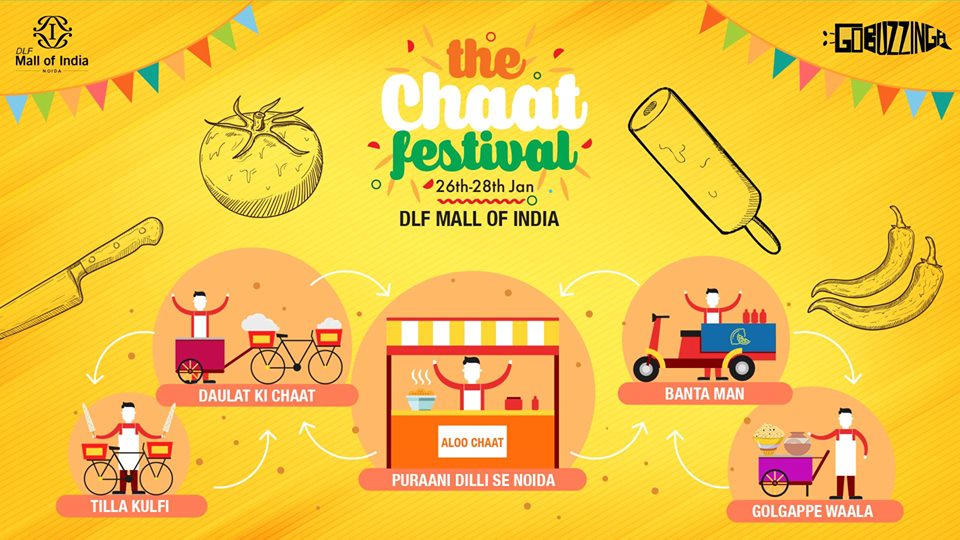 Image Source
The Grub Fest
Date: Fri, 2nd February – Sun, 3rd February
Time: 12 pm – 10 pm
Venue: Ambience Island, Behind The Leela Ambience Hotel, Gurugram-122001
Entry: Book your passes here.
The Grub Fest is back with yet another edition of its food extravaganza. The festival will bring about an exciting mélange of restaurants, prominent chefs along with some of the best entertainment artistes of the country to curate a distinctive food festival experience for all the food enthusiasts out there.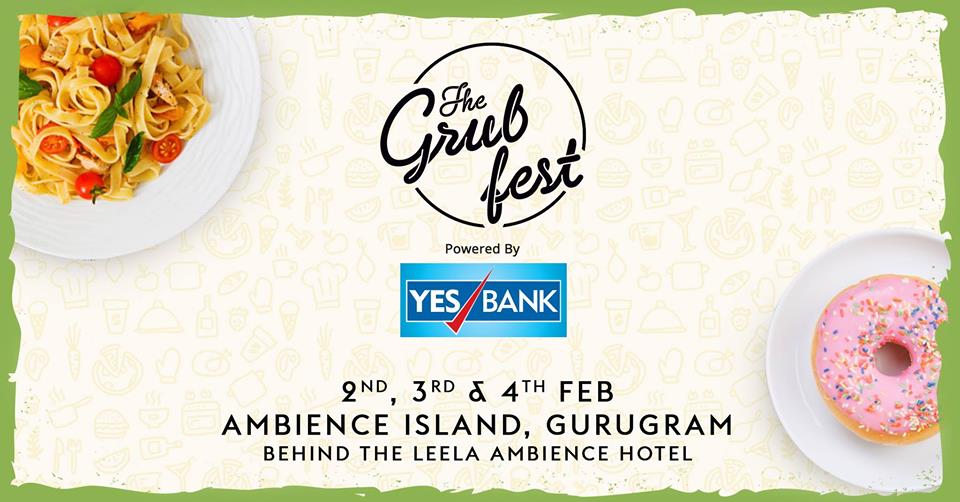 Image Source
World On A Platter- International Food Festival
Date: Sat, 17th February – Sun, 18th February
Time: 11 pm – 10 pm
Venue: Jawaharlal Nehru Stadium, Gate No. 2, Lodhi Road, New Delhi – 03
Entry: Book your passes here.
Ever dreamt of hopping across the globe just to try the different cuisines everywhere? Well, your dreams are about to come true this February at 'World On A Platter'. The international food festival will curate the best of cuisines form six continents and 30+ countries. In place of the icy seventh continent, the festival will host a loaded World Bar to pair your food with poisons including the crafted breweries of Belgium to the vineyards of Argentina.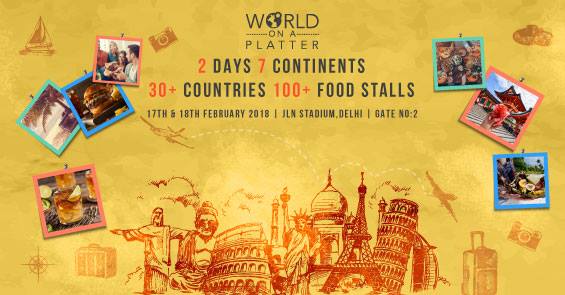 Image Source
The Pizza Fest
Date: Fri, 23rd February – Sun, 25th February
Time: 11 pm – 10 pm
Venue: Select CITYWALK, A-3, District Centre, Saket, New Delhi-17
Entry: Free
Though we don't need a reason to binge on pizza, Just Delhiing is giving us just the reason to toss our diet out of the window and go on a full-fledged pizza diet at The Pizza Fest this February! Whether it be Wood Fired, Thin Crust, Deep Dish, Pizza Waffles, Pizza Golgappe, Pizza Momos, Pizza Cones or Pizza Burger, there will be variety of pizza types and toppings for taste buds of all types. And just in case, you're OD-ing on pizza, you can punctuate your binge with some burgers, desserts, and drinks as well.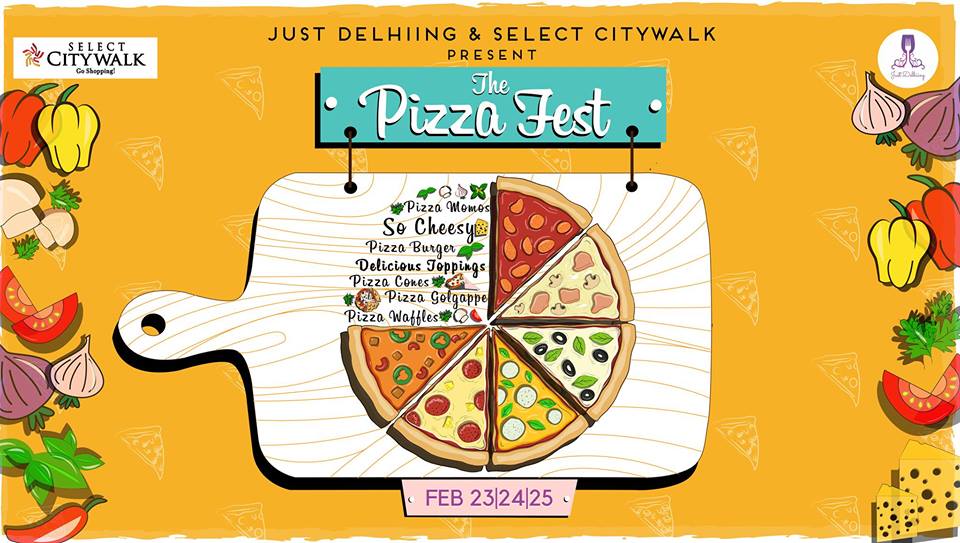 Image Source
Dessert Bazaar: Edition V
Date: Sat, 24th February – Sun, 25th February
Time: 12 pm – 8 pm
Venue: DLF Promenade, Vasant Kunj, New Delhi-70
Entry: Get your tickets here.
Can winter be complete without a sinful dessert spree at LBB's Dessert Bazaar? The dessert festival is back with its fifth edition and we cannot wait to get our sugar rush on! With 25 amazing bakers and some of Delhi and Gurgaon's best baked goodies under one roof, this February is going to be sweeter than ever.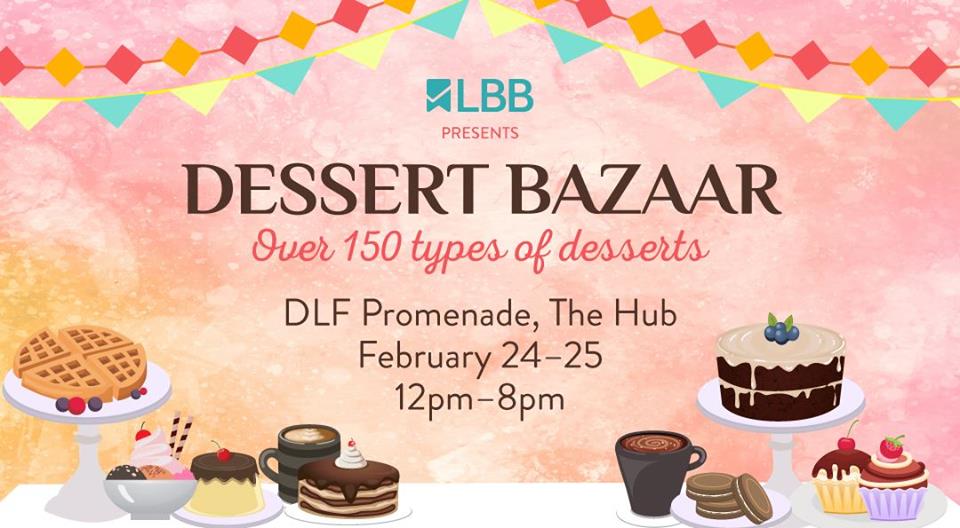 Image Source