"I didn't want to sell pizzas & desserts", Taniya Dhirasaria On 'Zoe' & Cold Pressed Potions
It's a lazy Sunday morning and as I drag my already-dreading-Monday self out of bed, Taniya Dhirasaria is already up and about, catering to fitness fanatics at her cold-pressed juice kiosk at the Amity Gurgaon Half Marathon. Though I feel terrible for messing with someone's Sunday, Taniya chimes in and says "I work seven days a week since I quit my 9 to 5 job". Okay then!
With a degree in fashion from NIFT, Kolkata and an MBA from the prestigious MICA, a love for food healthy food and ample support from her greatest pillar of strength, her husband Karan Jindal, was all Dhirasaria needed to lay the founding stone for Zoe.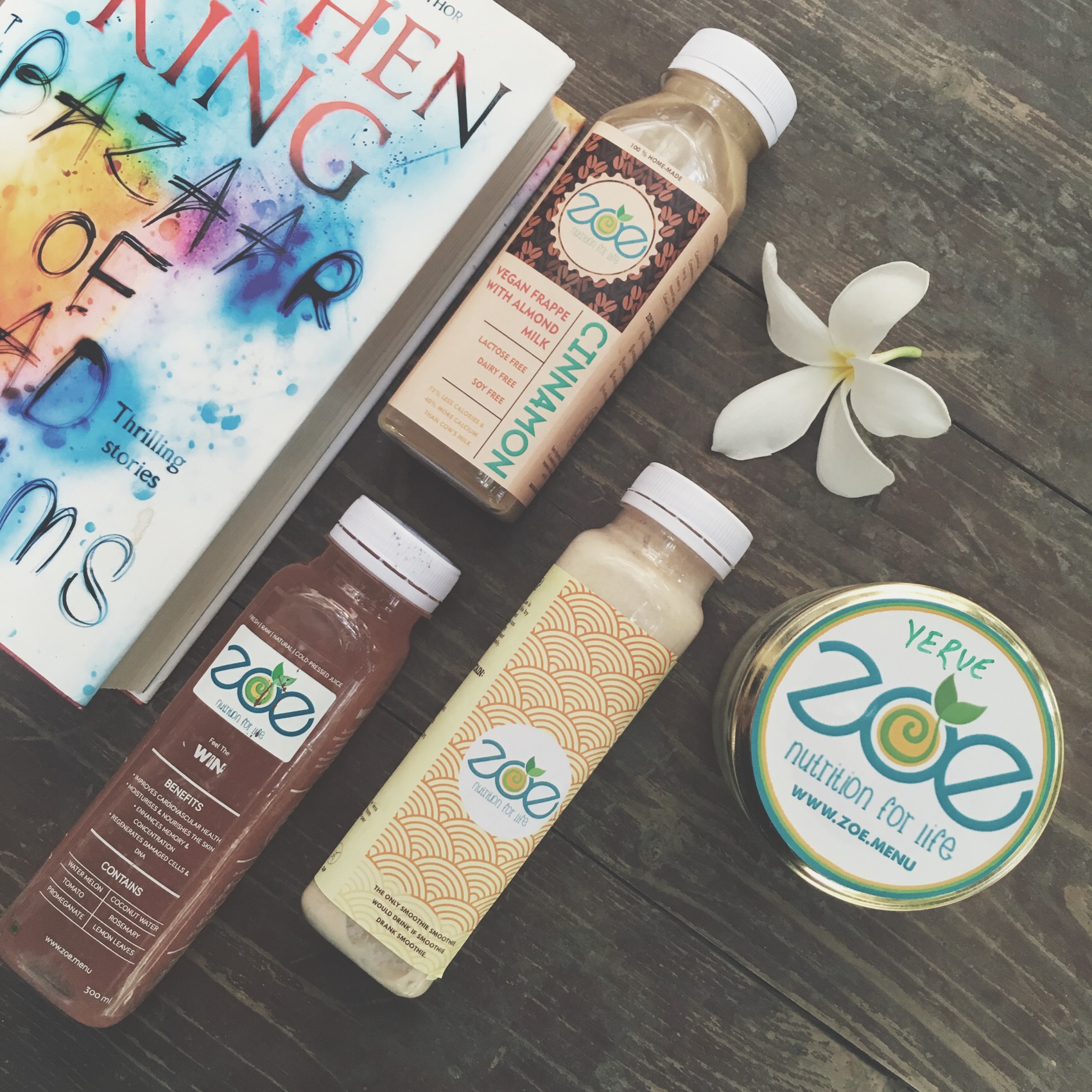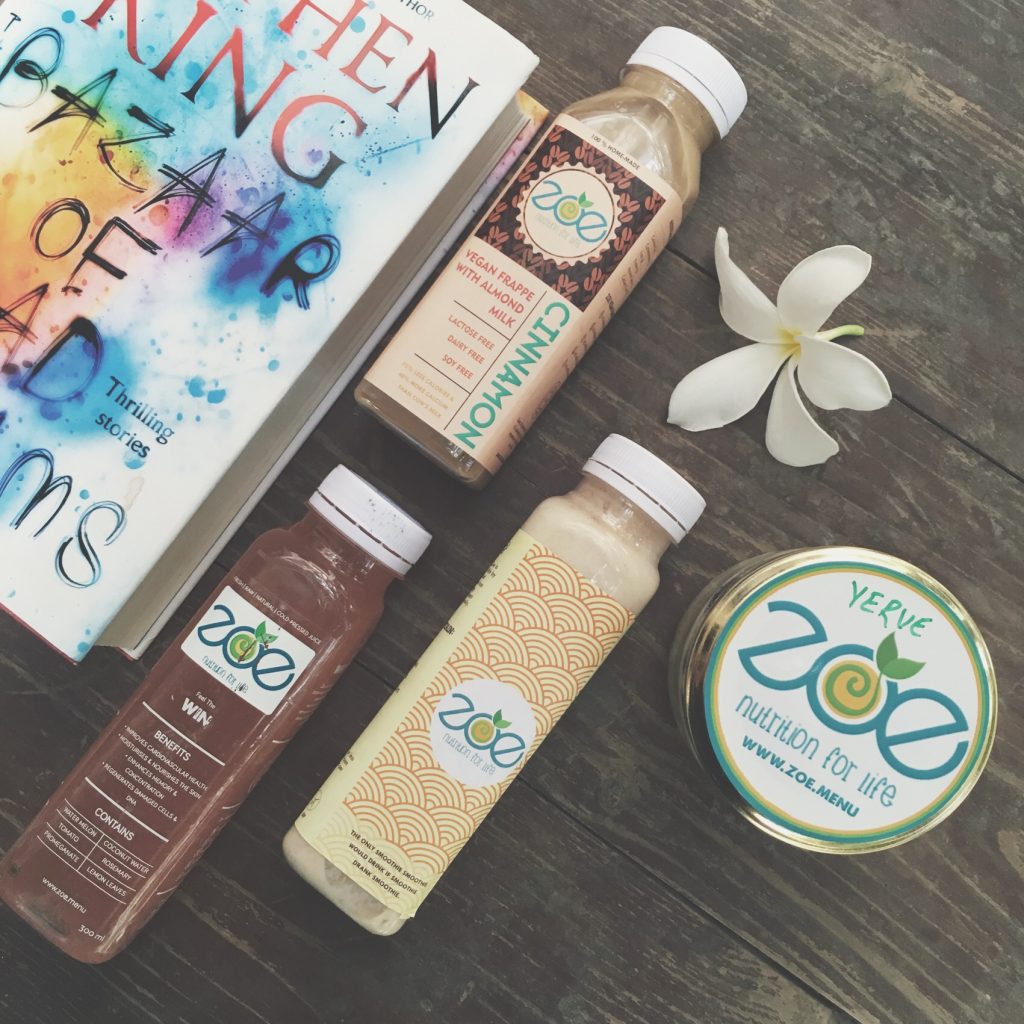 It's Zoh-ee.
A self-funded start up, Zoe kicked off on February 14th of this year and the 2-month-old brand has come a long way in a short span of time with delicious frappes, cold pressed juices and smoothies in its kitty. We got chatting to Zoe's founder, Dhirasaria, to know more about the brand and most importantly healthy eating. Read on.
The name 'Zoe' is Greek for life and with that as an inspiration the company goes with the tagline "Nutrition for life". I know, like pieces of a puzzle, isn't it?
"The whole idea behind Zoe was to make healthy and nutritious food available to consumers and to up the quality of their life", describes the founder.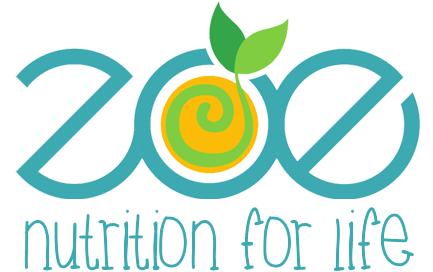 Call For Health
Founder & CEO, Taniya Dhirasaria, comes from a corporate background where she has worked for enterprises like Reliance Brands & Myntra. She noticed corporate professionals skip proper meals and instead resort to extraneous munchies and beverages like biscuits, tea, coffee and other cafeteria snacks. This unhealthy habit led a lot of them to fatigue, body ache and dizziness.
"Even I was suffering from a Vitamin D deficiency for which I was prescribed a diet that included a lot of healthy foods. I realized that not a lot of people were even aware of their deficiencies and those who are aware, end up not doing anything about it because it isn't easy", she explains.
This need for healthy eating and the lack of it coupled with her desire to do something meaningful" in the F&B sphere drove Dhirasaria to explore and dig up more on wholesome diets and cold pressed juices, which eventually led to Zoe.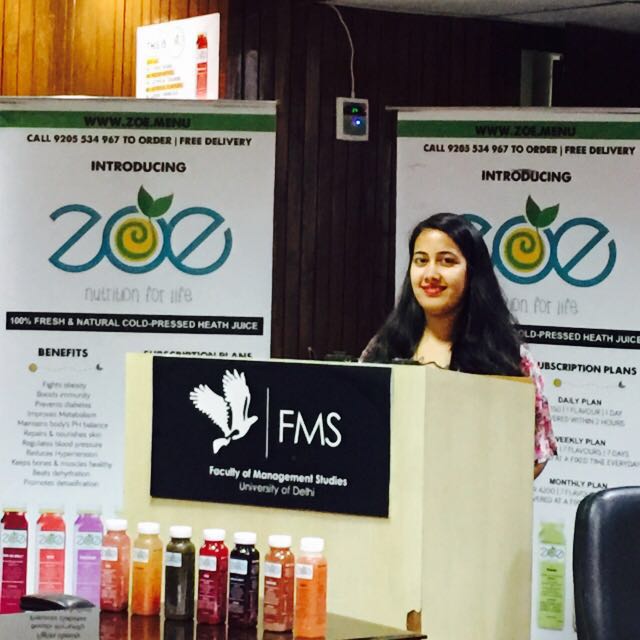 The Seven Cold Pressed Wonders
"Our hero product is the range of 7 cold pressed juices", explains Dhirasaria.
What we eat and what the body needs may differ vastly. Our food often lacks the necessary nutrients that our body requires, which is the gap Zoe aims to bridge. "Even though all of us are eating healthy – or at least think so – chances are that we might not be getting the right amount of nutrition from our food", she says.
"There some 80+ vitamins and minerals that a person is supposed to consume on a regular basis in order to function properly. But we don't get it from our regular meals. You may be having your staple chapatti, dal and veggies but you still fail to provide your body with these vital micro-nutrients."
Enter the vibrant cold pressed juice range. Team Zoe worked with some eminent nutritionists and food technologists to come up with the seven cold pressed juice recipes. These juices fulfill the body's nutritional requirements with just one bottle a day. "It doesn't matter what you eat. As long as you have one of these juices each day a week, your nutritional requirements will be taken care of", says Taniya. Neat or what?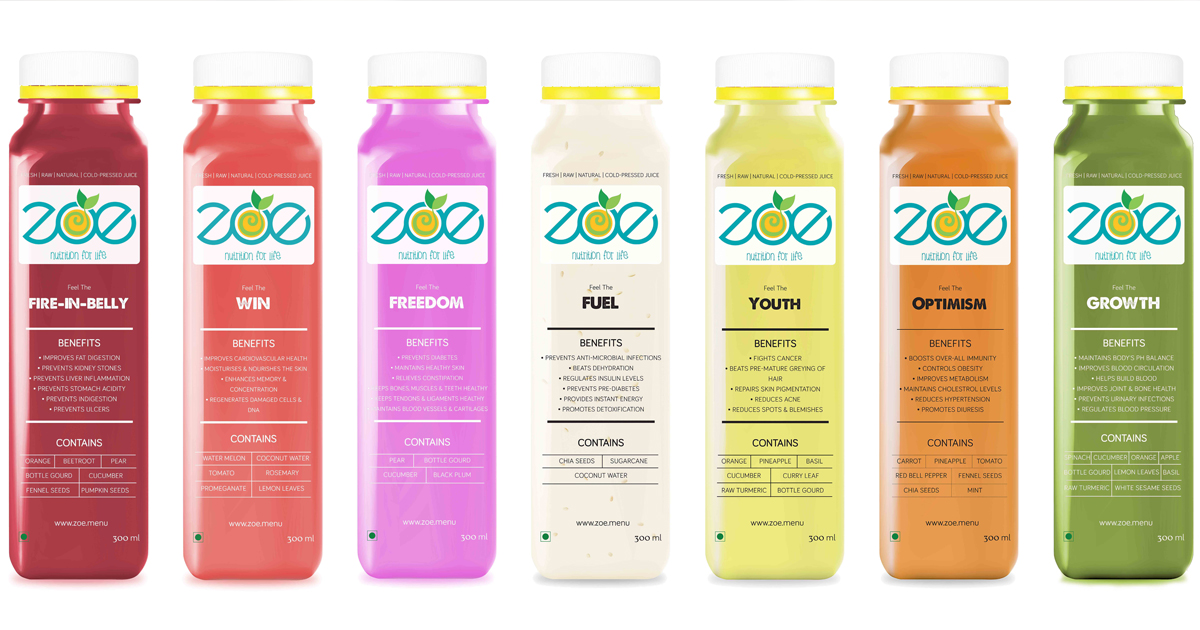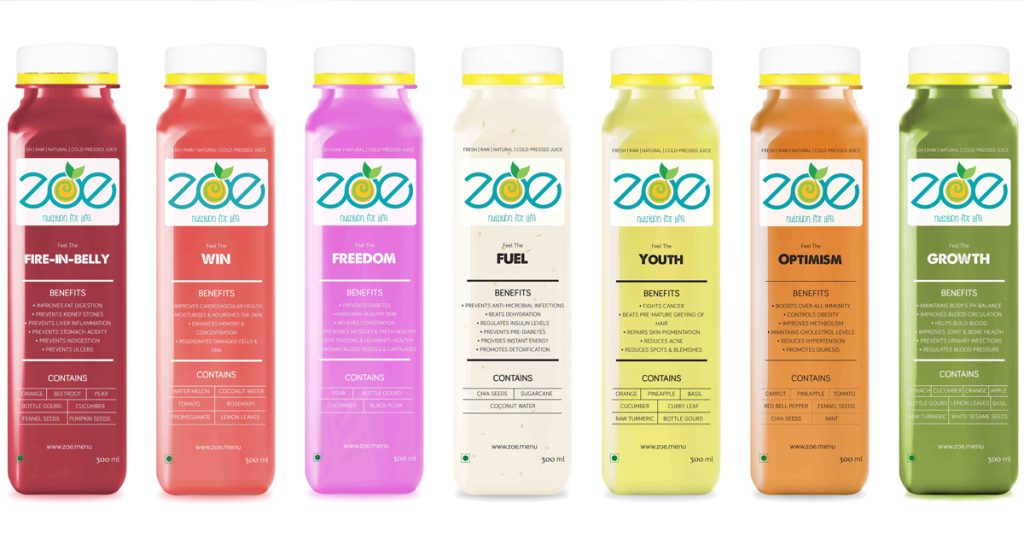 Other Sips & Nibbles
Apart from the wondrous hero product, Zoe also offers a range of wholesome options like parfaits, yogurt smoothies and vegan frappes.
Speaking of the Zoe menu, Dhirasaria says: "The yogurt smoothies are a substitute for protein shakes people drink post working out. They are a better and tastier way of consuming the vital health supplements. Additionally, we have a vegan frappe for people who are lactose intolerant and need their regular dose of calcium.
"Then there are the yogurt parfaits, which are essentially meals in a jar. These parfaits can be had in place of your regular meals as they contains all the necessary health rudiments a body needs in the form of oats, fruits and nuts without adding on the unwanted calories."
Adding to this scrumptious range of foods, Zoe will be launching an uber healthy four-course meal later this week. This meal will consist of a sandwich, a cold pressed juice, a salad and a mini chocolate-covered biscuit. *Healthy salivation*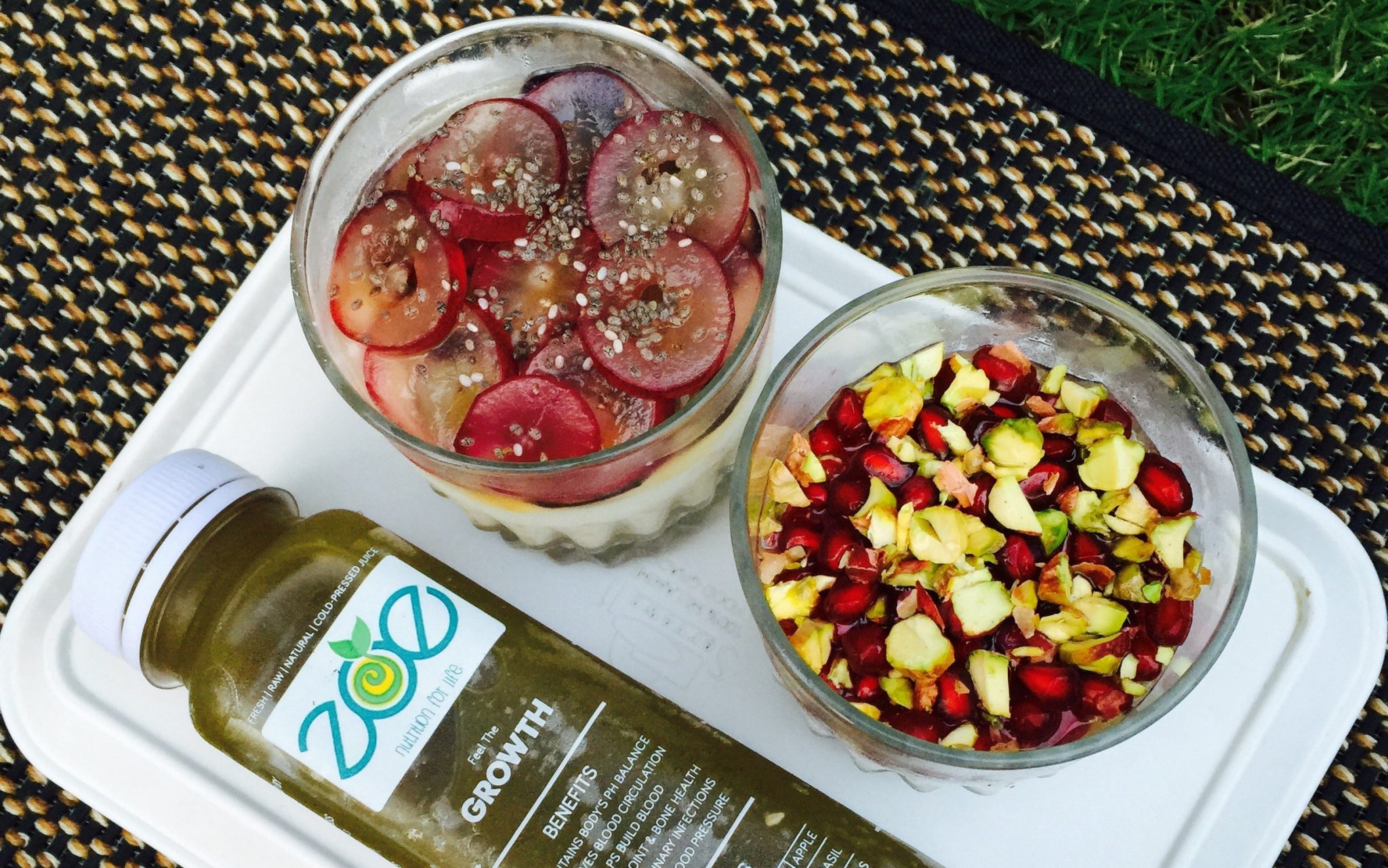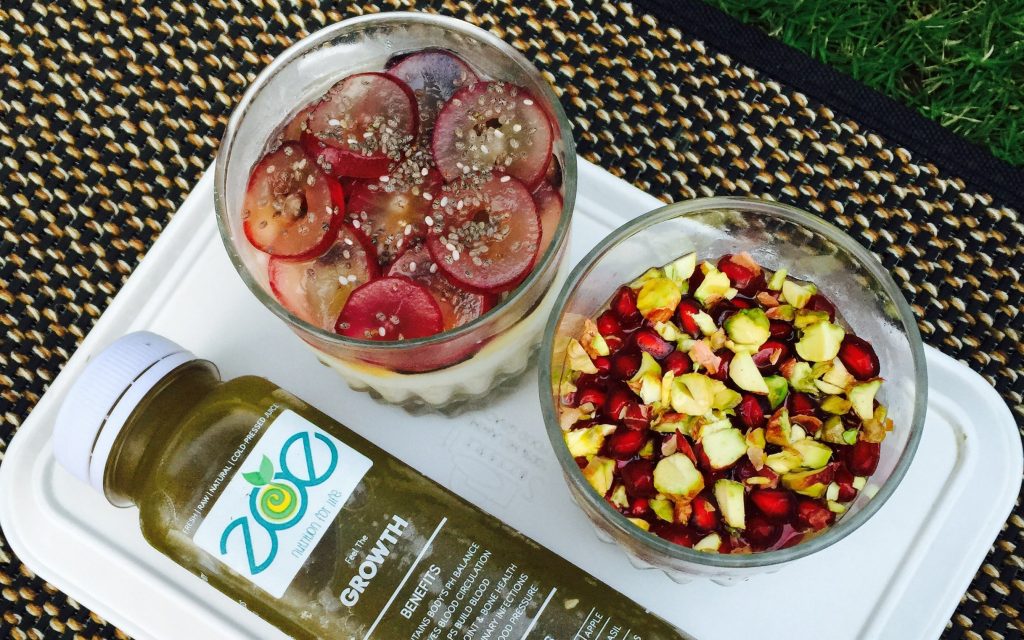 Image: Zomato
Flavorsome
One look at the Zoe menu and you'll want it all. And I say this not only because it's a palette of bright hues but also because it's one of the yummiest (not to forget healthiest) collection that I've come across. Who are the creative heads behind this and how do they do it?
"The cold pressed juices are very scientifically designed. My only criterion was that it has to fulfill the nutritional requirement and the taste should be consumable to a regular consumer." Ha! Take that, spinach juice!
With that said, Taniya also had the latest food trends on her mind. "These days there's this trend of having fancy cereals and cake in a jar. So I thought why not transform that into a healthy parfait?
"And when it came down to choosing the variants, we decided we'll keep one for each day of the week." What follows is the recipe R&D for the seven options that include sweet and savory varieties as well.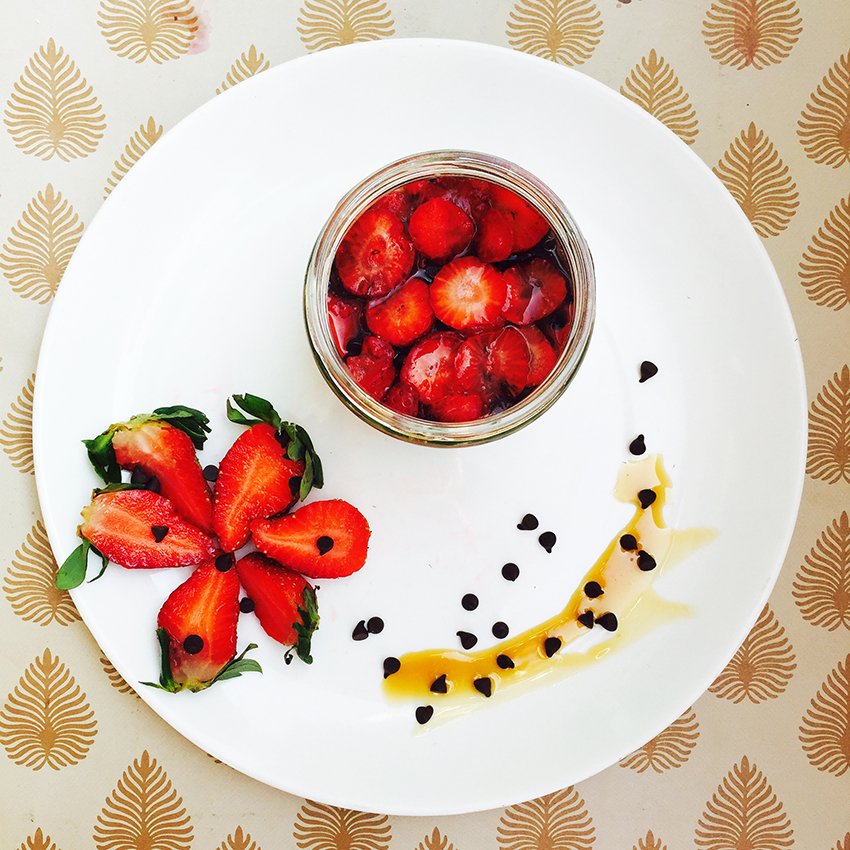 Learning On The Go
Given that Dhirasaria does not have a background in F&B, Zoe is essentially mothered by an experienced MBA who has the taste for good healthy food. Frankly, that's all one needs – a good taste for food and management skills. But for Dhirasaria that wasn't enough, the ex Myntra employee went a step further and got ace F&B people on her consultancy team.
"I know food, I'm sound that way but then I don't have a degree. So in order to balance it out I involve nutritionists and consultants in the process who help with the recipes.
"Our food technologist is an ex-R&D person from Pepsi. Additionally, we have on board experts, who have worked with Hector Beverages and Cafe Coffee Day at a Pan-India level. I'm learning on the go", she laughs.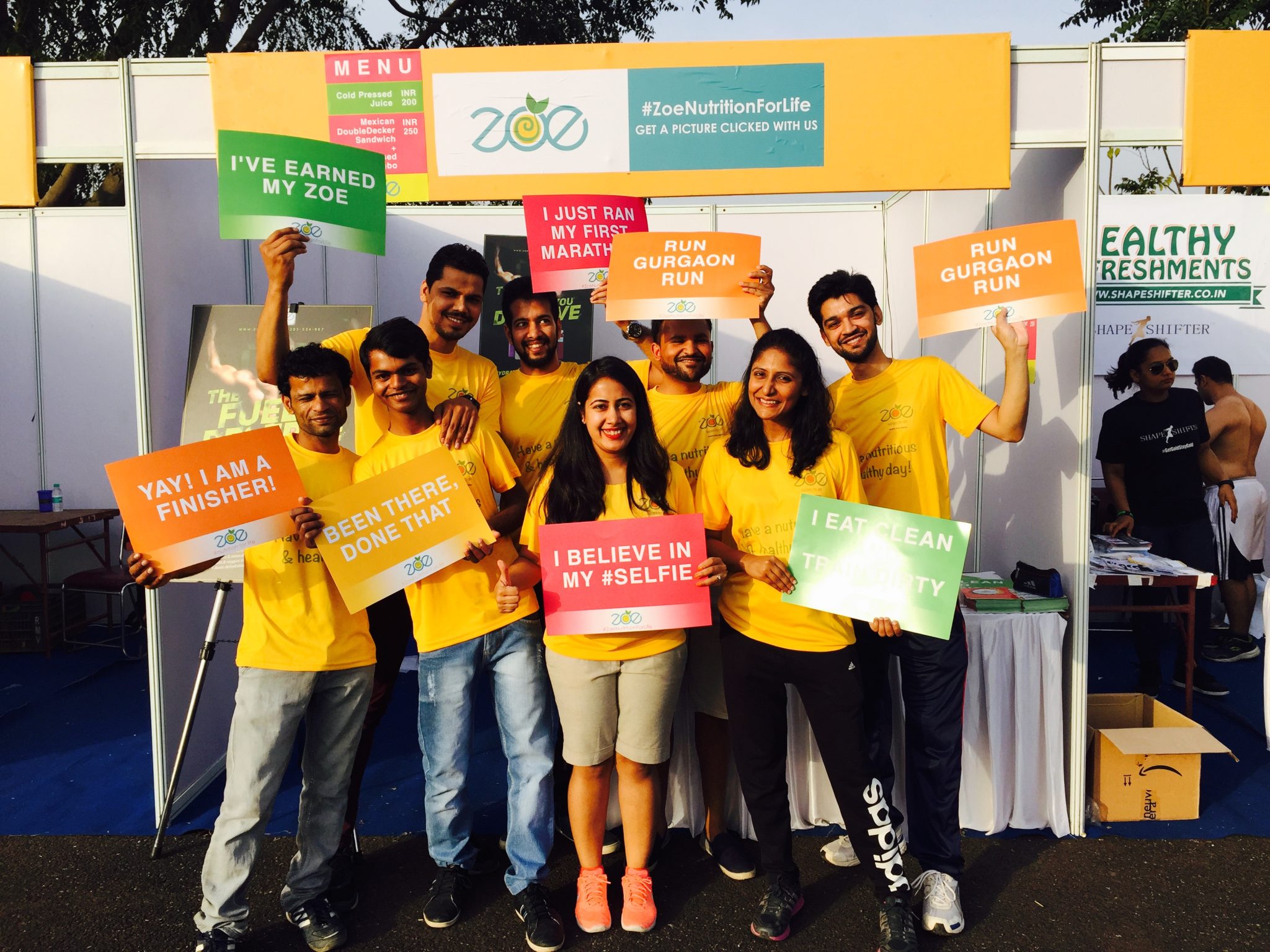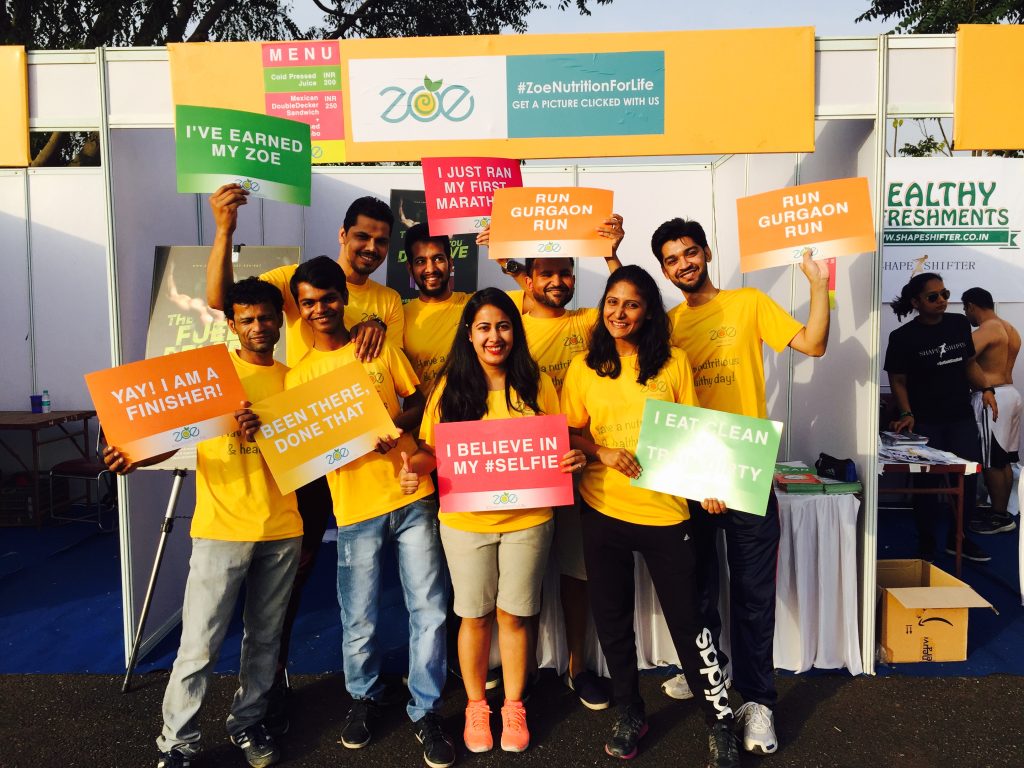 Creating A Recall Value
For any and every business, climbing the ladder is not devoid of challenges. Zoe had its share too. The founder admits that creating a recall value has by far been the most tasking job. Enlightening people about the new born brand, sell them the products and most of all make sure that they come back for more.
"Initially I thought the online model was fantastic and that people will just magically come to my website and order", Dhirasaria says, "But when I launched I realized that the brand's lack of a physical presence made it difficult to get people to the website. And that's an everyday challenge – getting people on the site.
"We've tried any and every form of marketing initiative possible. We keep doing Facebook and Google ads and spend a lot on that. But having said that, we do have a lot of consumer stickiness owing to the quality of the products", she admits.
Yes, it's a 60-day old business, but the client list would beg to differ. Zoe has already attracted a hoard of fitness fanatics who are into wholesome but tasty food. The start up has also partnered up with a number of gyms all over Delhi-NCR including the likes of ClubXcell, Vivafit, Ozone and Elemention along with corporates.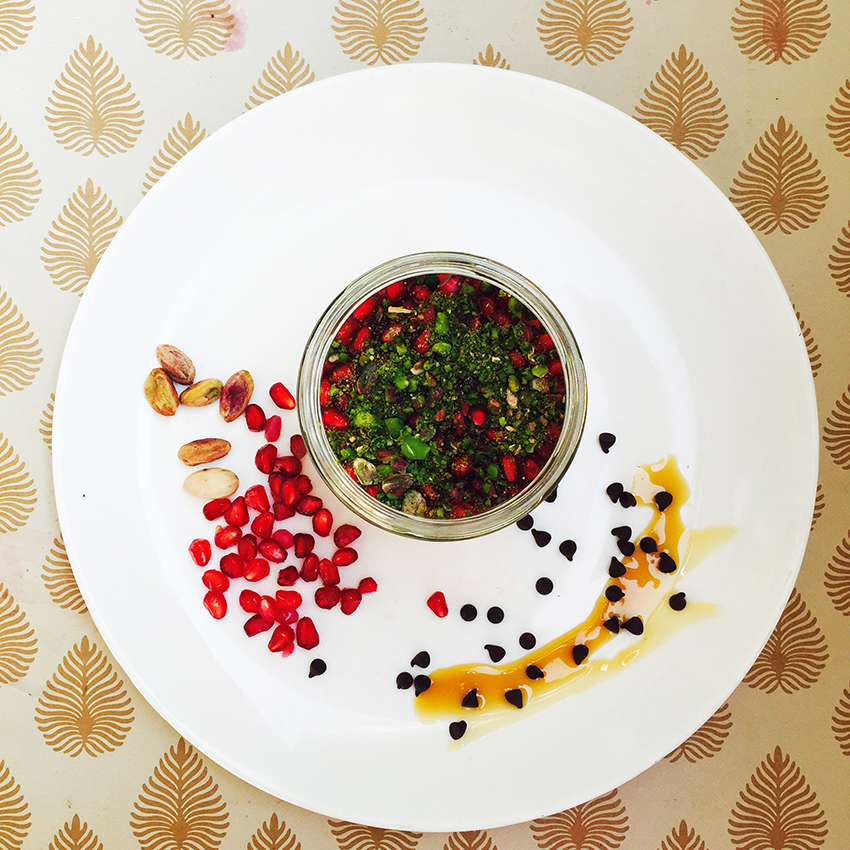 Cold Press Convert
Taniya being a cold press juice-lover herself speaks about her healthy journey: "Now I've almost stopped eating other things. I have atleast 2-3 cold pressed juices and a vegan frappe or two along with a parfait for dessert after dinner everyday.
"Basically, my caffeine, milk and sugar consumption has gone down. Additionally, the cold-pressed juices make me feel good every time I have them."
My second cup of coffee is giving me the looks but I ignore it and go on to take a few quick tips from Dhirasaria on becoming a cold pressed convert. She explains that Zoe is not about the one or two day cleanses. The process is, in fact, a detailed and well-studied one.
"We go through the entire diet history and eating habits of the person. First we start with the basics like skipping out on the caffeine by substituting it with a vegan frappe or a juice. For people who want quicker results, we advice them to substitute their dinner for a parfait and a juice."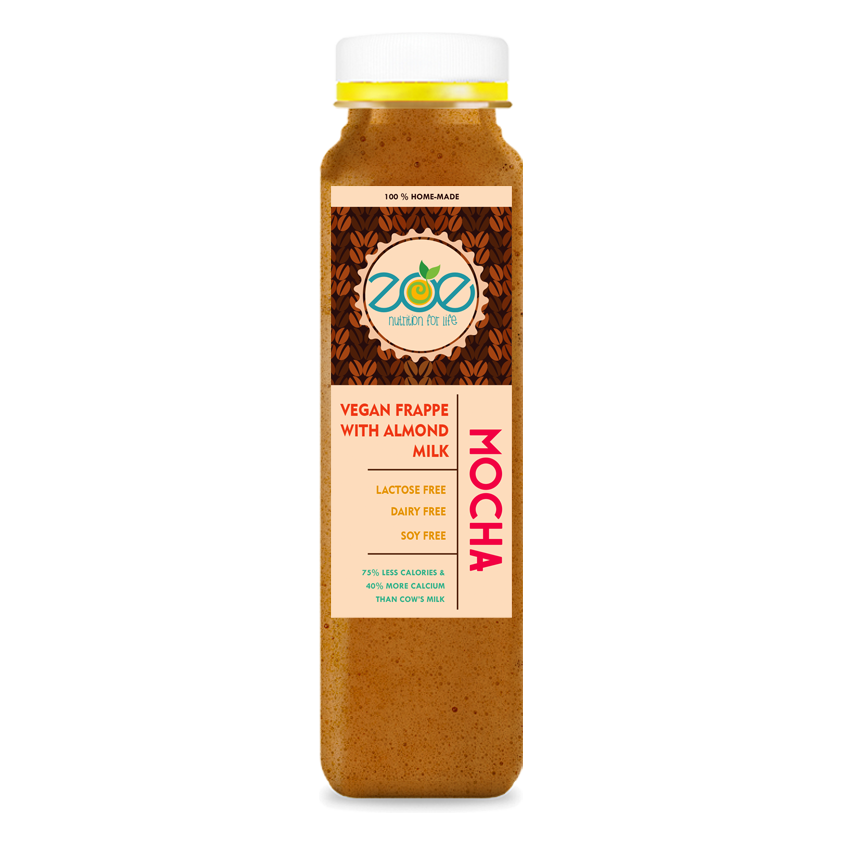 At the end of this highly informative and nutrient-filled talk, my caffeine is still kicking in and Dhirasaria is at her liveliest best. Guess that's the difference between an Americano and cold-pressed juices!