Dunkin it, the right way at #DunkinInChennai
Every person in Chennai who doesn't live under a rock has seen it. It reads "free donuts for a year." In other words – STOP THE PRESS AND SCREAM HOLY MOLY.
When we first got the mail inviting us for a workshop before the opening, we spent a good one minute screaming at decibel levels that only bats can hear. Chennai has been up and running in the doughnut scene but this is DUNKIN DONUTS. Anyone who's ever been to Dunkin Donuts around the world will know that it is SO MUCH more than just doughnuts. Their burgers have been the talk of the town everywhere. So our excitement on being invited to the workshop was perfectly justified.
At 12pm, we arrived at this beautifully designed place with white brick walls and bright yellow lights. Funky quotes adorned the walls and the sentiments that they expressed made us feel quite at home. We met the very friendly COO of Dunkin Donuts, India, Mr. Dev Amritesh who with his delightful persona had us in fits of laughter during the course of the presentation.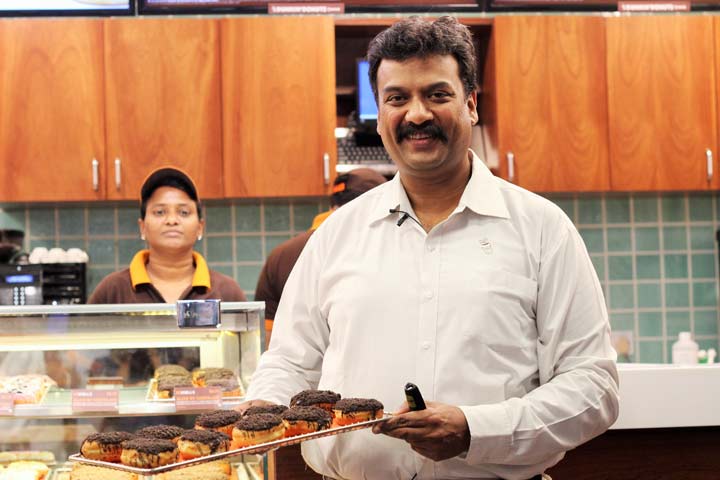 When someone tells you, albeit with a very serious face, that you're about to have a 15 course meal, you usually laugh. Such a thing doesn't exist, right? Wrong! The joke was on us this time because that is exactly what we were in for – a 15 course meal. Each item of this meal has been carefully constructed based on the mind-set of the young adults of the urban cities of India.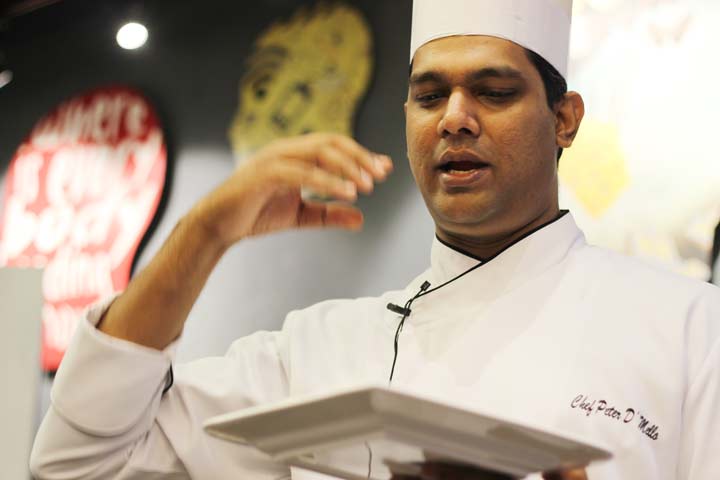 The story was just as appealing as the food and we were touched at the thought process behind giving you the perfectly imperfect plates of food. We call it perfectly imperfect because the food is based on exactly what every young adult faces. It's often not just black and white. It's not just smothered with a lot of one ingredient and given to you. Each element that goes into the food has its own refined taste and it adds to the final product. I would go so far as to say that each burger was engineered to trigger that perfect sense of comfort after a long day.
Getting down to business –
The Naughty Lucy – (Veg/Non-Veg)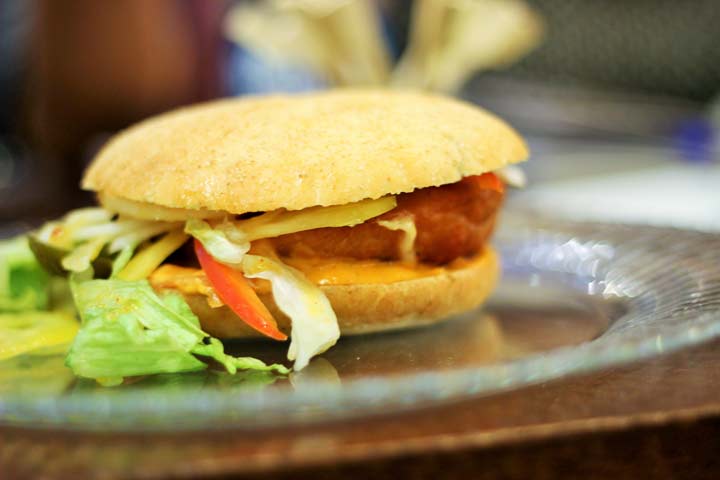 You walk in after a fight. It's been a long day. You just want to live for a moment in unadulterated happiness and just as you're consumed by these thoughts she appears in front of you. She will first take your breath away, then tease you as you try your luck. Once you've got your hands on her, you know one thing for sure – you'll learn to forget bad days as they come and go but you'll never forget the naughty Lucy.
There's cheese IN the patty. (No, this writer knows her prepositions. She meant "in," not on.) So as you bite into your burger, just as your palate is thrilled at the burst of flavour, there's cheese oozing out of the patty making it impossible for you to pause even for a second. The raw mango relish tastes fantastic with the patty.
When Naughty Lucy demands your undivided attention, you give her just that.
Wicked Wrap – (Veg/Non-Veg)
This one looks completely innocent, at first. On the outside, it may convince you that this is just like every other wrap you've come across. Unsuspectingly, you take a bite and it unleashes its true colours.
Spicy chicken with a tang of raw mango relish, jalapeños and crunchy nachos surprise you with each bite. It is wickedly hot but if you're not up for so much heat they have a not so wicked version, as well.
Iced Tea – (Classic lemon iced tea, Iced green tea, Spiked Iced tea)
Yes it got a little too hot to handle in there so we cooled off with some very flavoursome iced teas. Each one had its own unique taste. The spiked tea was quite the favourite today because of its distinguished taste. 5 spices go into giving you that perfect cup of iced tea. The green tea with its flavours of lemongrass are very refreshing.
Tough Guy Burger – (Veg/Non-Veg)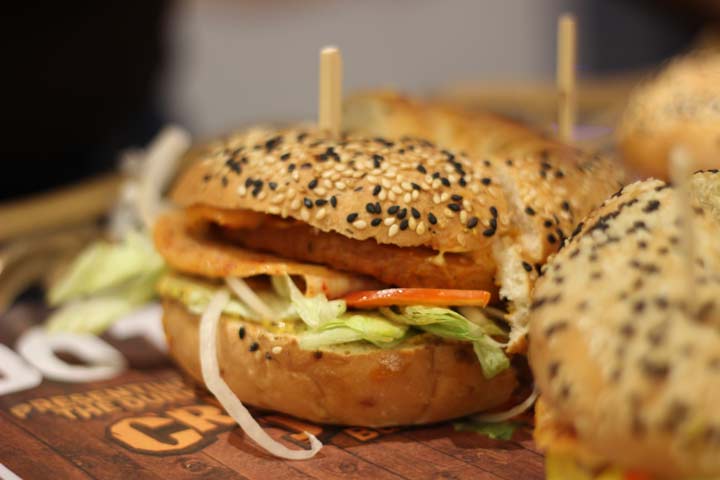 The Original –
Everybody needs a punching bag. Frustration mounts like no man's business in today's world and after a while, you want nothing more than to just punch something to let it all out. When you get to that point, you need the tough guy. He's strong and stubborn. In this case, you munch it down. Show him who's the boss. Burp that frustration out of your life for good. Life has a lot more colour on the other side.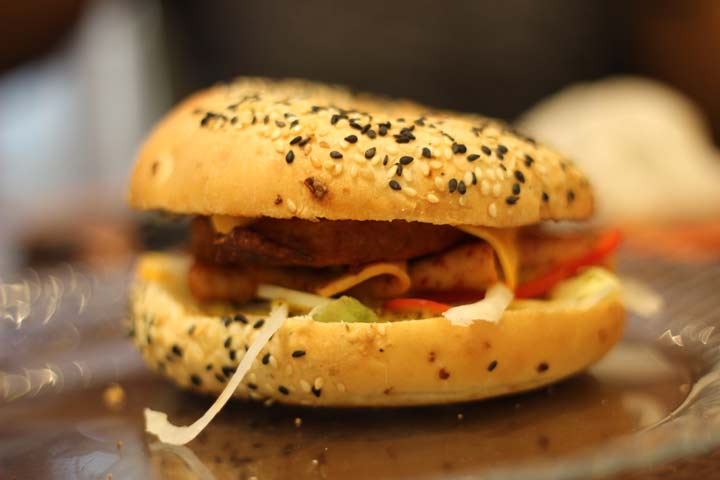 Made with ragged bagel bun with chorizo patty, layers of super juicy paprika chicken and fiery mustard sauce, it is a dream to bite into. The marinated yam patty in the vegetarian version is just as brilliant.
The Brute –
The scar bun stands as a testimonial to its name. The pleasure of destroying this burger with each bite is completely unparalleled.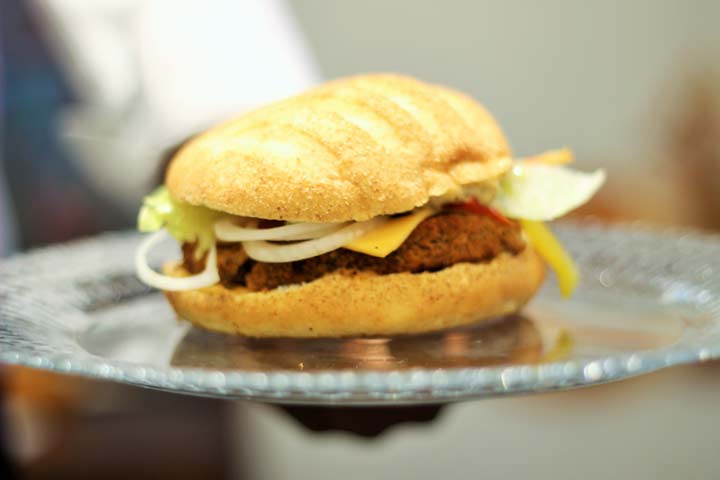 Crunchy Joe burger – (Veg/Non-Veg)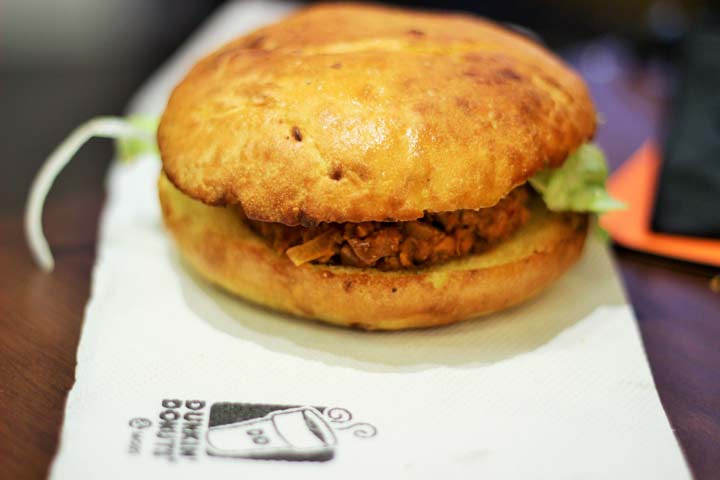 When "paranthe wali gali" met Sloppy Joe, they fell in love. The combination will put Laila and Majnu to shame. As if that weren't enough already, your wallet will dance at this wedding.
The non-veg burger is priced at Rs. 59 and the veg burger at Rs. 49.
Crunchy buns, interesting Indian flavours in one big burger pretty much sums up this awesome burger.
Dunkaccino –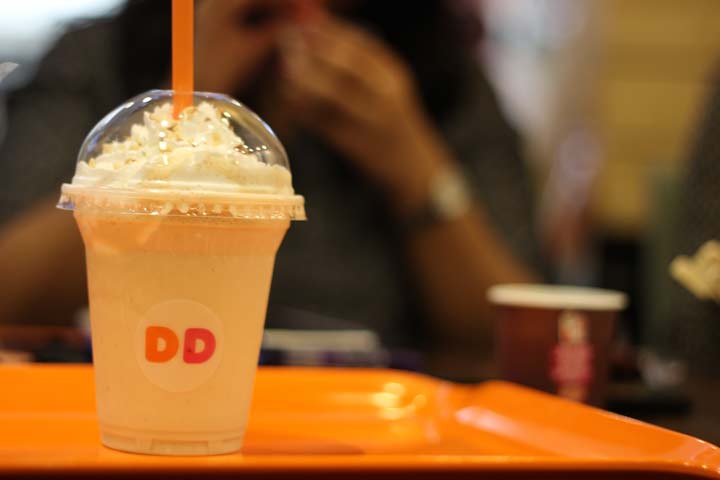 You'll want to dunk your face in it.
The COO says this is "the best cold coffee in the world." (In our minds we thought, "of course you'd say that.")
And then we tasted it.
Our worlds stopped.
This will make you question everything you know about every coffee you've ever tasted. You will go nuts over Jamaican rum and almonds. (See what we did there?)
Doughnuts –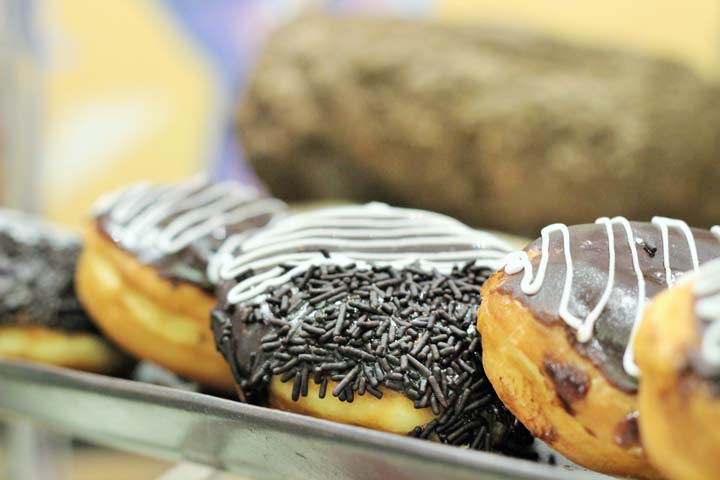 "Guess what? They have doughnuts!"
"You don't say?!"
Yes, we've had some pretty great doughnuts. So our expectations were pretty high. But we've just hit new limits there thanks to these guys.
– Death by chocolate We're not going to say much except that it is, indeed, death by chocolate.
– Alive by chocolate The ABC of awesome.
– Ugly Strawberry Well, if there's one thing I can tell you, it's that there's nothing ugly about this piece of genius.
– It's a mistake A mistake worth making a hundred times over. (Hint: a dash of chilli and juicy guava)
Cappuccino, Espresso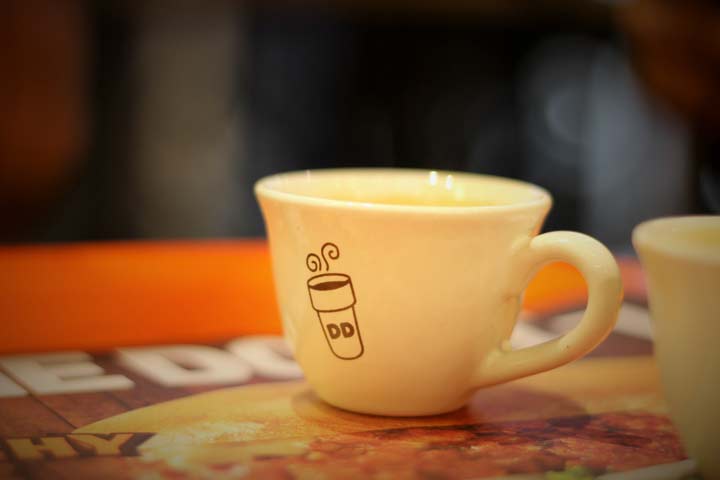 We washed it all down with some sinfully rich coffee.
It almost felt a little sad to go back to our little lives after this extravagance. But then again, Dunkin Donuts opens its doors to everyone tomorrow – 23rd May 2015. It's going to be a fantabulous weekend.