Easter Bunny Bread Rolls Recipe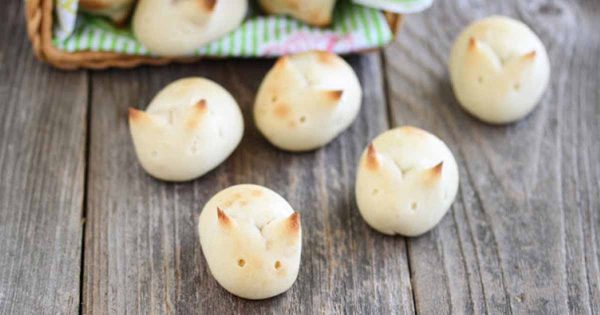 | | |
| --- | --- |
| | |
In a small bowl combine the warm water, yeast and sugar and allow it to rest for 15 minutes in the microwave (shut the door, it doesn't have to be on)

In the bowl of stand mixer, pour in the oil, salt, egg and flour. Add the yeast mixture to this and knead the dough for six minutes with dough hook on medium to high speed.

Form dough into 24 balls and place on cookie sheets lined parchment.

Shape each ball into an oval shape, with one end (where face will be) thinner than the other end of egg/oval shape.

Allow to rest for 15 minutes by placing a damp tea towel over this- until dough has risen at least 1 1/2 times original size.

Take a pair of sharp kitchen scissors, and cut ears from the more narrow/thinner end. Make sure you make the ears very deep cuts, almost to the bottom of the dough, otherwise the ears will lose their shape during baking.

Bake for about 11-13 minutes at 400 degrees or until tops turn golden brown.

Use chopsticks with round tip to poke eyes into face of bunnies.