Easter Marshmallow Bark Recipe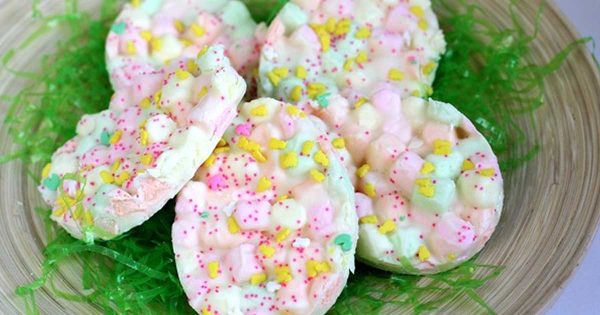 | | |
| --- | --- |
| | |
Measure out 3 cups of marshmallows.

Line an 8×11 glass dish with parchment paper.

Put white chocolate in a medium sized glass bowl.

Melt chocolate in the microwave for on medium heat for 1 minute. Give it a stir, then return to the microwave in 30 second increments, until chocolate melts completely.

Transfer to your prepared pan.

Press down slightly to make an even layer.

Shake on any sprinkles you'd like to decorate the bark with.

Put in the freezer immediately for about 20 minutes, until chocolate is set.

Remove from the freezer and let it sit to return to room temperature.

Cut into pieces. If you use a cookie cutter, use a metal one and butter the edges slightly.