Exclusive: Rohan Mirchandani, Co Founder OF Drums Food Talks To Us About Epigamia Greek Yogurt
There's never been more of a need to eat healthy. Lifestyle diseases are on the rise and people are leading increasingly sedentary lifestyles. To counter that, nutritionists and health professionals are suggesting that people, especially in urban areas, pay more attention to their diets.
One food which has gained much attention in the recent years is Greek yogurt, a protein packed, calcium rich cousin of regular yogurt. Greek yogurt is low in fat and carbohydrates making it perfect for muscle building and weight loss.
In India, the words 'Greek yogurt' are most often associated with Epigamia, the first Greek yogurt in India. Manufactured and distributed by its parent brand Drums Food (also behind the delicious Hokey Pokey ice creams) Epigamia is a delicious, 100% vegetarian source of calcium and protein.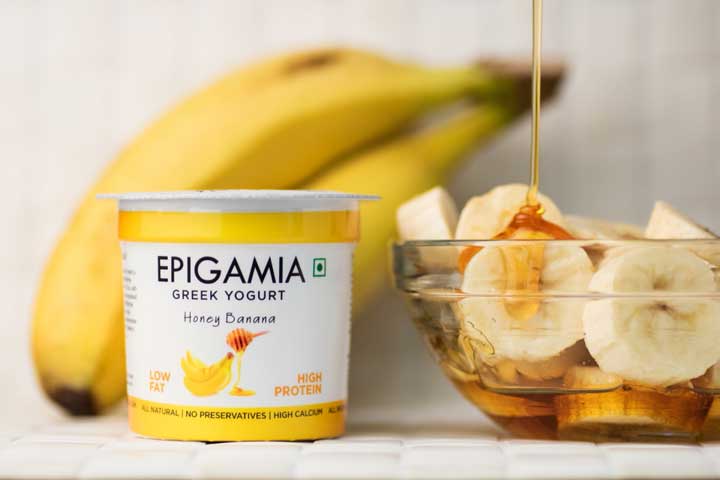 We recently caught up with Rohan Mirchandani, the Co-Founder (and Chief Dreamer) at Drums Food to understand more about the Epigamia brand. Take a look.
Tell us a little about yourself. How did you develop an interest in food?
" My interest in food can probably be linked to my passion for travel and history. I've always been particularly fascinated with how certain cultures have influenced and contributed to some of the most interesting cuisines in the world. For example the Jewish and Italian influences on the food of New York City, Arabic influences on Spanish cuisine, Indian and Malaysian influences on South African cuisine, and the Portuguese influences on Indian Goan food. I enjoy my meals much more when I know the origins and culture behind the cuisine being served. What's more, as an undergrad at NYU, I studied abroad in Florence, Italy where I developed a love for wine. The complexities of wine are much more easily understood alongside food that complements the palate. And of course, it makes it more fun."
What was your vision for Drums Food when you started it? Where do you hope to take Drums Food in the future?
"While at business school, I took a class that was held in Mumbai on Marketing to the Indian Consumer. A guest speaker, who was formerly the head of marketing at Coca Cola, spoke on the notion of brand building in India and how FMCG just had a handful of mainly multinational brands that dominated. He mentioned the next 15-20 years would be a time when local brands get created thanks to the changing consumption patterns and social media means to reach consumers. This was a Eureka! moment for me. I knew what I wanted to do- build a brand that would stand the test of time."
Can you recall your first experience with Greek yogurt?
"I can. I was standing in line at a deli in the Lower East Side of New York, waiting to order a pastrami sandwich when I saw that they were selling Greek yogurt. Though I had heard of Greek yogurt before, it was unusual to come across it at the time and I was intrigued. I decided to swap out my usual chips that day to try it out as a healthier option."
Epigamia was Drums' food second launch. Why did you decide to bring Greek yogurt to India? How responsive do you think the Indian market is to it?
" We found ice cream to be very seasonal in India and also saw a shift in consumer patterns towards healthier eating. We already had our dairy sources, as well as the infrastructure to support a cold chain supply product and to top it all off, Chef Ganesh, my Co-Founder, was coming to me with an amazing product. It was really a no-brainer. So far we've had an incredible response from the Indian market and are selling across India."
Why would a consumer choose Greek yogurt over the more familiar dahi? What benefits does it have?
"Due to the traditional Greek straining process, Greek yogurt has a thicker and creamier texture than regular dahi and is low in fat and calories, but much higher in protein. One cup of Epigamia contains as much protein as 1.5 boiled eggs or 2 cups of dal. Epigamia is available in a Natural variety but we also have 7 other different flavors, all of which are made with real fruit pulp and zero preservatives.:"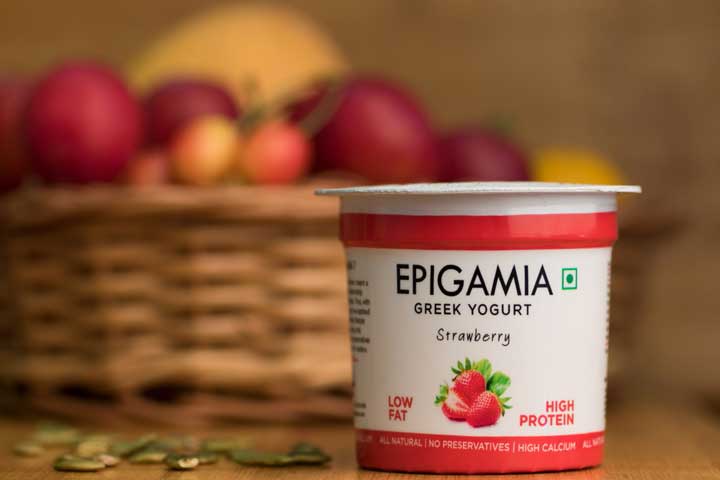 How do you and your team create a new Epigamia flavor? Once it's conceptualized, how do the yogurts get produced?
"Chef leads R&D and is supported by our Product and Consumer Insights team. He is constantly experimenting with new flavors and having us try his latest creations. I look at consumer trends, both locally and globally, and pass them on to Chef."
What are some of your personal favorite Epigamia flavors?
"Every flavor has a unique taste and making me choose one is so difficult but our Alphonso Mango is something that I just cannot do without! The wonderful all-natural taste of Ratnagiri mangos is something I could talk about all day. I'm also a big fan of our newest flavor, Vanilla Bean."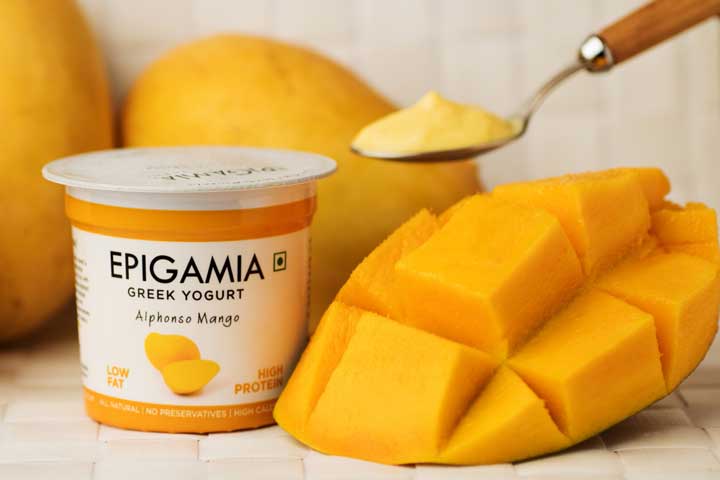 How would you recommend a customer enjoy Epigamia yogurts?
"The beauty of Epigamia is that it is so versatile. The portion size and nutritional properties of one cup of Epigamia is perfect for your 'choti si bhook', or afternoon/evening snack. It's delicious on its own or mixed in with your topping of choice – whether it be dry fruits, granola, fresh fruit, chocolate chips, etc. The protein content makes it an ideal post-workout snack and many people even eat it for breakfast or as a healthier, yet still tasty, alternative to dessert."