Experience A Melting Pot Of Cuisines At New Yorker, Chennai
On a rainy afternoon, we made our way to Nungambakkam, hungry and anxious to see what New Yorker had to offer. Ever since the restaurant opened it's doors in Khader Nawaz Khan Road, a prime location in the city, hundreds have been flocking over and raving about the food, especially the signature fondues on the menu. When we heard 'fondue' we decided it was time to head there, because cheese is everything and we can't not try it.
New Yorker is an exclusive vegetarian restaurant, that welcomes even meat lovers, thanks to it's extravagant and cheesy menu. If you're a hardcore non-vegetarian, trust us when we say you won't miss a thing when you're here. The menu satisfies everyone and has a great collection of drinks, starters, and mains including fondues, burgers, and pizzas. We had a little chat with Nikhil, the MD of the restaurant, who was very welcoming and had us settled at a table by the window, keeping the delicious food coming our way, non-stop. They were tasty as ever, and we're going to tell you about it in a bit.
Highlights of the restaurant
The concept behind the restaurant is to define the "melting pot of cuisines," according to Nikhil. New York, as we know, is a city where different cultures reside with all the migrants, giving rise to native cuisines gaining popularity among the people. The restaurant, similarly, carries cuisines like American, Lebanese, and French on their menu, including sizzlers and nachos, which are a specialty here. The ambiance is enjoyable thanks to large glass windows that bring daylight in and table mats with little puzzles and games to keep you occupied while you wait for your food. A little mocktail bar on one end of the restaurant is fun to look at with a large LED sign that reads 'Mocktails' in red, like a minibar.
What we had:
Mulberry Frozen Margarita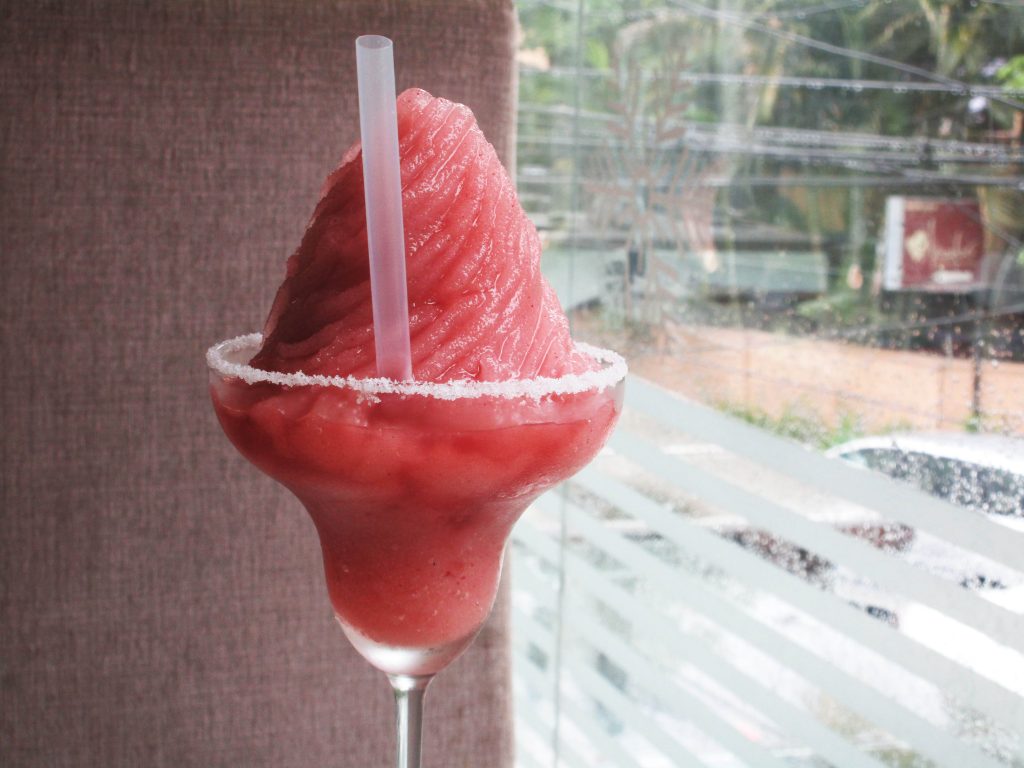 Even on a cold day, nothing was going to stop us from trying the famous frozen margarita they have here. We tried the Mulberry margarita which had a wonderful flavour, sweetness just about right, and frozen enough to slurp but not give you a brain freeze.
Mixed Berry Smoothie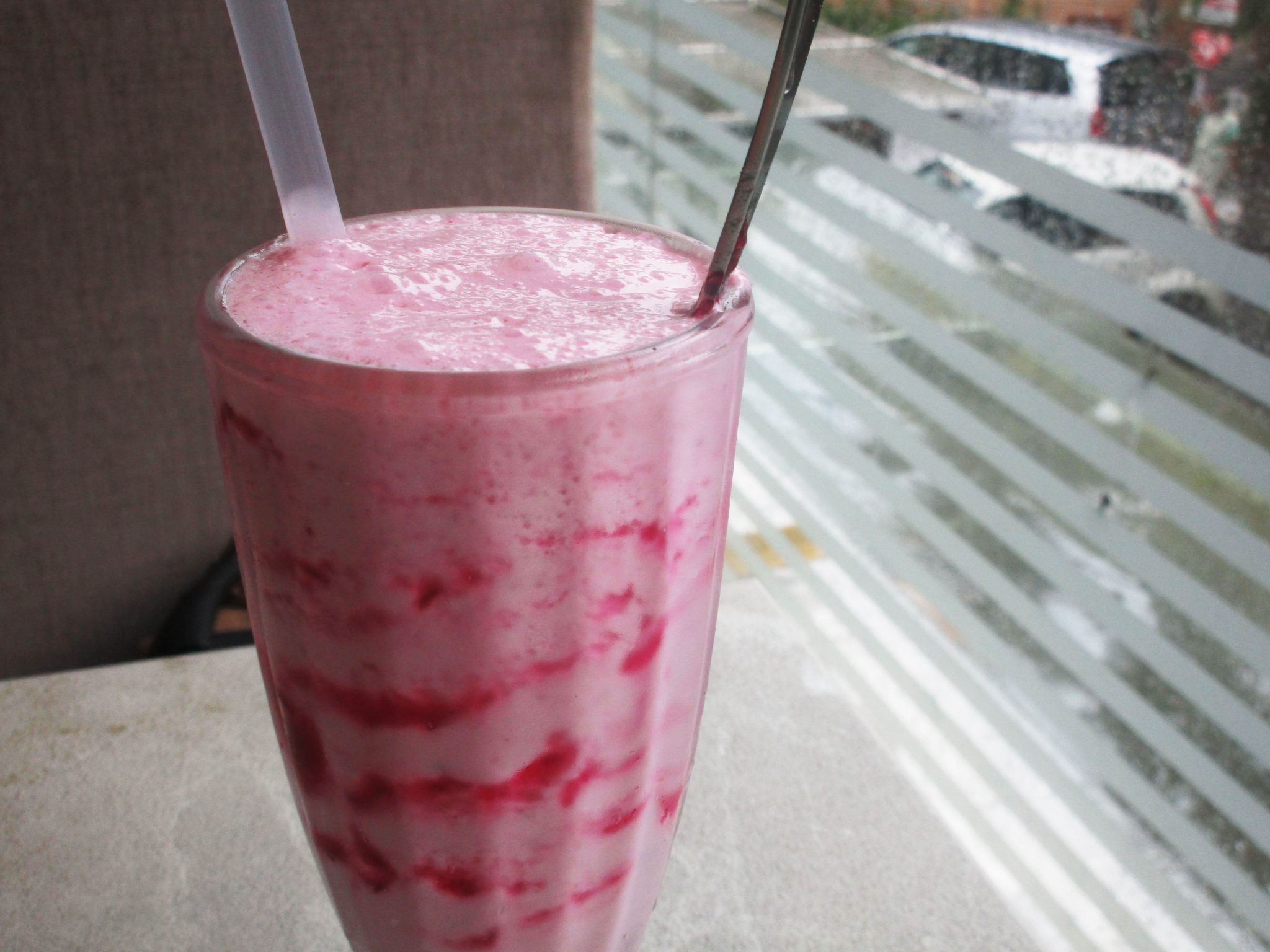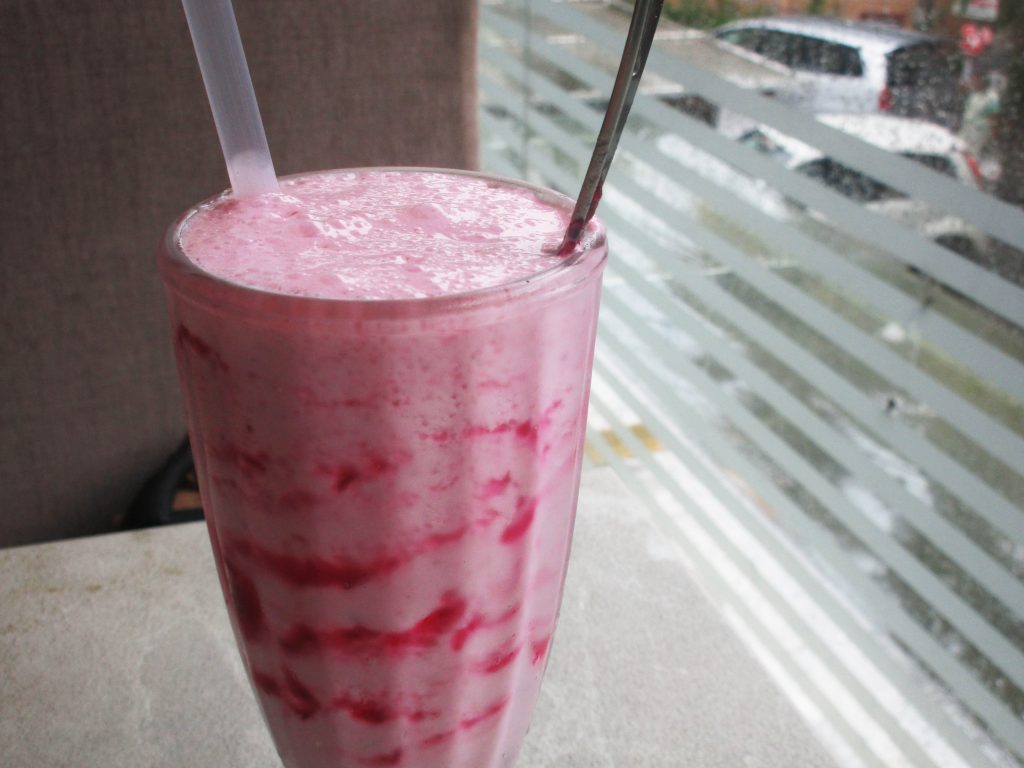 Looking through the beverage section of the menu, we couldn't help but try another one. We would have tried them all, but we're saving that for our next visit. This mixed berry smoothie was delicious, sweet, and filled with the goodness of berries. It's perfect when all you want is a nice smoothie and a snack.
Caesar Salad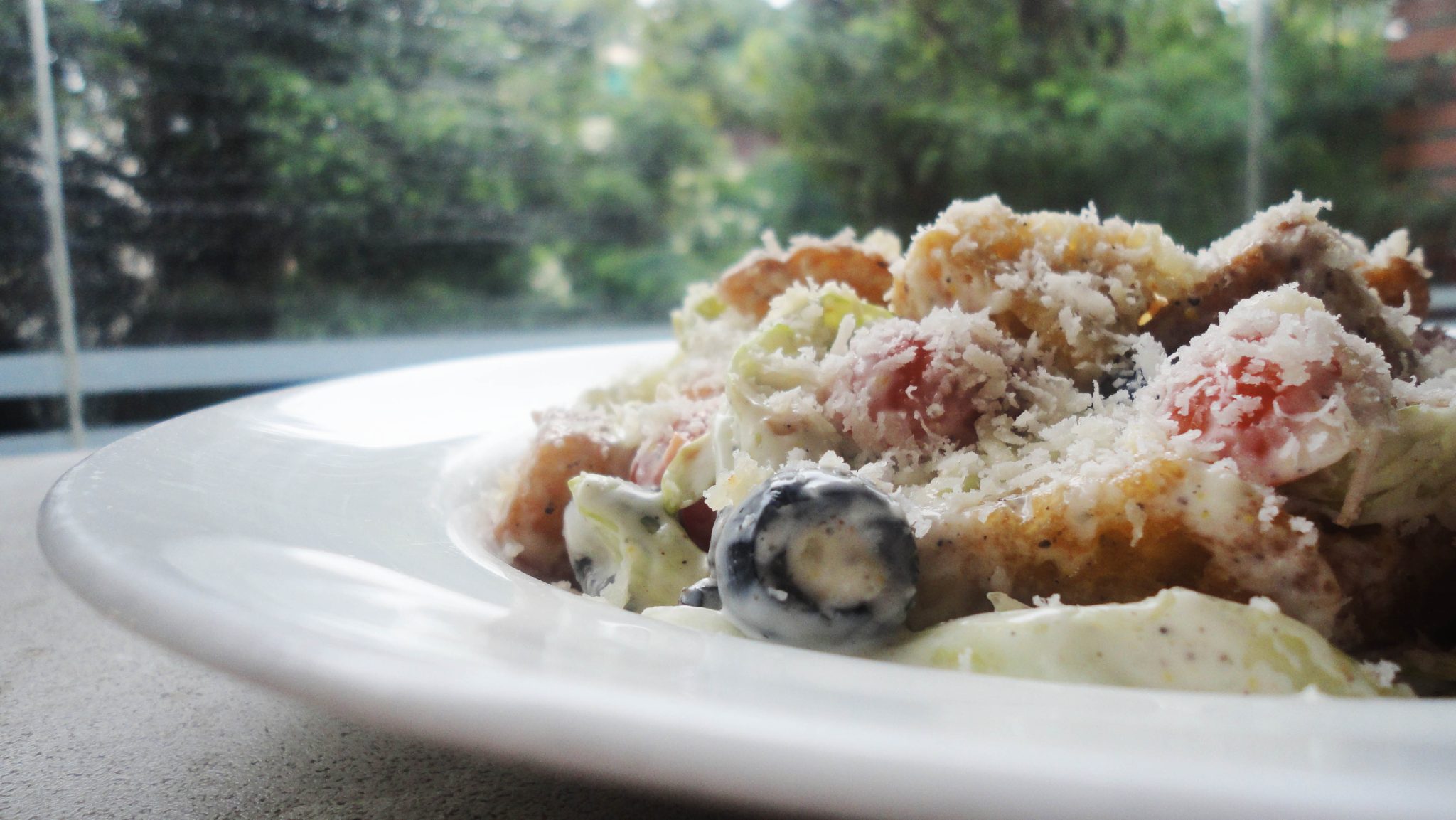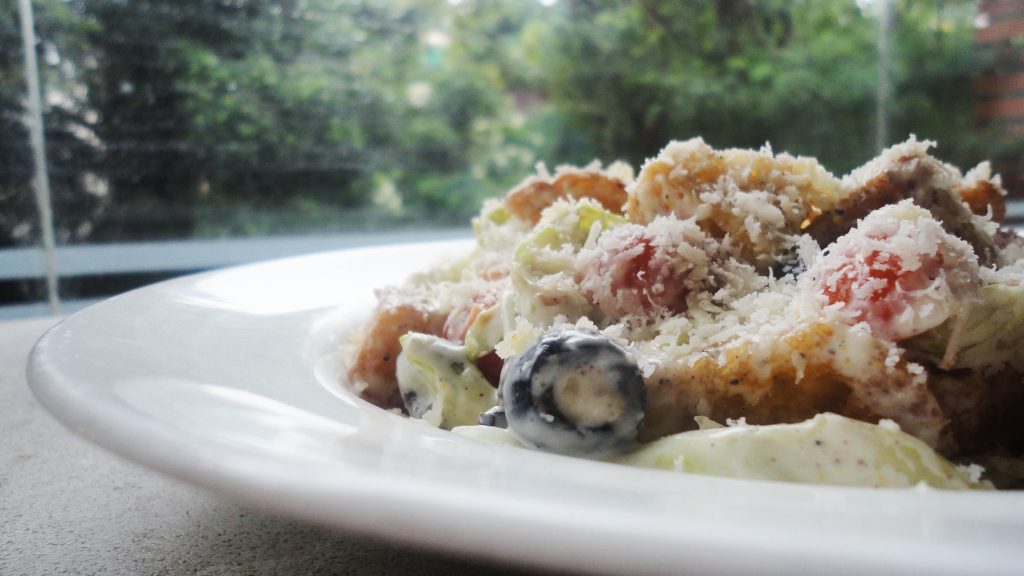 This salad is something that does very well at the restaurant, and because of all it's popularity, we just had to try it. A beautifully prepared salad came to us on a plate, covered with a spread of grated cheese. Inside were fresh cherry tomatoes, olives, and crispy lettuce, wrapped in a Caesar dressing. We loved this one.
Original New Yorker Nachos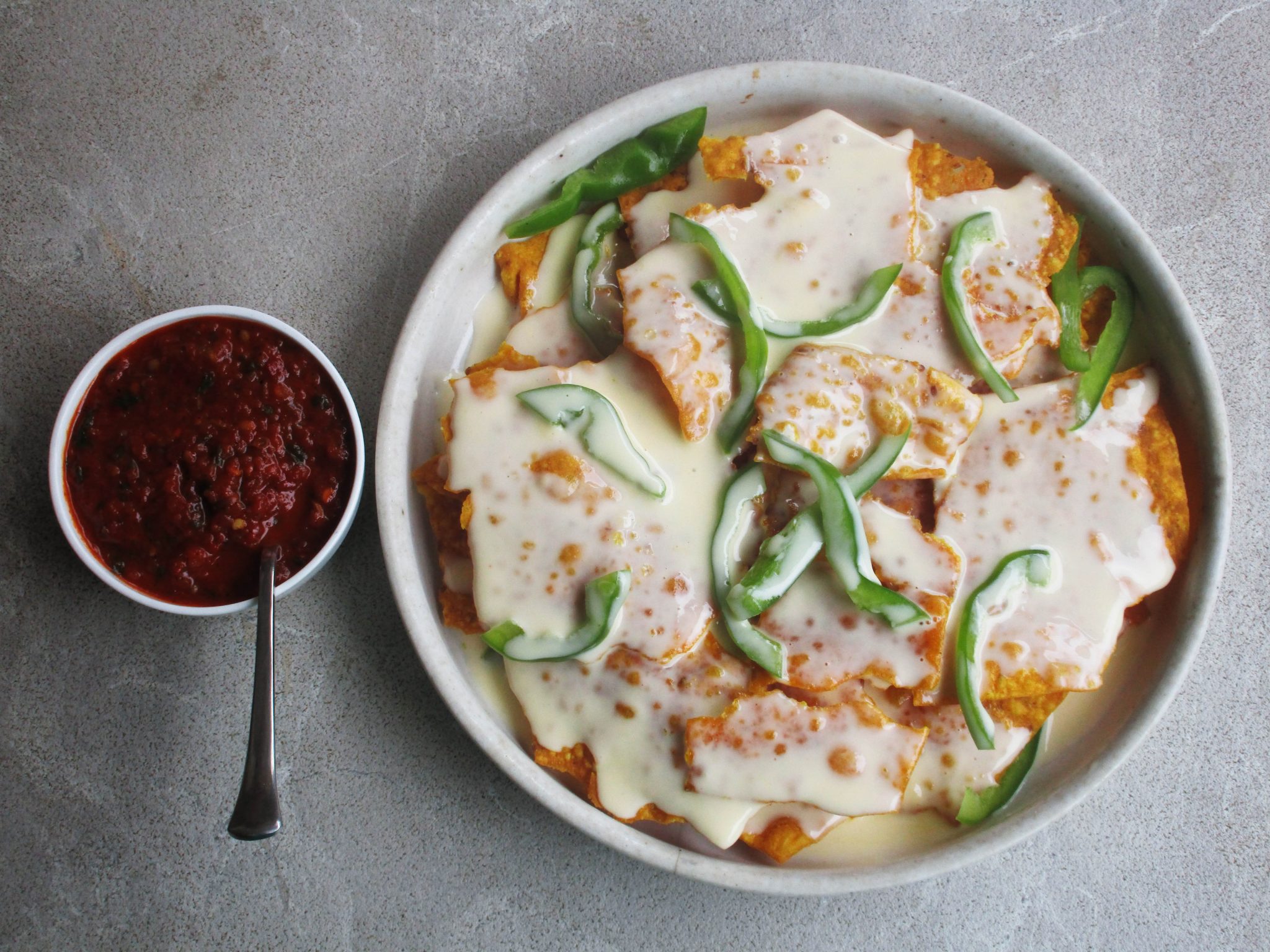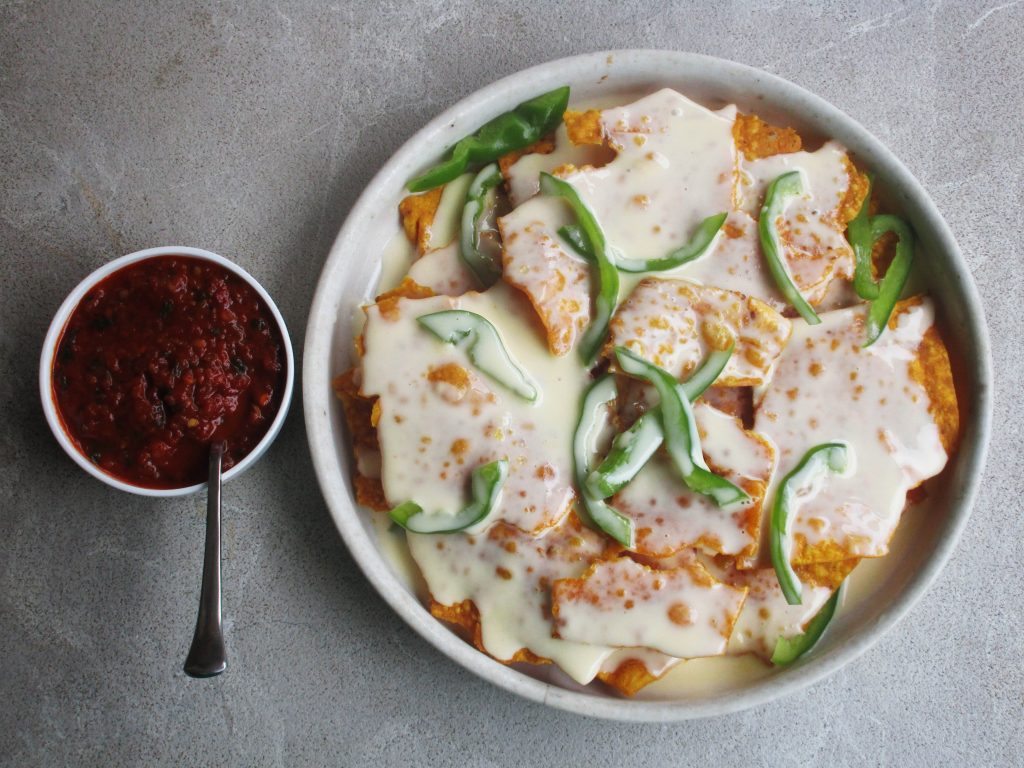 These nachos are a signature dish, here at New Yorker, and are very popular too. Ask anyone who's been here, and they'd tell you to not miss out on these nachos. A portion of nachos are drenched in a generous helping of cheesy sauce and served warm. With every order of this signature dish, Rs.10 goes toward charity – a great way to give back.
Chimichangas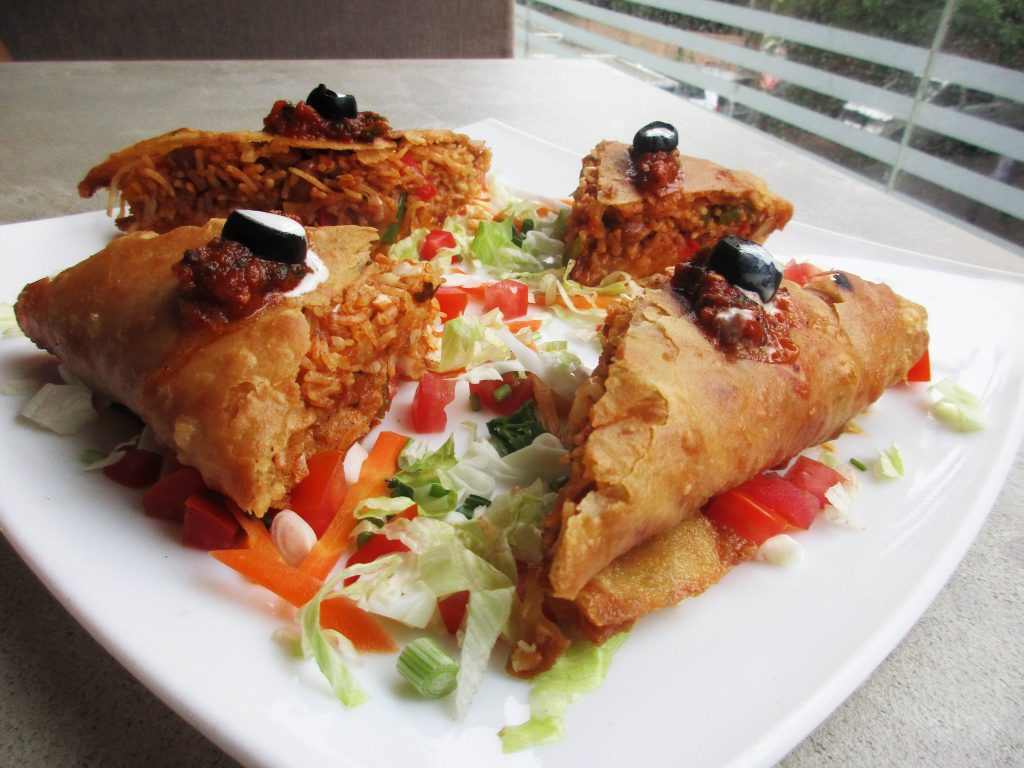 Yes, this mexican delight, craved by many, but found rarely in the city, is available here. Cheesier than ever, this deep fried roll with stuffed rice, veggies, and of course cheese, is hearty and filling – just the kind of thing you'd want to binge on, on a cold day. We enjoyed it thoroughly, and we'd definately come back for more of this.
Chilli Paneer Sizzler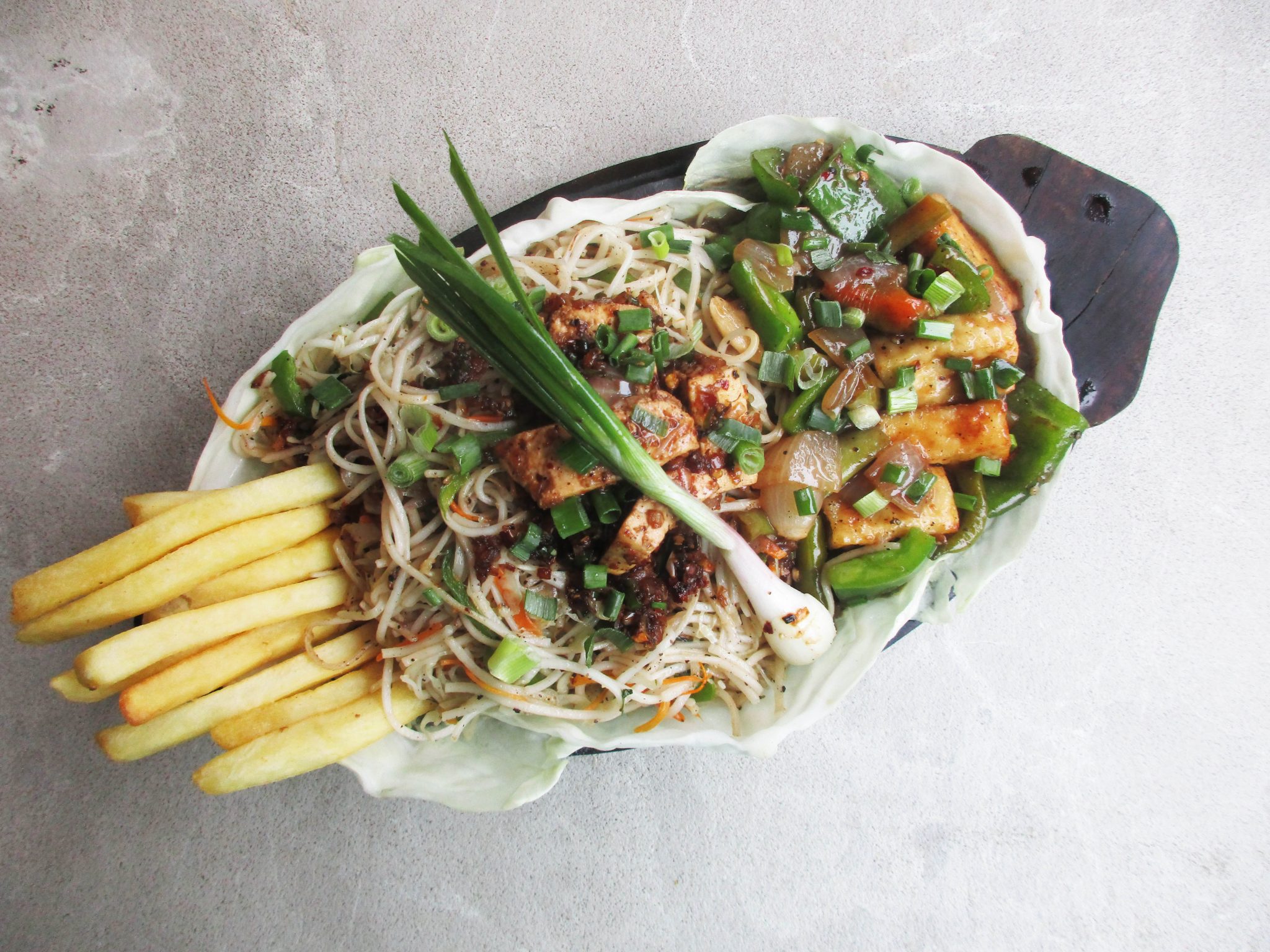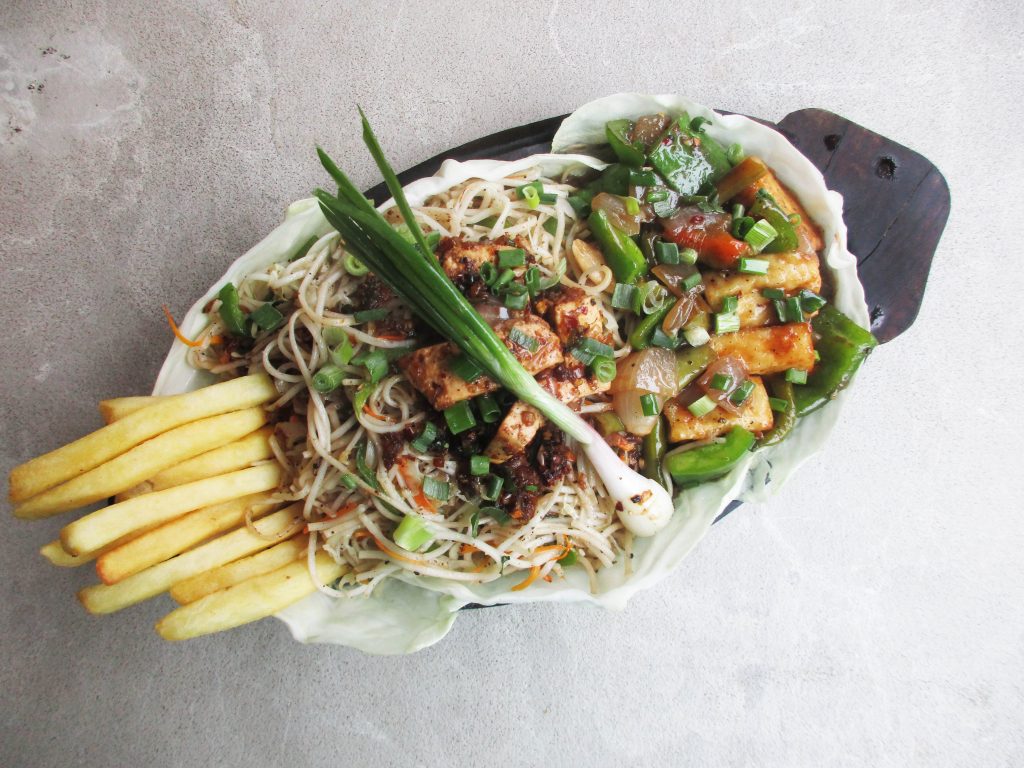 Here's a hearty sizzler that's guaranteed to fill you up any day. And if you like paneer, you're in for a treat. This sizzler contains noodles, chunks of juicy green peppers, some fries, and heaps of paneer in a spicy chilli sauce.
Swiss Cheese Fondue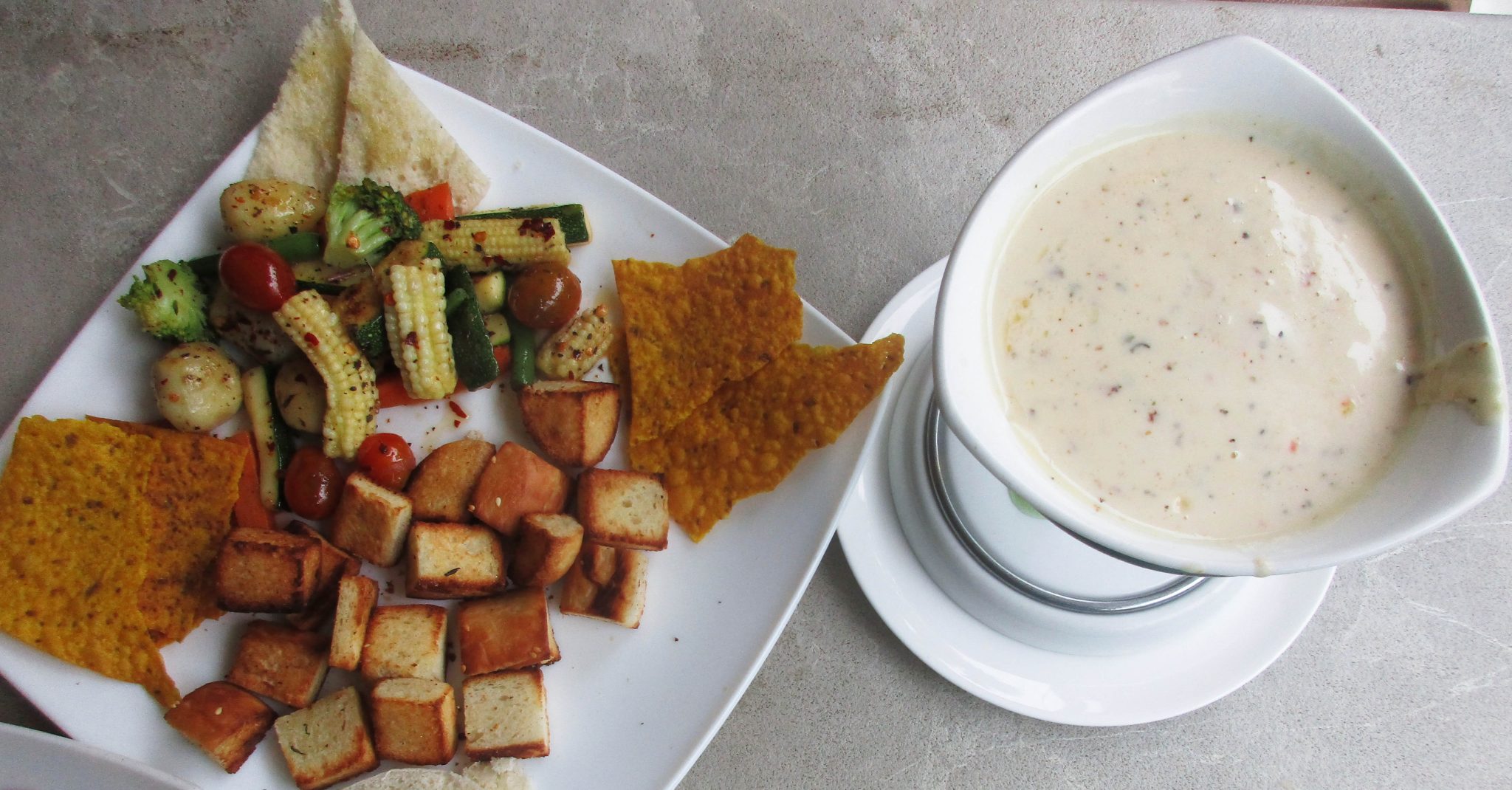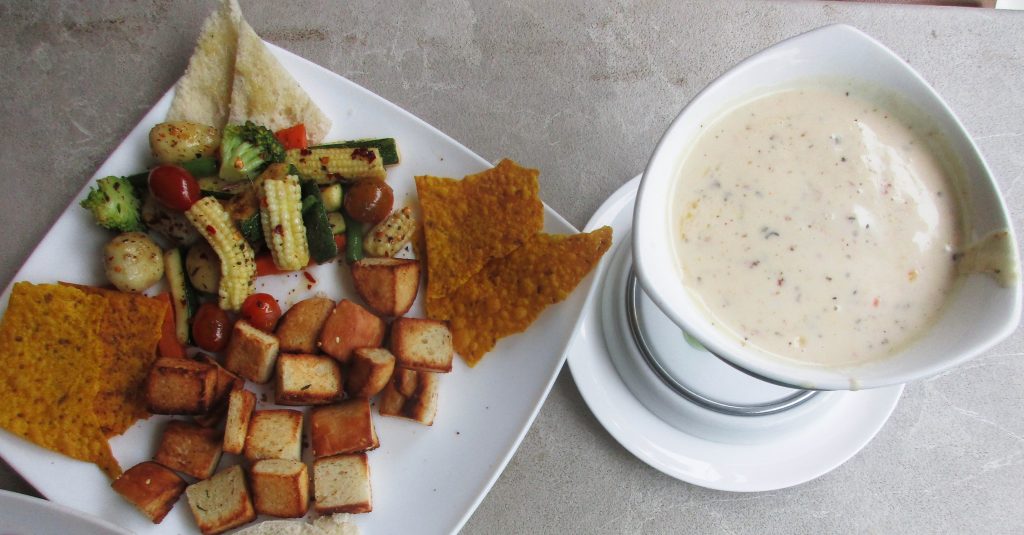 Fondue! After binging on all their dishes, we finally went for the fondue, because we had to. New Yorker is also famous for it's fondues, and is a must-have when visiting this place. This serving of fondue had toasted bread cubes, pita bread, steamed veggies like broccoli, baby corn, and potatoes, and some cherry tomatoes. The fondue was cheesier than ever and stayed warm throughout the meal. This is definitely something we'd have again.
The lovely folks who hosted us at New Yorker, served us the best the restaurant had to offer and we were stuffed silly by the end of our meal, and so, so satisfied. We really wished we had the room for dessert, but we simply couldn't. However, we spotted some desserts on the menu that sounded tempting, something we would surely try the next time we went there – a Banana Split, and a Sizzling Brownie Sundae.
We should probably add that we're meat lovers, but this experience didn't make us feel like we were missing out on anything. Yes, there was a lot of cheese to enjoy, but the food itself was something worth savouring, and if you asked us if we would go back there again, the answer is yes. We totally would.
[schema type="organization" orgtype="LocalBusiness" url="https://www.facebook.com/NewYorkerChennai/?fref=ts" name="New Yorker" description="After 30 years of serving Mumbai, New Yorker now brings its eclectic range of vegetarian, Mexican, Italian and Indian cuisines to Chennai!" street="21/10, 1st floor, 3rd street, Wallace Garden (Off KNK), Nungambakkam" city="Chennai" state="Tamil Nadu" postalcode="600006″ country="IN" email="newyo[email protected]" phone="044-42068989″ ]