Feast On A Cantonese Mélange Of Flavours At Yauatcha, New Delhi
Looks like Christmas came early at Yauatcha! The Chinese dim sum teahouse, which is popular for its wide range of dumplings, has stepped up its game with a special NYE and Christmas brunch menu featuring a drool-worthy and extensive selection of dumplings, stir fries, puffs, gravies, noodles, and more.
Set in a relaxed and crisp environment, Yautacha exuberates a sense of calm. The space is dotted with a selection of classy interior elements with the added charm of the pleasantly courteous staff.
Keeping up with the ambience and service, the menu is packed with a generous share of vegetarian as well as non-vegetarian preparations. And although meat lovers, Yauatcha managed to make us load our plates with French beans, carrots, mushrooms, and other vegetarian delights. Which, by the way, is saying a lot. Take a look at all the other dishes that we lost our mind over!
What We Had:
Lalu
Very seldom does one describe a cocktail as 'delicious', but Lalu totally deserves it. That, and beautiful. The vodka-based cocktail was a refreshing blend of lemon grass, litchi juice, fresh lime, and brown sugar. One sip and we were transported to a tropical beach in Thailand!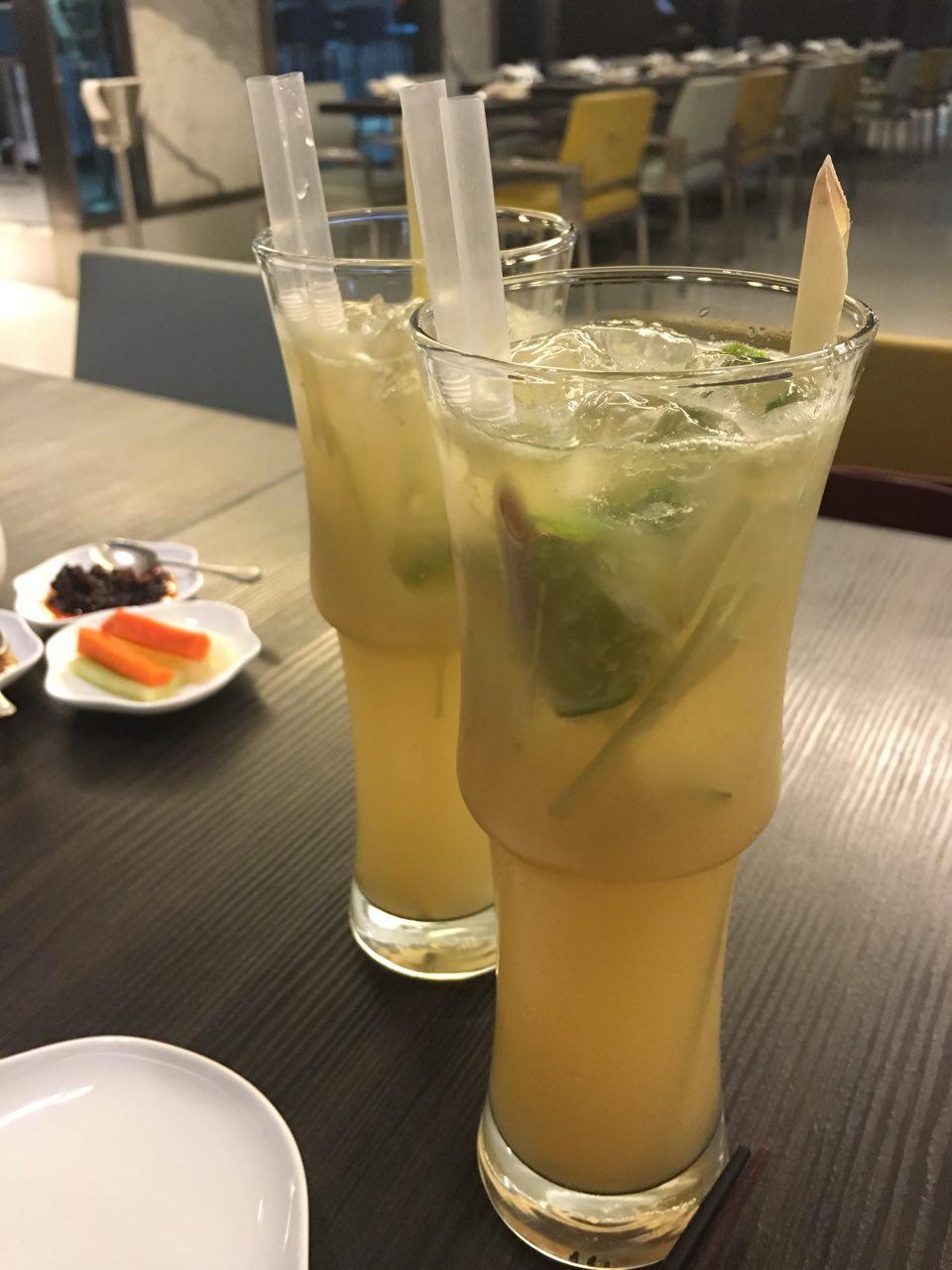 Vegetable Dumpling
The vegetable dumpling was not all cabbage, carrots, and snow peas. In fact, it packed a rather flavoursome punch with a mélange of asparagus, raw papaya, carrots, and water chestnut.
Vegetarian Mandarin Dumpling
A very crunchy dumpling, the Mandarin dumpling was a storm of yummy flavours on the palate with fresh greens like cabbage and asparagus doing delicious tricks. The added pomegranate garnish gave the dim sum an unexpected sweet tang.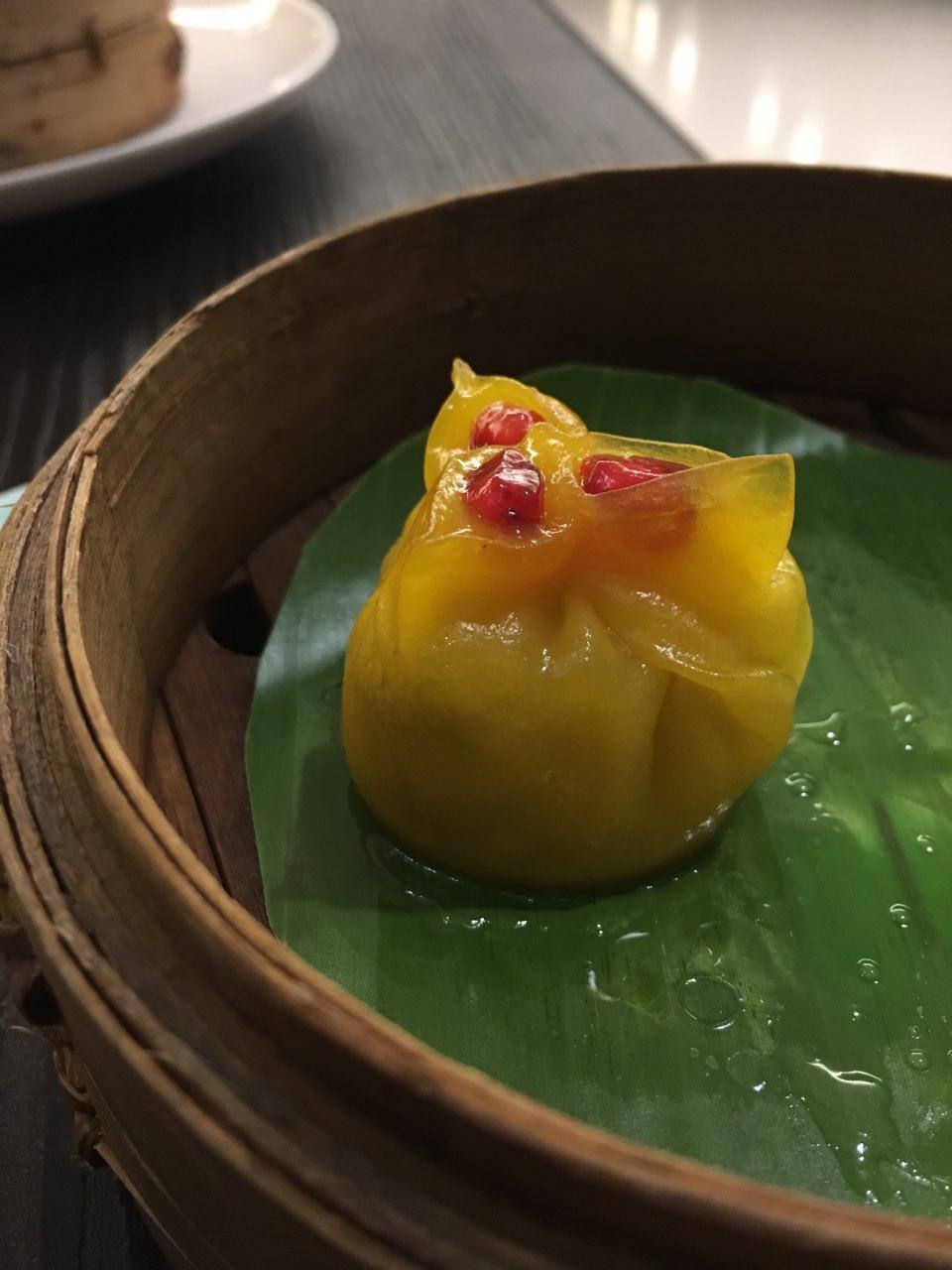 Prawn & Chicken Sui Mai
Sea food lovers listen up! The prawn and chicken sui mai struck an excellent balance between poultry and seafood, with both the flavours distinct yet complimentary.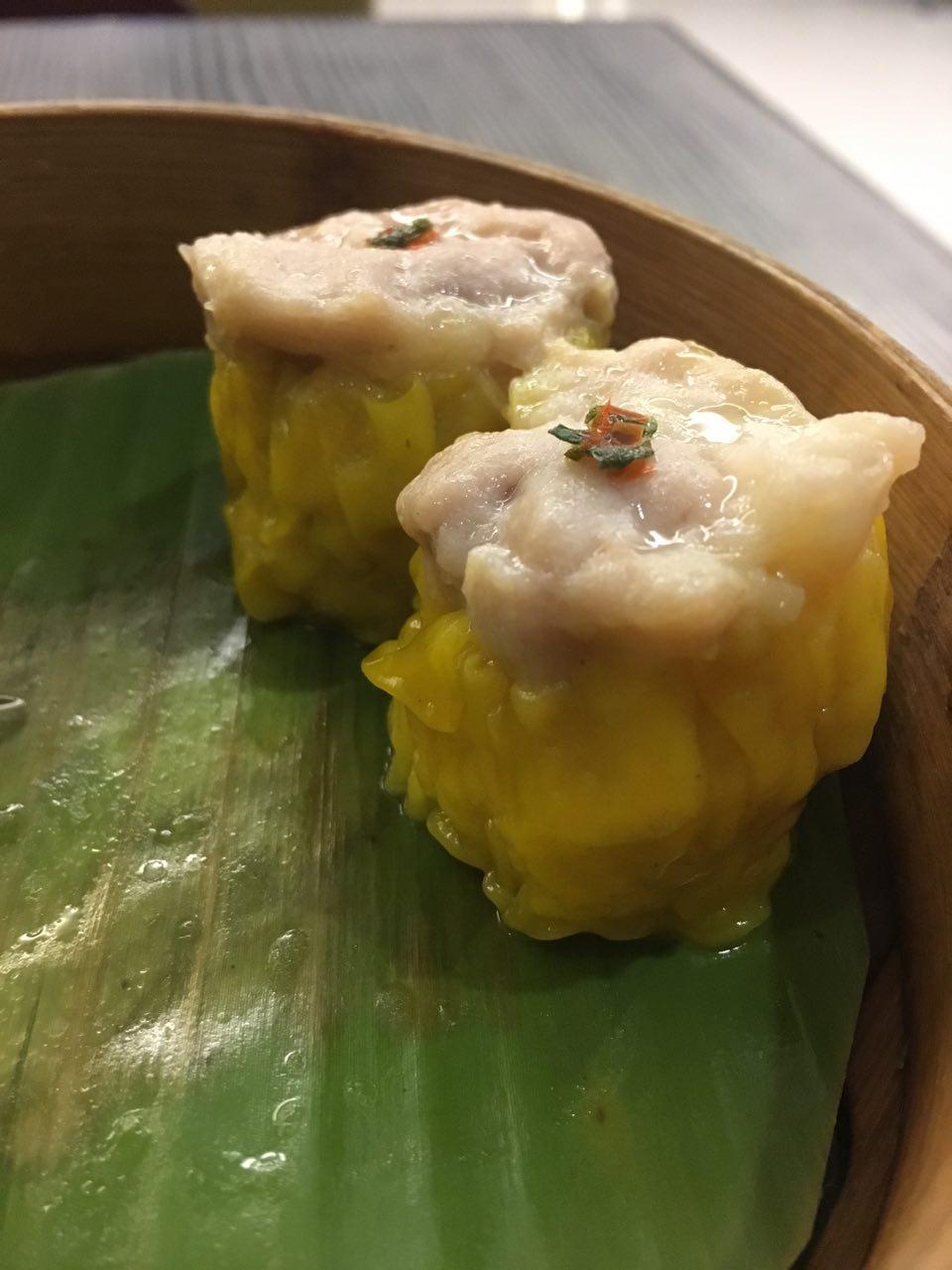 Poached Peking Dumpling (Chicken)
Doused in a chili-soy sauce, this dish was a spicy kick on the palate. One that we would go back to get more of! The Poached Peking Dumpling was easily the highlight of our meal simply because of the pleasantly surprising flavours of the sauce.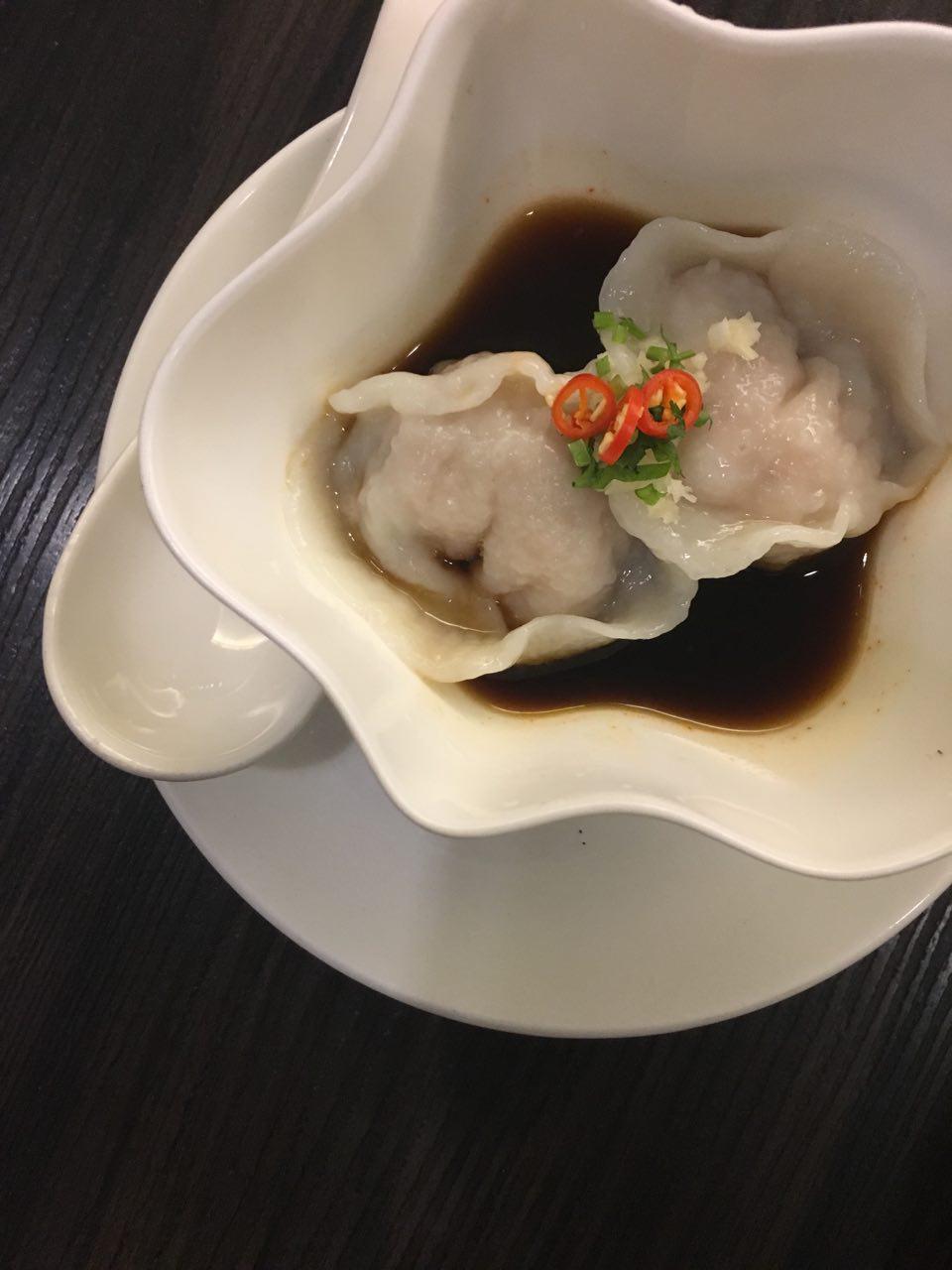 Baked Chicken Puff
Covered in a mildly sweet and crusty puff coating, this baked preparation came stuffed with a decadent filling – chicken for non vegetarian and mushroom for vegetarian.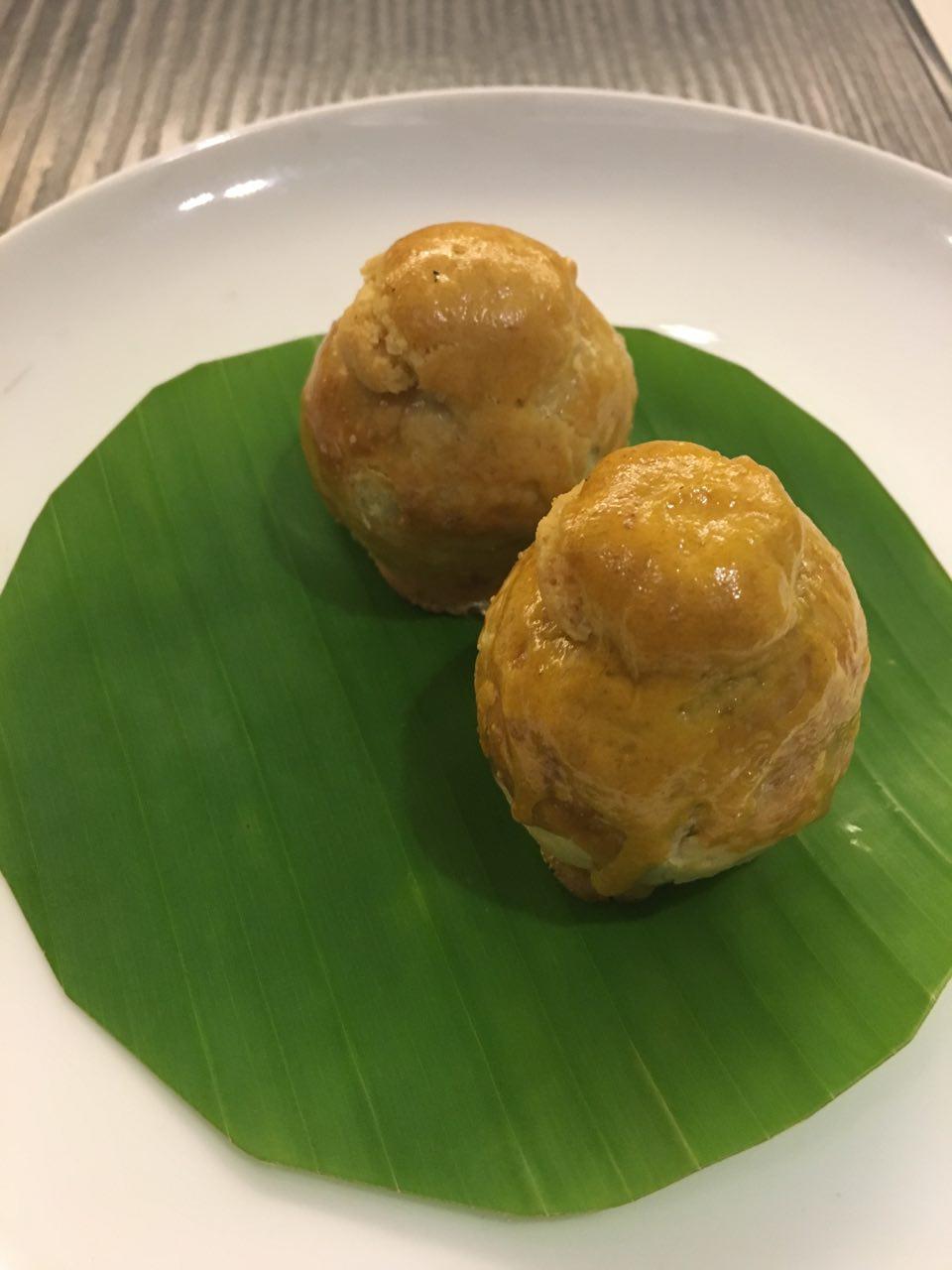 Chicken Char Siu Cheong Fun
The lovechild of a dim sum and spring roll, the chicken char siu was an exciting dish. Served on a long platter, the steamed roll was bathed in a hot soy sauce before we stuffed our face with it. Deli-friggin-cious!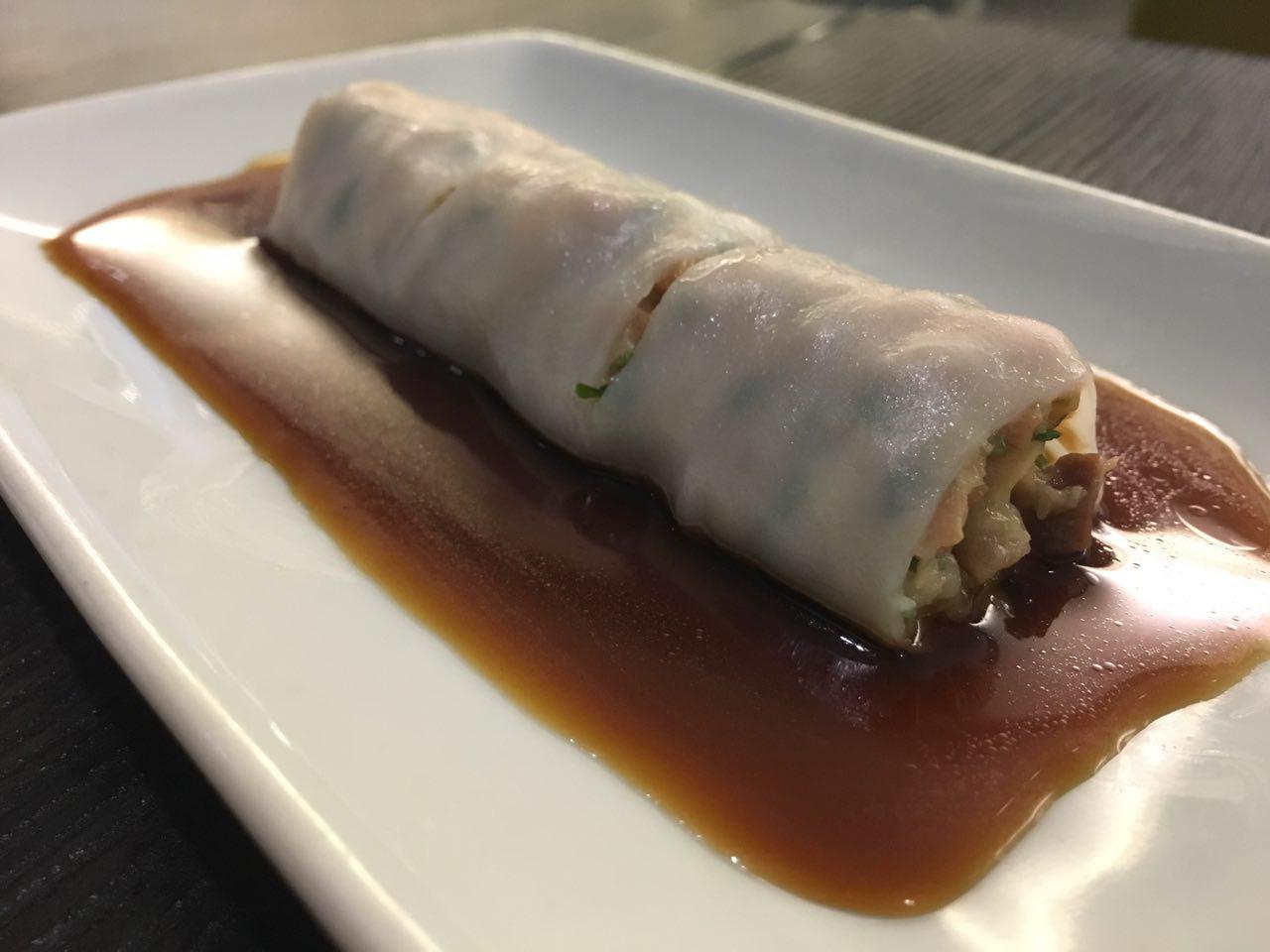 Prawn & Spinach Sui Mai
More love from the sea! The prawn and spinach sui mai was exactly what it sounds like – prawn wrapped in fresh spinach. And what made it even better was the comparative simplicity of this dish, and of course the fact that it blew our mind!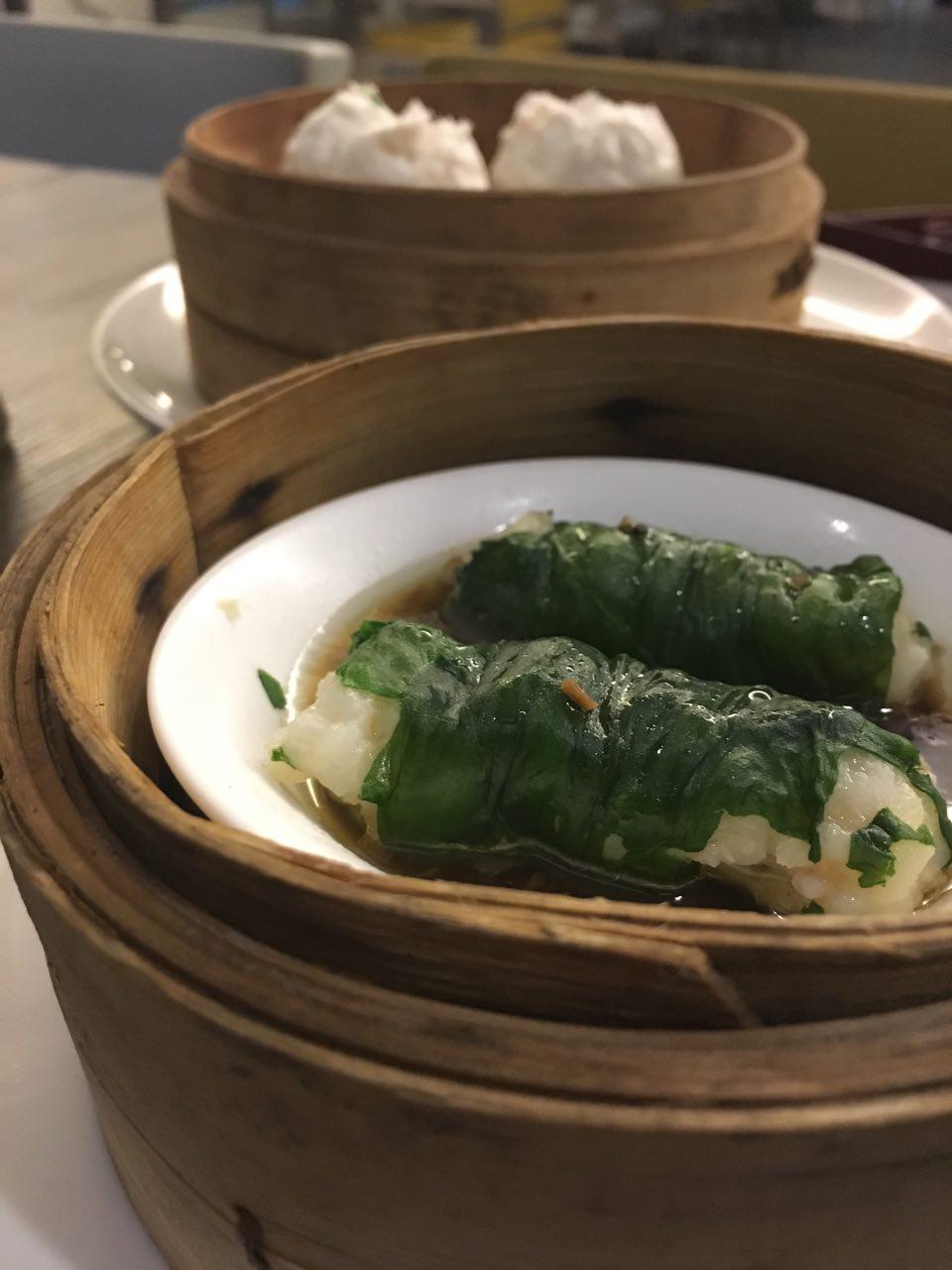 Charsui Bun
A lot like manga and/or anime food, the charsui bun was a white, fluffy and warm ball stuffed with a palatable filling. The bun, which for us was the highlight of this preparation, was soft and tad chewy that left behind a mildly sweet trail on our palate.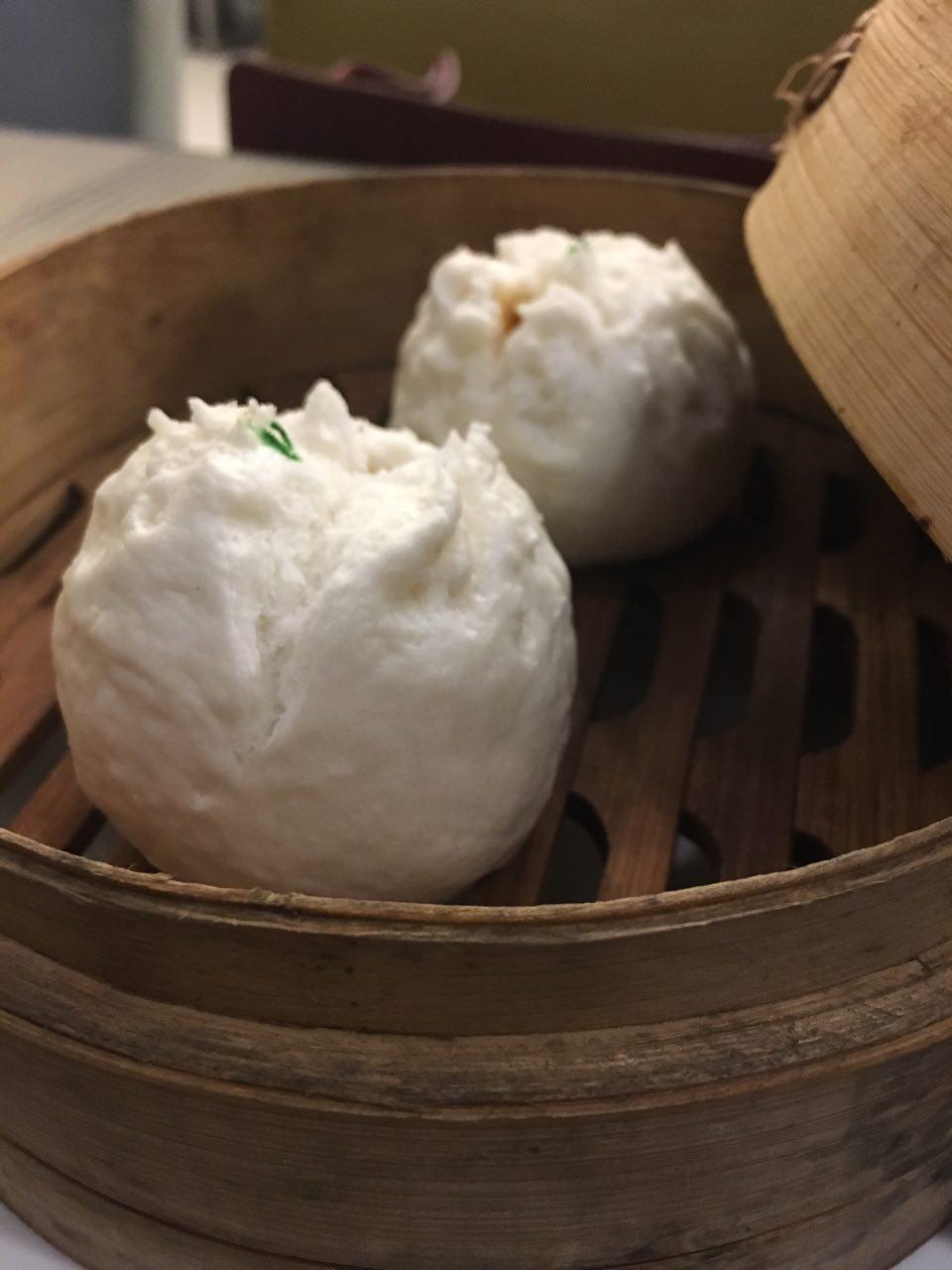 Stir Fry French Beans
The stir fry French beans where part of the vegetarian mains, and like confessed above, we never knew we could stick something so green and healthy in our mouth and actually like it! Piping hot off the stove, the stir fry was a stockpile of flavours!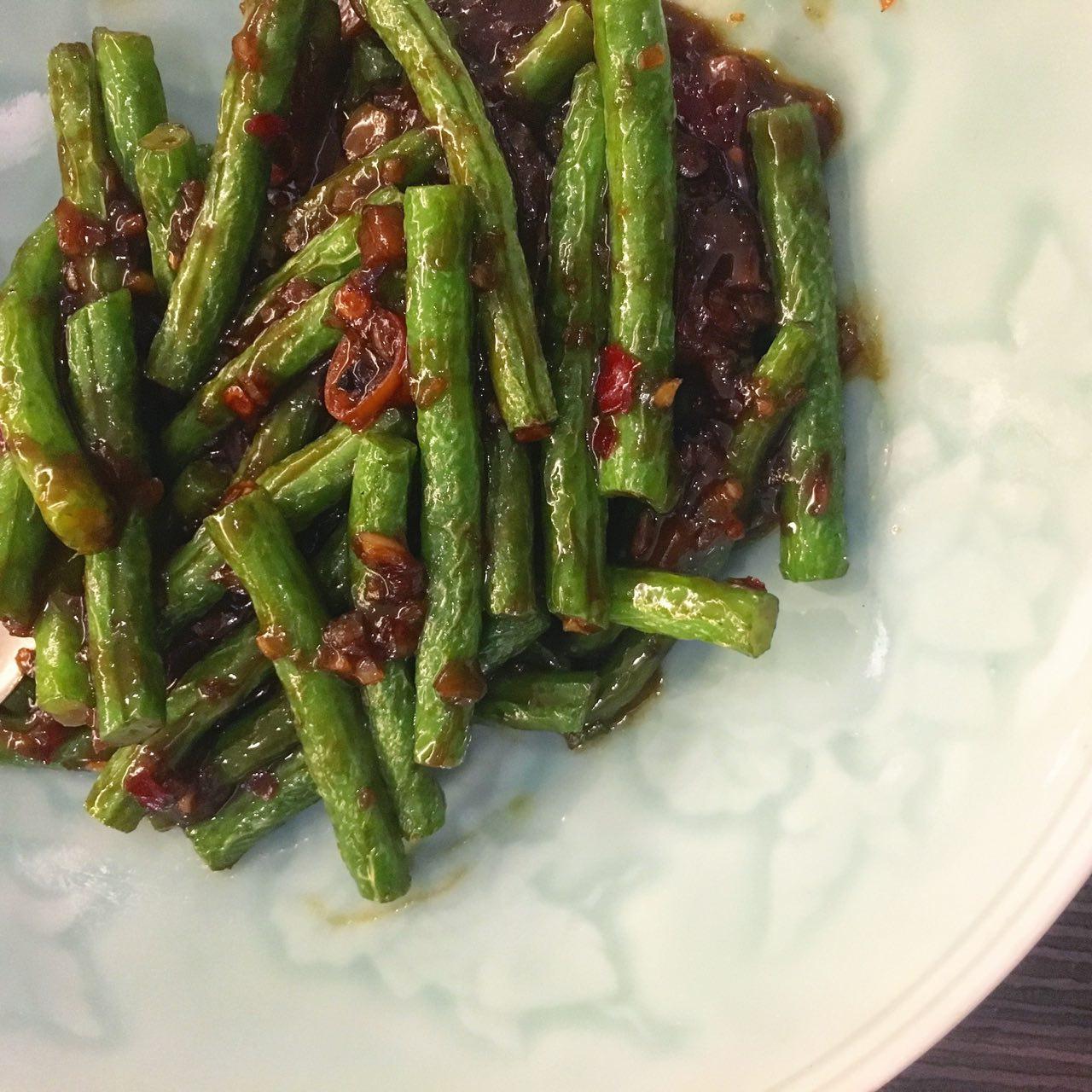 Spicy Mahlak Chicken
An absolutely delish chicken preparation, the piping hot spicy mahlak chicken was a delight to gobble with the hand pulled noodles.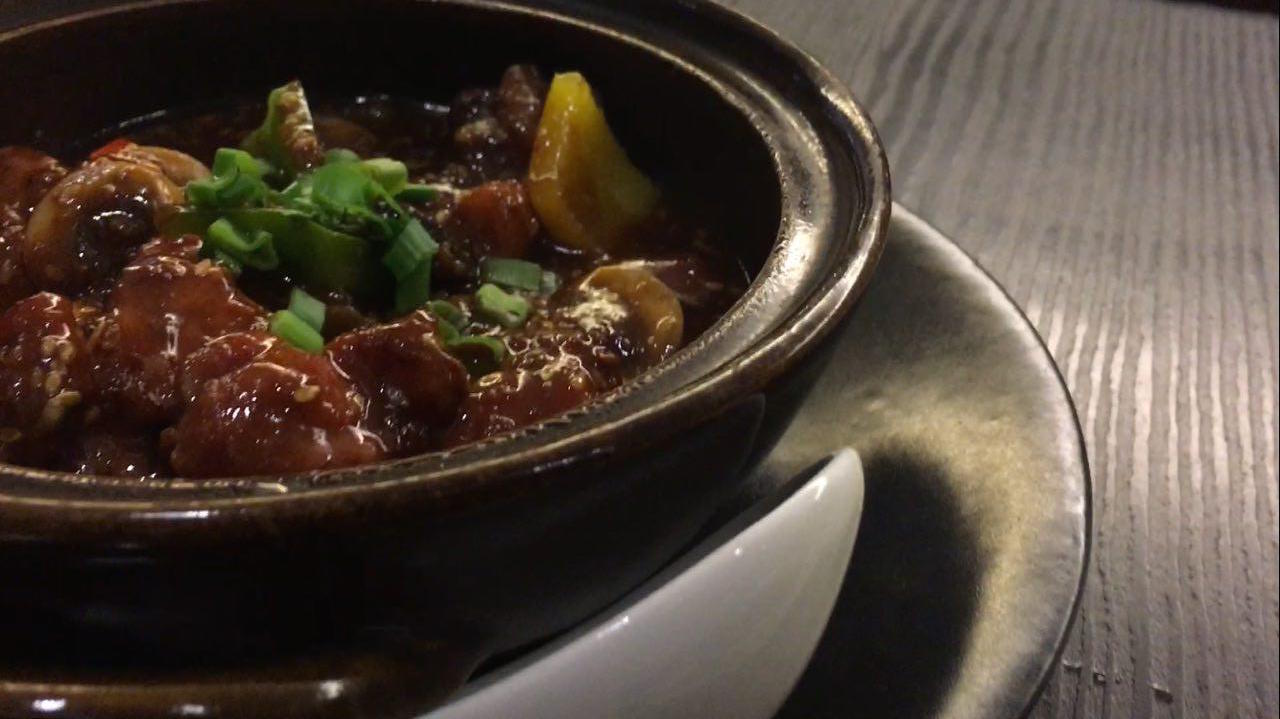 Sliced Lamb Spicy Sauce
The sauce was excellent, and the lamb juicy. But what really got us rooting for the sliced lamb was the way it was sliced – not thick and meaty but thin delicate slices that were heaven in every bite! We recommend you try this one with Yauatcha's aromatic egg fried rice. Foodgasm guaranteed!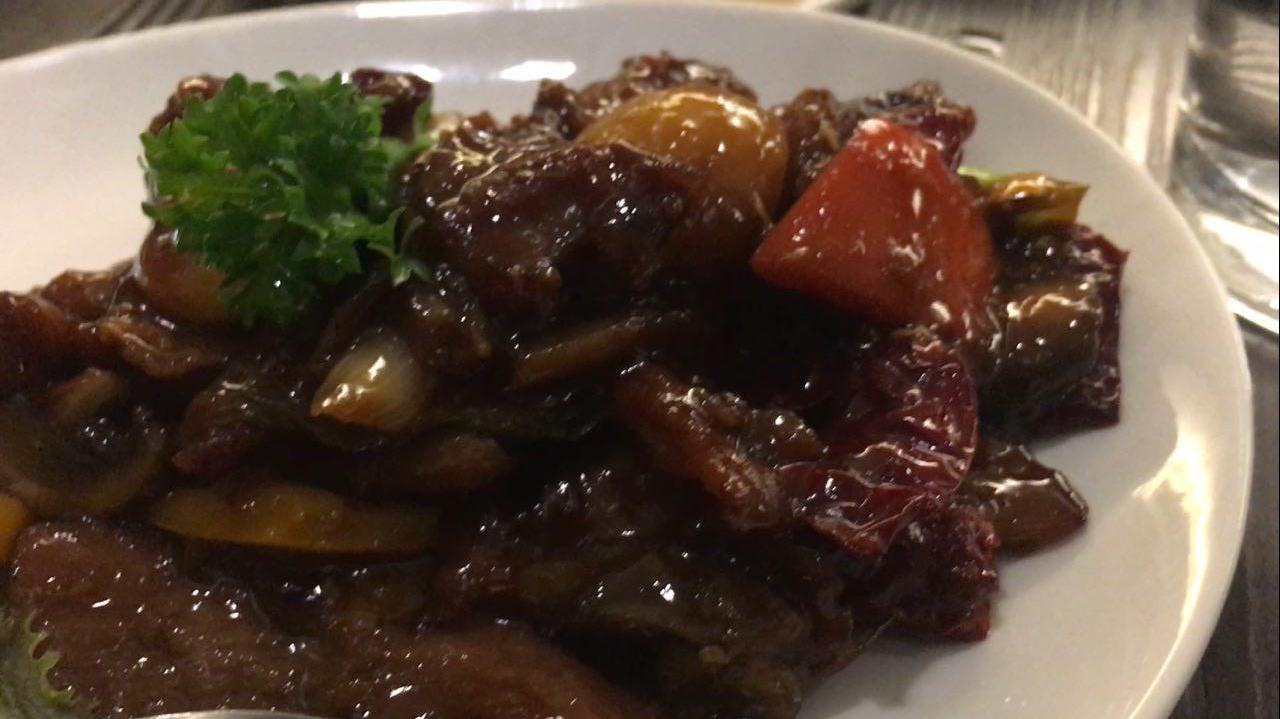 And this is just a snippet. Head over to Yauatcha today to sink your teeth into a variety of excellent food and drinks!
Yauatcha
Level Two, Ambience Mall
Vasant Kunj
New Delhi-70
+91 9222222800