Genuine Broaster Chicken's New Bandra Outlet Reminds Us Why Chicken Is Our First Love
We have to admit, we have a bit of a weakness for chicken. We're of the firm opinion that there's very little you can't​do with it; it tastes absolutely delicious steamed, boiled, fried, roasted, baked and what have you.
Imagine our delight then, when we heard Yellow Tie Hospitality was bringing Genuine Broaster Chicken, a popular American chain to India. As its name suggests, Genuine Broaster Chicken knows exactly what to do with chicken. Indeed, they're such chicken experts that they've developed their own formula to create a unique, delicious chicken preparation which has captured customer's hearts' around the world.
What's The Secret?
Of course, Genuine Broaster Chicken jealously guards the intricacies behind preparing their special chicken. However, we do know that it involves marinating the chicken in a range of special sauces and then pressure frying it to create delicious​ fried chicken using a lot less oil than traditional frying methods.
Yellow Tie Hospitality introduced Genuine Broaster Chicken's special method to India with the launch of its first outlet back in 2016. Since then it has rapidly expanded; it now has outlets in Mumbai, Kolkata and Surat. As well as offering classic Genuine Broaster Chicken dishes, Chef Harpal Sokhi has collaborated with the chain to create a range of special dishes with Indian elements, like the Mutton Rogan Josh Burger and Happy Fried Chicken. Additionally, the chain offers quirky fusion dishes like the Oreo Phirni and the Punjabi Fusion Pizza.
Tasting The Talk
As a part of its rapid expansion plans, Genuine Broaster Chicken recently launched its latest outlet in Mumbai at Bandra's Reclamation. We got a chance to visit the newest outlet last week and used the opportunity to stuff our faces with oodles of chicken and more.
We stepped into the outlet which, despite it being a week night was already buzzing. We were immediately struck by the restaurant's quirky decor; while doodles of chicken on one wall engaged in witty, philosophical discussions, posters of Marilyn Monroe and on another wall paid homage to Genuine Broaster Chicken's American roots.
We decide to enhance the buzz the ambience was creating by calling for the much recommended Palang Tod, which infuses a shot of espresso into a mug of red bull. A couple of sips of this drink will help you shake off all the work fatigue from the day and give you a jolt of energy to focus on the food.
Which brings us to the food. We called for the Fried Chicken Platter, which has three types of chicken; the Legendary Genuine Broaster Chicken, the Happy Fried Chicken and the Hot Masala Chicken.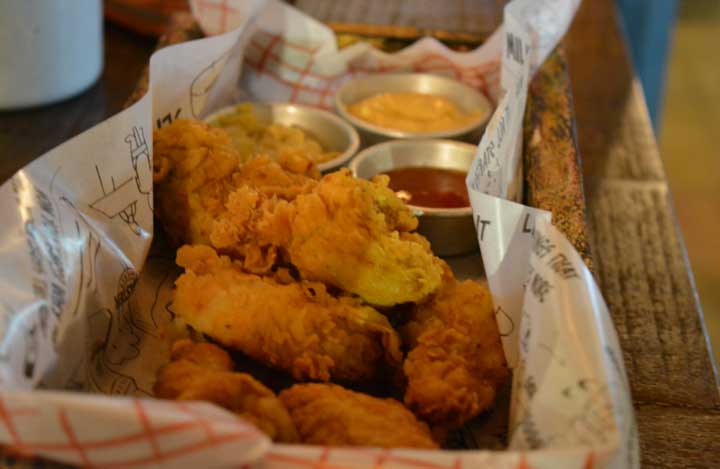 We particularly enjoyed the classic Genuine Broaster Chicken; the chicken skin was crispy (with no traces of oil) while the meat was juicy – we can see why it's such a legendary dish. The Happy Fried Chicken was coated with an intriguing mix of spices while the Hot Masala Chicken lived up to its name by being incredibly spicy, perfect for those who like their food with a fiery touch.
We then called for an assorted platter of chicken wings, which included Smoked BBQ and Mushroom wings, Curried BBQ Wings, Kasundi Mustard Wings and Narangi Sriracha Wings.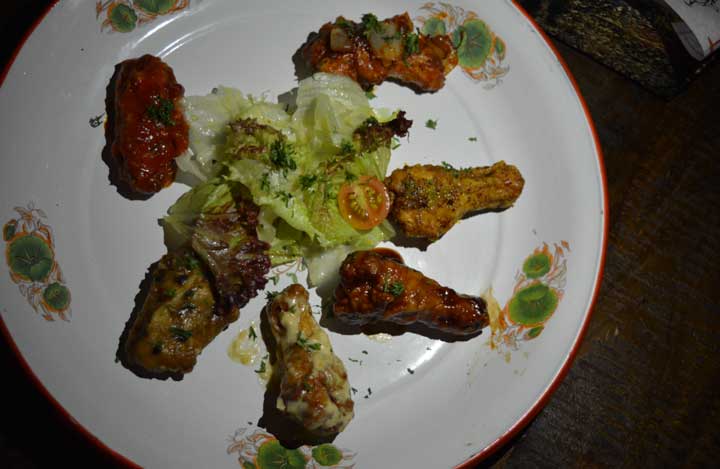 Our favorite of the lot was the Narangi Sriracha Wings, which were velvety and spicy. We also enjoyed the Kasundi Mustard wings; their sharp touch of mustard worked perfectly with our mug of Palang Tod. Those who prefer milder flavours will enjoy the Curried BBQ Wings which balance the smoky flavour of barbeque with the earthiness of mushrooms and the tender chicken.
We then moved on to the main course; a hearty Lamb Rogan Josh Burger.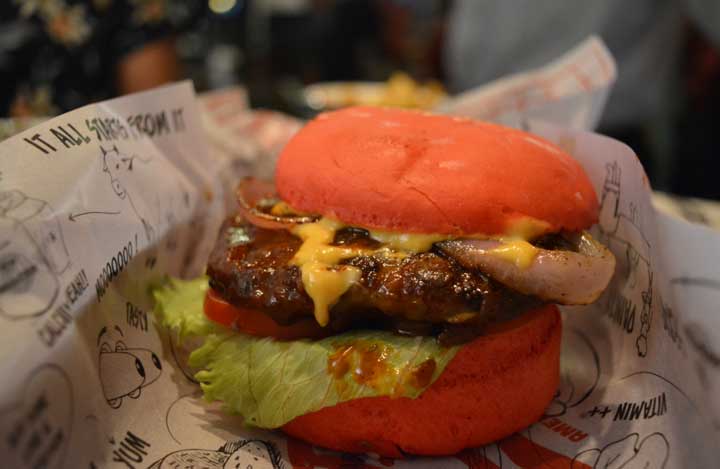 The patty and a generous dose of caramelized onions, tomatoes and tomatoes were sandwiched in a soft red beetroot bun crowned with sesame seeds. The stand out was the patty itself which was soft and subtly sliced, giving an Indian touch to the burger.
After happily demolishing the burger, we chose the Gulkand Muffin and the Chocolate Samosas with Mango Ice Cream for dessert.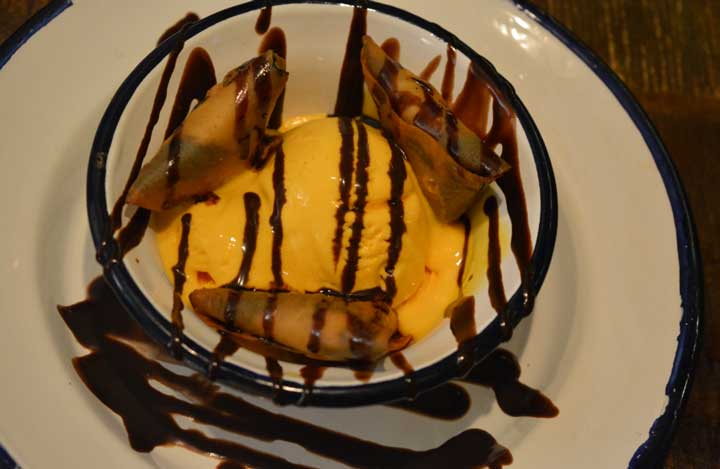 The Gulkand Muffin was an interesting dish, with sweet Gulkand at its heart but what truly captured our hearts were the Chocolate Samosas. Enclosed in a crisp covering which yielded rich dark chocolate when we bit into them and served with creamy Mango Ice Cream (our first mango taste of the season), techy left our taste buds singing.
Indeed that's what a meal at Genuine Broaster Chicken will do for you. As usual, we urge you not to take our word for it; head to their latest outlet to taste the talk yourself.