Here's A Quick Look At Eye Soother Sonu Sood's Fitness Regime
With great acting skills and a sweltering physique, Sonu Sood has fans gushing all over the place. It is not hidden that the actor trains his abs off to remain in the enviable shape that he his and his social media followers will vouch for it.
Recently the Happy New Year star uploaded a video on Twitter flaunting his upper body strength while doing the human flag exercise. The drill is exactly what it sounds like; the person 'hoists' their entire body perpendicular to a pole, entirely supported by the upper body.
Sonu Sood did it quicker that you can say 'Bbudha Hoga Tera Baap'. Have a look.
Once a dream… Now a routine. #humanflag pic.twitter.com/hdXEEZSrCd

— sonu sood (@SonuSood) December 7, 2015
With his physical strength established, fans are dying to know what he eats and what kind of a workout regime he follows and we've got an insight on just that.
In The Gym
Starting with 20 minutes of cardio, the actor follows it up with stretches to cool down. He then goes on to exercising his abs along with focusing on two body parts a day.
Sonu Sood practices kickboxing for 15-20 days every couple of months. Also interestingly enough, he doesn't owe his buff body to heavy weights at all!
"I work with light weights and just increase the number of sets. Heavy weights are not good as they don't add muscles, as is generally believed. When you work with heavy weights, missing training for a few days makes the muscles flaccid", he said in an interview.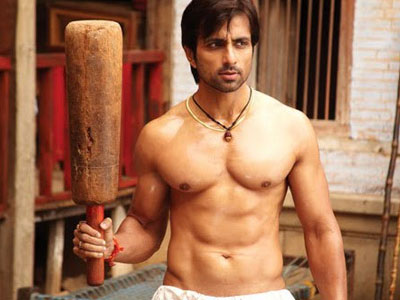 On The Plate
You know how it's a common belief that a true Punjabi devours his makhnis and tandooris? Well, Sood trashes all such typecasts with his eggetarian diet, which is rich in proteins.
A non-smoker and non-drinker, Sood starts his day with fruits or wheat flakes or muesli with fresh fruit juice followed by an omlet made of eight egg whites for breakfast.
Lunch includes a balanced platter of roti, vegetable, dal and a bowl of curd.
Evening snacks consist of a healthy brown bread sandwich and dinner is usually soups, salads, vegetable and roti.
Post workout Sonu downs some protein shake along with salad and a handful of sprouts.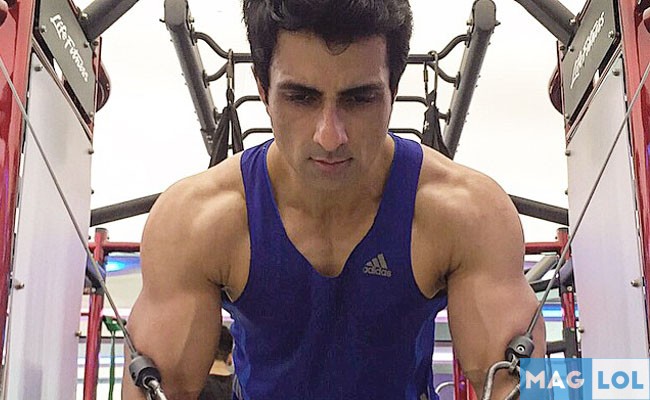 Quick Tips
A fitness fanatic and ardent non-believer of shortcuts, Sonu vouches for a regular and dedicated workout regime. He never misses out on his exercise and sticks to 2 rigorous hours of working out with an added 40 minutes of jogging. *Wipes off sweat*
The actor swears by a good night's sleep and refrains from any kind of physical or mental stress. "Laugh and have fun in your life, it will make your body feel and look happier." Ok, if you insist! *Starry eyed*