Indigo In Mumbai Celebrated Its 17th Birthday With A Decadent Sunday Brunch
Seventeen years is a long time for a restaurant to thrive. It takes a special combination of factors to ensure a successful restaurant; great food, impeccable service, an appropriate ambience, attention to detail and that special 'je ne sais quoi', an undefinable factor that creates a fan following; a collection of steadfastly loyal customers. By that estimate, Mumbai's 'Indigo', found on a quiet lane in Colaba, has oodles of 'je ne sais quoi' and is also doing marvellously well when it comes to all the other factors; its seventeenth birthday celebration brunch last Sunday saw a medley of customers enjoying the special celebratory spread, dancing to the live music and downing flutes of sparkling wine.
About Indigo
Opened in 1999 in an expansive, light filled space behind The Taj Mahal Palace Hotel in Colaba, Indigo was a game-changer in Mumbai's culinary world. It offered European fare along with a wide variety of wines from across the world. Today, the restaurant defines itself as a "back-to-basics address that serves up an eclectic European- Asian cuisine with an expansive bar."
Over the years, Indigo became especially famous for its Sunday Brunch, featuring a large buffet spread, a collection of some of the eatery's signature dishes, a live band and some stellar wines. Indigo's Sunday brunch became a tradition for many of the city's swish set; the perfect way to unwind with family and friends after a long week.
Indigo Turns 17
It makes sense, then, that Indigo chose to pull out all the stops and celebrate its 17th birthday with a beautifully luxurious brunch. Seated on one of the eatery's low couches, we watched as customers streamed into the restaurant for the landmark brunch – dressed to the nines with beatific smiles on their faces as they checked out the spread, they made a pretty picture.
As we people watched, the executive Chef of the restaurant, Chef Jaydeep Mukherjee (fondly known as JD) joined us. We had previously met Chef Mukherjee for another birthday; Indigo Deli's 'Decadent Decade' celebrations where the menu featured food one may find at a food truck. Parallely, the menu today is a far cry from street food. Chef Mukherjee explains that it includes some of Indigo's most popular dishes including the Lobster Risotto as well as dishes that use seasonal ingredients.
Our appetite sufficiently piqued (not that it takes much), we head over to the spread of antipasti and salads and proceed to load our plates with spicy black bean hummus, grilled peaches, sashimi of yellow fin tuna, a variety of cold cuts and a few fat slices of porchetta. The porchetta – fatty, boneless roasted pork – was wonderfully tender and moist and subtly seasoned making it one of the stars of the spread. We also loved the sashimi bowl, in which pickled ginger and soy pearls along with few micro greens were topped with velvety slices of yellow fin
tuna.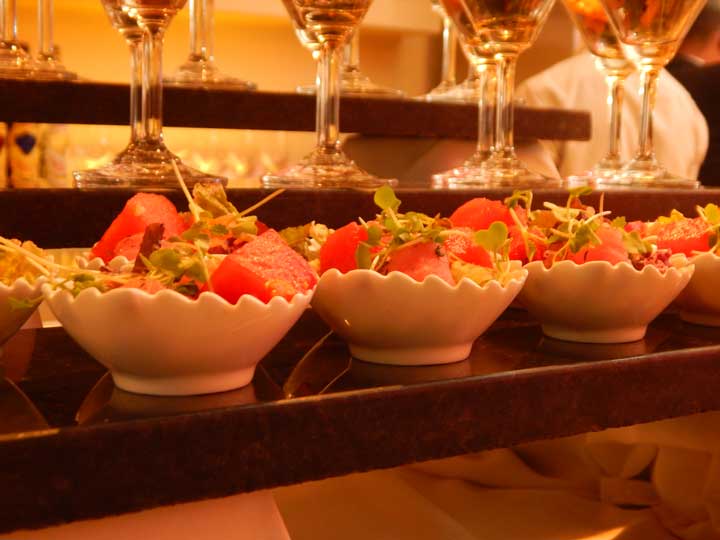 We then moved on to the egg-to-order menu, from which we tried the Eggs Benedict – which topped two muffin halves with beautifully poached runny eggs, sautéed, lightly seasoned spinach, crispy bacon and a generous dose of hollandaise sauce.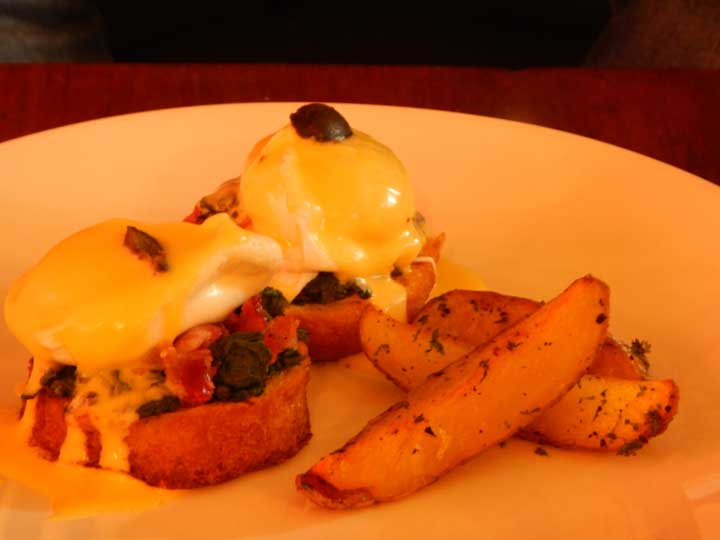 We also tried the Smoked Salmon Scrambled Egg Tart, which enfolded scrambled eggs in a buttery pastry crust and topped them with fresh slices of salmon.
From the egg dishes, we moved on to try the Lobster Risotto – a multi layered dish which included an incredibly creamy risotto, a whole buttered lobster and a sprinkling of bacon ash which complemented both the lobster and the risotto perfectly in both texture and taste.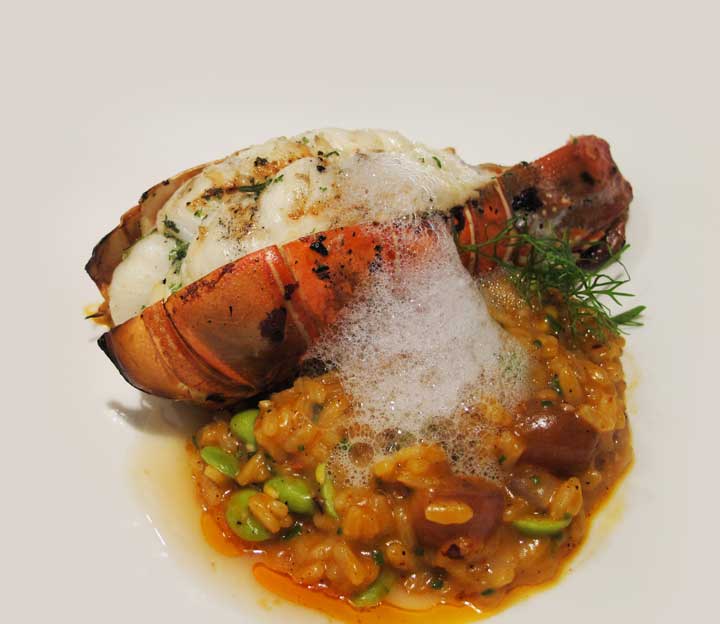 Finally, suitably stuffed, we rolled over to the dessert spread which included Dark Chocolate Forest, Fresh Mango & Mulberry Pavlova, Nutty White Chocolate Fudge Meringues and White Chocolate Bread Pudding. After one bite of the Fresh Mango & Mulberry Pavlova, we thanked the heavens that the mango season is upon us again; the meringue was light yet crisp and the fruits made for a beautiful balance of textures.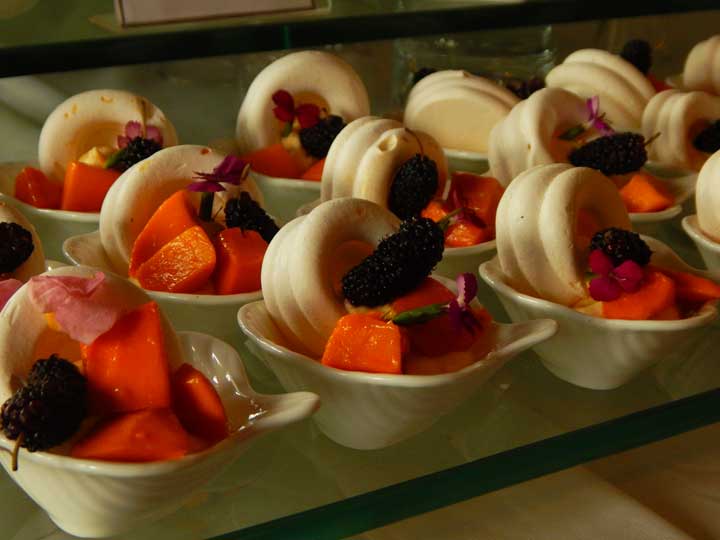 Similarly impressive were the nutty white chocolate fudge meringues, which enfolded a burst of chocolately goodness in a crispy yet crumbly meringue crust.
After going back for another helping (or two) of those meringues we polished off our brunch with a Bubble Gum Boost shot, an aptly sweet ending for a great time.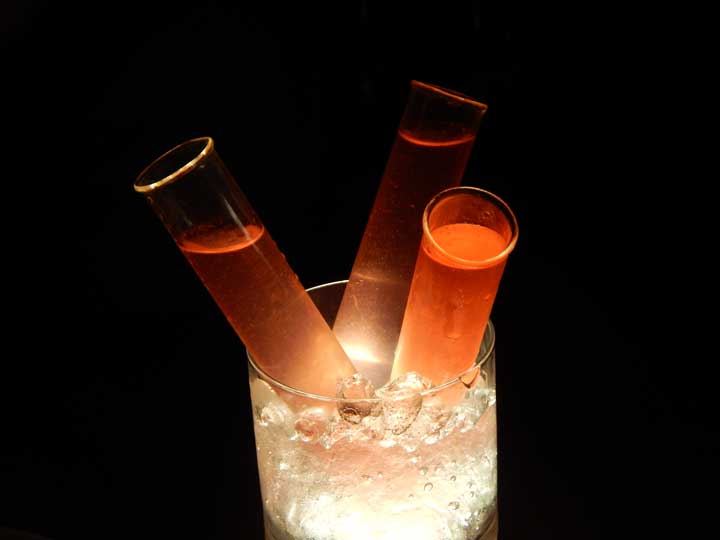 As we made our way out of the restaurant through the courtyard (which was filled with tantalising smells thanks to a live barbecue), the brunch was still in full swing – the band was playing a succession of crowd pleasers that had customers jiving away. What with the atmosphere of revelry and the generous spread of luxurious food and drinks, it's not hard to understand why Indigo said hello to its seventeenth birthday. We're sure many more will come.