IRCTC To Install 100 Water Vending Machines At Stations
Quenching your thirst at Indian railway stations is about to get a whole lot easier, inexpensive, and neater. The Indian Railway Catering and Tourism Corporation (IRCTC) is planning to install 1,100 water vending machines at 450 stations in 2017-2018. This development comes as part of the body's efforts to ensure hygienic drinking water at a low cost at railway stations across India.
According to a series of announcements made this Sunday by the Railway Ministry of India on Twitter, a number of water vending machines (WVMs) will come up across the country. It is also being said that the initiative will successfully generate employment for almost 2,000 people.
Each glass of 300 ml water dispensed through these machines will cost just Re 1. Meanwhile, a glass of half a litre water will cost INR 3, a litre will be available INR 5, two litres for INR 8, and a can of water will be available for INR 20. To give you a little perspective, a 1 litre of bottled water sold at railway stations usually varies from INR 12-15.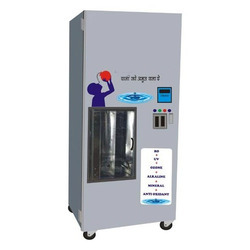 Image (representational image): Business Directory – IndiaMART
These water vending machines will function on the basis of reverse osmosis (RO) system and will dispense water round-the-clock either manually or via automatic mode.
The WVM project was piloted back in 2015 with an aim to provide potable water at nominal rates. Currently, there are 1,106 WVMs at 345 stations in the country, the ministry said.
Feature Image: Omenka Online